Ten-man Shelbourne conceded three goals in the last five minutes as Bohemians somehow pulled out a victory in one of the most memorable early-round cup games in many a year at a heaving Dalymount.
Second-half goals by Ciarán Kilduff and Shane Farrell must have been incredibly sweet for former Bohs defender Ian Morris, the rookie boss masterminding a stunning counter-attacking victory in Phibsboro - or so it seemed.
Jaze Kabia showed his inexperience by getting sent off before Bohs had even restarted - and then it happened, Keith Buckley and Danny Mandroiu (twice) finding a way past Dean Delaney, who was quite possibly man of the match all the same.
It was utterly incredible, logic turned to fiction, rendering one to smirk about the handful of Bohs fans who made their way for the exit after Shels went 2-0 up, even if few of them will be willingly admit as much.
Most of all, this reminded us that the FAI Cup is a competition worth cherishing. Both of these proud old clubs are fighting battles on two fronts this year, yet they put out strong teams and anybody who bore witness to this classic will have little else to talk about all weekend - including the Premier League.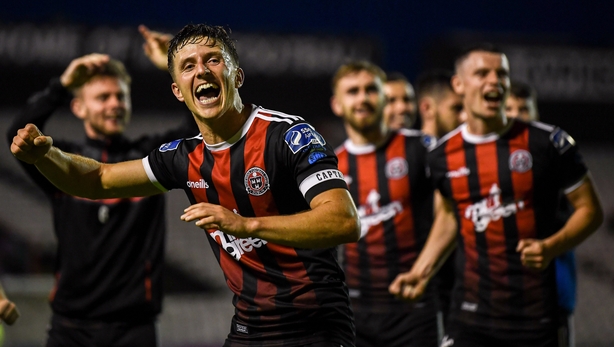 The first half became rather stale but the second was beyond absorbing and Shels, roared on by a strong away support, gave a signal that they are very much on the way back from the wilderness.
If the Cup's early rounds are not what they used to be in terms of crowds and intent, this was a throwback to a lost era: a pumped-up audience roared on local rivals, the opening minutes frantic and frenetic.
The first incident of note came eight minutes in, Bohs left winger Danny Grant booked for diving by referee Rob Harvey when foolishly looking for a penalty.
Lorcan Fitzgerald, one of several former Gypsies now Red, took a chance on 15 minutes when leaning a hand on Mandroiu in the area, but Harvey saw nothing in it.
Bohs were dominant in the first quarter, a deep Shelbourne intent on sitting back and hoping to do something on the break.
A beautiful Conan Byrne free-kick into the goal in which he once scored from his own half almost produced a Shels opener, Derek Prendergast narrowly missing a telling connection.
Buckley then almost found Mandroiu with a marginally over-hit pass that exposed the Shels backline.
The trend in the first half of Bohs ascendancy was consistent with the early part of the second, Andre Wright heading off the post eight minutes in after a nice Darragh Leagh cross as Mandroiu grew in influence.
James Talbot then got down to collect a shot from Dayle Rooney, who might have been wiser to look for one of his options in the box.
Eleven minutes in Mandroiu and Prendergast collided, the latter not happy with how the playmaker hit the deck just inside the box.
The best chance of the game came 14 minutes into the second half. The promising Kabia laid it perfectly for Conan Byrne, probably the last person on the pitch you would envisage blazing over when it was easier to score. He was replaced moments later by Kilduff.
And it was Kilduff who made no mistake moments later, Bohs caught badly on the break and the former Shamrock Rovers striker slotting home after a lovely pass by Shane Farrell.
Then Buckley produced an excellent save from Delaney after a delightful pass from Mandroiu.
It was really lively stuff now and Wright blasted over on his left foot as Bohs pressed for an equaliser.
Mandroiu was lucky not to see a straight red for a wild challenge on Lorcan Fitzgerald as tempers rose. It would be the game's key decision.
Delany brilliantly saved from Grant after a cool Mandroiu pass with what now looked to be 18 long minutes to go from a Shels perspective and he made an even better stop shortly afterwards from a deflected Grant drive, the home crowd unable to believe it was still 1-0.
The Shels fans were in dreamland with eight minutes left when Farrell produced a stunning arrow of a shot with his instep that gave Talbot no chance.
Before the game could resume, the promising Kabia was sent off for a second yellow.
Bohs sensed a rare opportunity with five minutes left after the excellent Buckley curled in from the edge of the box.
And Shels sensed the game was up when Mandroiu's long-range effort deflected beyond a despairing Delaney dive.
Bohs looked for a winner to avoid extra-time, Ward curling just wide in front of the sickened Shelbourne faithful.
Fittingly, it was the sensational Mandroiu who decided it, finding the top corner with a goal of such quality to befit the conclusion to one of the best Dublin derbies this old place has ever seen.
Shels, down and out, can say they played their part. And very many of those fans present, most of them grinning as if their lotto numbers had come in, will remember the old days when FAI Cup nights had a type of magic you never wanted to end.
Bohemian: Talbot; Lyons, Barry, Finnerty, Leahy; Grant (Tierney 84), Levingston (Ward 63), Buckley, Wade-Slater; Mandroiu; Wright.
Shelbourne: Delany; McKenna, L Byrne, Prendergast, Fitzgerald; C Byrne (Kilduff 60), Brennan, Farrell, Quinn (English 89), Rooney (Noone 78); Kabia.
Referee: Rob Harvey.