Patrick Hoban had done done extensive homework on Slovan Bratislava goalkeeper Dominik Greif's tactics for facing penalties before last night's Europa League third-round qualifier at Tallaght Stadium.
When the Dundalk frontman placed the ball on the spot in the 71st minute, presented with a golden opportunity to draw his side level on the night and get them back to 3-2 on aggregate, he didn't even have to consider where where he was going to go with the strike.
Hoban was driving it straight down the middle, because he knew Greif liked to dive early. The strike was clean, but the 6'6" Greif left a left leg dangling long enough to block it.
The air was instantly sucked from a bouncing Tallaght, and Hoban cut a forlorn figure post-game.
"I'm very disappointed in myself," he told RTÉ Sport's Tony O'Donoghue.
"I do a lot of video analysis on penalties, for keepers and for myself. I knew he was diving early, I just didn't know which side he was diving, so I always said I was going to go down the middle.
"I didn't hit it high enough. He's a big keeper. When he dived he left his legs there. That's just the way it goes.
"You could say with 18 minutes to go it was all to play for because they were going a wee bit but that gave them a lift. I thought we were the better side. The result doesn't reflect that."
The Lilywhites ultimately lost the tie 4-1 overall with missed chances and sloppy errors over both legs costing them massively. Hoban remains positive.
"I thought we were brilliant," he added. "We just made mistakes at the wrong time and you get punished in Europe. There's a lot of positives we can take out of this performance. We just made those mistakes at the wrong time and we got punished.
"We fully believed we could win the game. There's a lot of disappointed heads in the dressing room that we're out of Europe... but there's so many positives we can take out of it and into the league. That's the best performance we've had in a long, long time."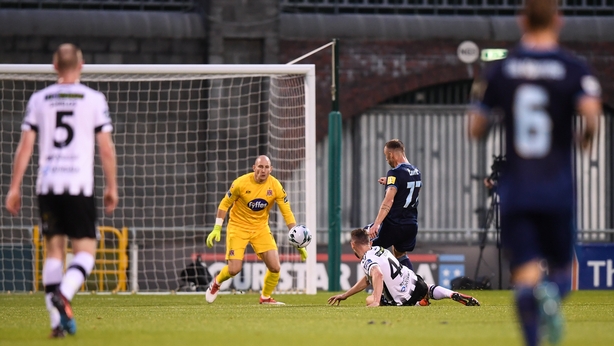 Vinny Perth heaped praise on Greif afterwards and Sean Gannon echoed those sentiments.
The Slovakian stopper was occasionally suspect under high ball in the first leg but he was flawless in Dublin.
"Their keeper had a worldie of a game," said Gannon.
"It was a bit of a strange game really. We started really well, and then conceded on the counter-attack. I thought we created a lot of chances on the night. It's not an excuse, we just have to move on.
"The first goal, we probably got dragged out of our shape a little bit. We were on the attack and then we're all trying to get back and fill holes and mark men, and after such a positive start that was a bit of a set-back.
"The second goal (which came from an Andy Boyle misjudgment), that can happen to anyone. These things happen in football."
Gannon was part of the memorable journey to the Europa League group stages in 2016. There remains a strong belief at Oriel Park that the achievement can be emulated, but it's not going to get any easier.
"Each campaign is the same," said Gannon. "It's tough. You know you are playing against good players and you need to concentrate at all times. Things didn't go our way and we just have to put that behind us.
"Listen, every year is hard. Obviously there is an extra round now as well, but you can't make excuses that it is harder. This is what we want to do, this is what we want to achieve. It is what it is."
Listen to the RTÉ Soccer podcast on Apple Podcasts, SoundCloud, Spotify or wherever you get your podcasts.