Vinny Perth believes that it's never been harder for Irish clubs to break through to the group stages of major European competition but maintains a strong belief that Dundalk are set up on and off the pitch to break down the barrier.
Perth was Stephen Kenny's assistant when the Lilywhites made the Europa League group stages three years ago, a memorable Champions League third-round qualifying defeat of BATE Borisov sending them into a play-off against Legia Warsaw.
A commendable showing ended in defeat but they still dropped in with the big boys in Europe's second tier competition
On Tuesday night the reigning Premier Division champions crashed out in the third round of Europa League qualifying after a 4-1 aggregate loss to Slovakian outfit Slovan Bratislava, with a defiant Perth declaring his side will not give up on the dream of coming through the increasingly perilous qualification route again.
"Europe has got a lot harder than it was," he said.
"It is more difficult to get there but I want us to chase that. To be fair to the owners of our club they've backed us in chasing that. We want people to be chasing European football at the highest level, whether it's play-offs or group stages.
"People look back (on 2016) with rose-tinted glasses. We were completely and utterly outplayed by BATE Borisov away from home and then we had a special night here in Tallaght to qualify.
"The margins are so fine at this level for teams of our standard. We've got to get this club to the next stage, the next level. We spoke about it last week.
"The club is going to the next level, it's up to the players to go to the next level with us. That is the plan and that's our goal, to be in and around play-off stages and group stages of the European League. I believe we can get there."
#DundalkFC first team coach John Gill gives his thoughts on tonight's #UEL defeat to Slovan Bratislava.

Full video 👉 https://t.co/pw4se5E6DM

#DundalkInEurope #DUNSLO pic.twitter.com/Pk2HgPPAGv

— Dundalk FC (@DundalkFC) August 13, 2019
John Mountney was denied at the death in the first leg by a terrific Dominik Greif save and the keeper had another impressive night at Tallaght Stadium, pulling off a string of good stops before blocking Patrick Hoban's penalty with his legs.
"I think over the two legs we were beaten by the better side but we came up against a real good goalkeeper," added Perth.
"I felt we should have scored away from home. But we played against a proper team in these two ties and their keeper was outstanding. It's a disappointing night.
"If we had scored over there it's a different tie. Their keeper made an outstanding save in the 91st minute over there and at this level away goals are massive. We didn't have one. Our attacking play was good enough over two legs to score more than we did. Ultimately, we were done by good opposition."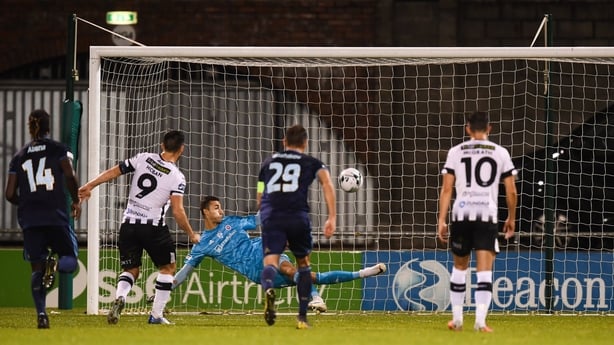 Reflecting on his side's European campaign Perth was frank.
"You need a bit of luck in the draw in Europe, you really do," he said.
"We're obviously disappointed. You've got to take that one on the chin. Our job now as a club, as a team is to get back to this stage again. We've got to go and focus on winning the league. We can't dwell on this. It'll hurt for a few days.
"It has definitely improved at the highest level in European football, there's no doubt about that.
"Irish sides over the years have always struggled against pace and power. But them days are starting to drift. We're getting closer to that in the physical mindset. The next stage for us is to improve the mental side of it to compete at this level.
"We're playing at a high level and it's difficult. Irish clubs will have to go to the well to get results at this level for the next couple of years."