"They played exactly how we thought they'd play, and they were everything that we thought they would be."
The words of Dundalk head coach Vinny Perth following Wednesday night's Champions League qualifier against Riga at Oriel Park.
The teams could not be separated following the first leg stalemate but it was not from lack of planning, as the Lilywhites had their opponents watched four times ahead of the game.
Perth knew Riga would be strong. That they would be physical. And that they would set up with an intention of impenetrability, by placing two defensive midfielders in front of their solid back four.
And so it played out.
The usual free-flowing football that we have come to expect from Dundalk did not arrive, apart from the odd foray down the flanks, yet still the quality of the final ball let the home side down on those occasions.
But Perth was far from frustrated following the 0-0 home draw, although he did accept that many in the crowd may have been.
Despite the lack of creativity or goalscoring opportunities, Perth, you might imagine would still have remained pretty upbeat approaching half-time with his own rearguard rarely troubled through those opening 44 minutes.
But then one high hopeful ball threw a real spanner in Perth's half-time team-talk, under the main stand at the packed-out Oriel.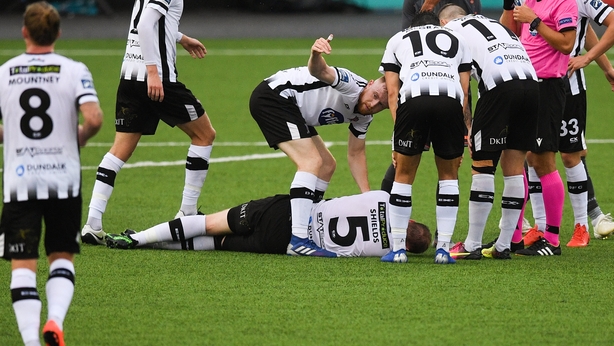 The ball was always Dan Cleary's to clear. The centre-half was coming onto it unchallenged and facing away from the Dundalk goal. Chris Shields had other ideas.
Eyes on the ball all the way, the midfielder had only one thing on his mind, and if there was a shout, it did not register.
Looking on from the main stand, it all appeared to happen in slow-motion, but Shields kept going and Cleary was committed.
They came face-to-face at pace, and there was no doubt that at least one of the Dundalk players was going to be in a lot of agony.
Shields as it happened, took the real brunt of the blow as the tough-tackling midfield general fell to the ground in an instant, and when those surrounding him quickly whipped him over onto his side and into the recovery position, you could but only fear the worst.
Cleary, meanwhile, had wandered aimlessly back into his own box and while still standing, looked to be visibly shaken.
The young defender would soon get attention, the blood smeared over his forehead wiped clear – whether it was his own or his team-mate remained unclear.
Thankfully Shields took the impact around his eye socket rather than the side of his head, and while he did not appear for the second half, the injury will most likely heal quickly with no sign of concussion – however, that would be determined at a later time once the swelling around the eye subsides.
"We just had to take the doctor's advice," Perth told RTE Sport following the game. "It is just the nature of the injury, the doctor felt that another blow could have been dangerous."
Andy Boyle proved a most worthy replacement for Shields, as the Ireland international slipped seamlessly back into his old place on the Oriel Park pitch – his first appearance at his old stomping ground since 2016 – while Sean Hoare pushed into midfield to play the Shields role.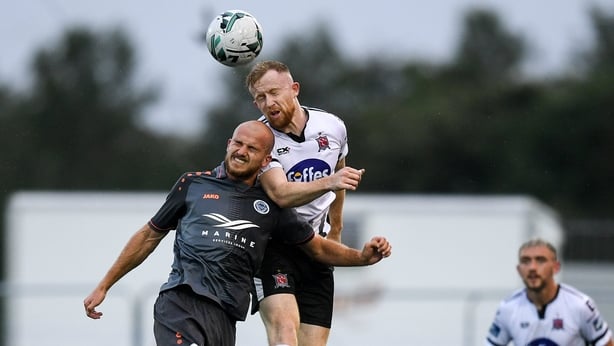 Robbie Benson's introduction after 58 minutes kick-started Dundalk's attacking play in the second half and for a time it looked like the opening goal was going to be a case of when and not if.
But again Riga frustrated the hosts and as the game reached the final 20 minutes, Perth soon realised the impact of having to use up one of his three substitutions on the Shields' injury.
With Boyle and Benson already on, and the fading Jamie McGrath then replaced by Daniel Kelly, Perth was unable to add to his firepower for the final throw of the dice.
The game was set up for the excellent Georgie Kelly to come on and make a real impact in the latter stages to give some much needed support to Pat Hoban, but Perth had used his subs and Riga held on for the draw.
"Chris' face was very badly swollen around the eye socket, but the biggest effect that it had was that we lost one more attacking sub," explained Perth.
"People off the bench can make such an impact on European nights so we didn't have the likes of Georgie Kelly who we could use from an attacking point of view, while Jamie [McGrath] who is only coming back from injury had to come off."
'We have to be a bit better in the final third…we lacked a little bit of quality and it was rushed at times' – Dundalk manager Vinny Perth says his team are capable of scoring on the road in Europe #DUNRIG #ucl #rtesoccer pic.twitter.com/25dH46PwMF

— RTÉ Soccer (@RTEsoccer) July 10, 2019
Riga perhaps ended the game the stronger of the two sides and Perth believes that the way they finished will actually aid Dundalk in next week's second leg, as it should instil confidence to come out and play in their home clash.
"I think they may feel, particularly after the last 10 or 15 minutes, that they can come out and attack us, and we sort of hope they do as the game might open up.
"They play that way, a four with two in front of the back four at home all the time so that is their style.
"[Denniss] Rakkels will probably start the next game, he is a big attacking threat for them so I think they will be a bit more positive than they were here certainly."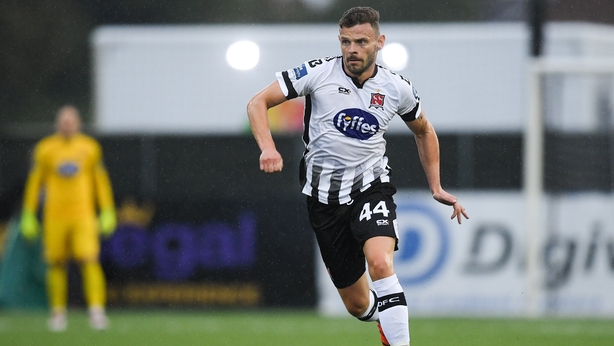 There was, of course, one particular silver lining from the Shields' injury as it gave returning Boyle another 45 minutes of competitive action, and the defender's return could well be the final piece of the jigsaw as Perth attempts to combine the 'Class of 2016' with the new recruits that have arrived since that famous Europa League run.
"Andy looked like the Andy of 2016 up in Derry the other day," said Perth. "Himself and Brian Gartland were very close to starting, it was a really difficult call.
"He looks like the Andy that we thought he would be. He was very assured and his passing was excellent so it is a massive boost to bring a player of his quality back to the club and the owners have certainly backed me in that decision. It was brilliant forward planning to have someone like Andy available.
"I thought last week against Waterford and Derry, there was a real sign of that," said Perth when asked about the merging of the old and the new at Oriel.
"Tonight we just did not feel that Robbie [Benson] was capable of starting, he had only played 10 minutes of football since the start of the season up until last week, but he is getting closer all the time
"And yes it is a bit closer to what we want to do, getting people closer to Pat Hoban, he was a little bit isolated in the first half, and I thought that 20 minutes at the start of the second half we were really good."
So with a near fully fit squad to chose from Perth said that he would get a fitness report over the next couple of days and nail the side down over the weekend for next Wednesday in Latvia.
"We will go over there knowing that we are capable of scoring away goals. I think their big open grass pitch might suit us better and they will have to be a bit more expansive, so I see a lot of positives.
"We have such a good squad no matter who plays, they are all very capable, and that is the difference between us now and maybe before.
"It was probably a bit frustrating for people in the ground but European nights are often solved in the second half of the second leg.
"We have a couple of injury worries, so over the weekend, we will nail down the team and go from there.
"Riga proved how good of a side they are, they are very difficult to break down, but they have to come at us next week and if we score, they are under massive pressure."