Former Ireland manager Martin O'Neill told Michael Obafemi to take his time before declaring, but there was no decision to be made for the Southampton striker who always planned to play for the country of his birth.
In what was a whirlwind 12 months for the teenager, Obafemi made his Premier League debut in January 2018, coming on for the final ten minutes of the 1-1 draw against Tottenham Hotspur.
Breaking back into the first team squad during the early stages of the 2018-19, now under the guidance of Mark Hughes, Obafemi was rewarded with a call-up to the Ireland senior squad, having already represented the country at Under-19 level.
O'Neill called the 18-year-old into the panel for the double header against Northern Ireland and Denmark, but then suggested that the player had not yet fully committed to the Irish cause and would be given time to ponder his international allegiance.
Despite being born in Ireland, Obafemi moved to London at a young age and qualified to play for England under the residency rule, while the forward was also eligible to represent Nigeria through his parents.
"All in."
Two words posted on Obafemi's Twitter account the following day, accompanied by the smiling striker decked out in the Ireland home jersey, showed that the Southampton prospect was fully committed to the cause.
As a result, Obafemi was on the plane to Denmark for the UEFA Nations League encounter in Aarhus, and duly made his debut, coming on late in the scoreless draw.
All in🇮🇪☘️ pic.twitter.com/R00hcfFn9a

— MO (@michaelobafemi_) November 15, 2018
"I think it was blown a bit out of proportion but at the end of the day, I was born in Ireland so I don't see a reason why I should play for England or Nigeria," Obafemi told RTÉ Sport.
"I knew that I was going to choose Ireland already, but obviously everyone from the outside were bringing England and Nigeria into it, but I don't think I was ever going to choose any of the other ones.
"I never really entertained any other options, didn't speak to any other country. I knew in my mind what I was going to do."
And while the teenager's main focus at the time was to concentrate on his club career, attempting to establish himself as a Premier League player, Obafemi admits that he was "buzzing" to get the call from Martin O'Neill.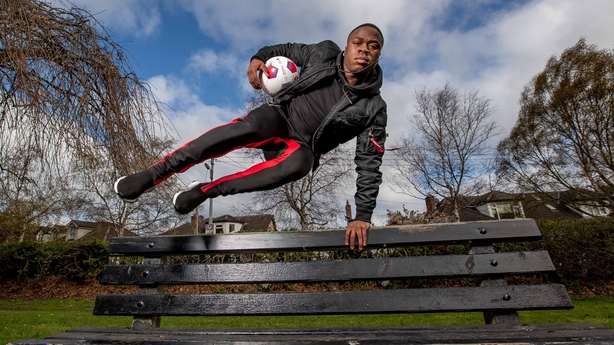 "It was a surprise to me," admitted Obafemi.
"At that time, I was focusing on playing as much as I could with the first team and then obviously the call up came and I was shocked.
"But I was buzzing in the sense, I was thinking that I deserved it because everything I was doing was paying off.
"Obviously, I went out there and everyone was amazing with me, helped me fit in. I spoke to Roy [Keane] and Martin and they just said, there is no pressure, it's up to you what you decide to do."
And Obafemi also recalled the impact that Seamus Coleman had on him as he first arrived into the senior set-up, the captain immediately making him feel at home.
"Seamus Coleman. 100% [made me feel welcome].
"He just spoke to me and said, 'glad to have you here. Obviously, I know your situation and stuff, take your time, don't rush into anything and stuff like that'."
Following the Denmark experience, Obafemi returned to his club but the fairytale story would hit its first of, no doubt, many twists and turns, as the striker picked up a serious hamstring injury, which has ruled him out for the rest of the season.
Yet the Ireland experience has created a bond with the Ireland captain who sent him his best wishes following the injury that has halted Obafemi's rise through the ranks.
"With my injury that just happened, he sent me a message as well, which was good of him. Checking out if I was okay and if I needed anything just to give him a message or just call."
With a comeback target of mid-May, the current Premier League season has been written off for Obafemi, yet there is an outside chance of the teenager, who does not turn 19 until July, proving his fitness for Ireland's next European qualifying encounter in early June.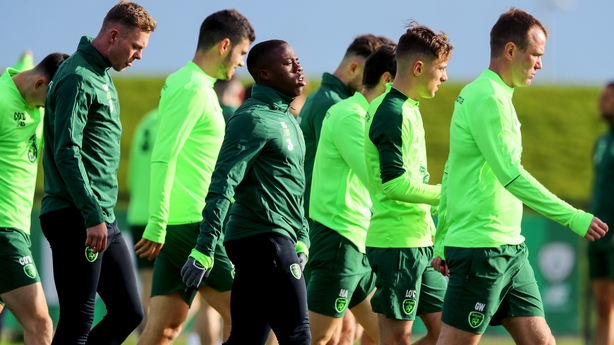 "There was surgery on the cards, but the way my hamstring is healing, they think surgery is not needed, so I am happy for that.
"When I come back from this injury in the middle of May, I am going to go away to a training camp to get myself as fit as possible, and make sure I can deal with the demands of pre-season to get back into the team.
"I don't think [the Ireland matches] have been taken off the table yet, but I think the main focus at the moment is pre-season.
"It might be a bit too soon, so we will have to wait and see."
Ireland, of course, got their Euro 2020 campaign off to a winning start with victories over Gibraltar and Georgia, and with Obafemi ruled out through injury, the player revealed that he had not spoken to Mick McCarthy yet, but expected to do so in the near future.
"I haven't spoken to Mick McCarthy yet, but I think that it is a conversation waiting to happen."
Two major milestones in the very early stages of life as a professional footballer, and two very different memories from his debuts for both club and country.
"It was very surreal, because that was the first big crowd that I played in front of. I was warming up and [Mauricio Pellegrino] called me over and I said, 'aw sh*t'!" recalled Obafemi.
"But when I was on the pitch, I was at ease and it was like a normal football match, and then the chance came, and I missed... But it is definitely going to be one of my favourite football memories."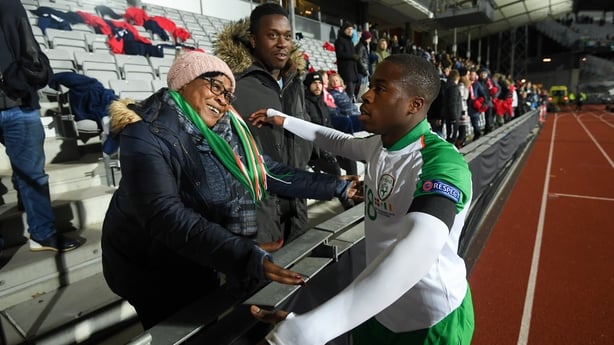 Obafemi's debut for Ireland lasted ten minutes, and while used to the big game experience at that stage, the striker's first word uttered when asked to recall his emotions certainly reflected the concept of northern Denmark in November.
"Cold," laughed Obafemi.
"It was my first cap, which was unreal, and I got to play against my team-mate Pierre Hojbjerg, who I saw after the game.
"My mother and brother come to every game and I am just thankful for their support. I think I'm making her proud."
And while Obafemi only played for ten minutes under the previous regime, coming on against Denmark in the 80th minute, it was enough time to add a Roy Keane anecdote for any future autobiographies.
"To be fair, I went in thinking I would be scared of this guy, but he is actually a nice guy when you speak to him.
"But I remember one time in the game against Denmark, I lost the ball, and he was screaming at me for ages.
"But it was an honour to meet him and play under him."