Michael Obafemi will not travel to Denmark for the Republic of Ireland's Nations League match next week.
The Southampton teenager is likely to feature for Martin O'Neill's side in Thursday night's friendly game against Northern Ireland at the Aviva Stadium.
The 18-year-old was born in Ireland to Nigerian parents and has lived almost all of his life in England, meaning that he is qualified for three countries.
O'Neill says Obafemi has settled in well to the Ireland set-up and has enjoyed his time with the squad, though the manager is in no rush to force him into a decision on his international future.
"I think that he's enjoyed the training, it's been really good and he has done very well. He has settled in nicely and in terms of decisions with regards to tying him down, I think that's a bit of a distance off," said O'Neill, speaking to RTÉ Sport.
"He has things to think about and he should certainly not be rushing it. That was my point to him.
"If he rushed in a few days ago saying 'this is exactly what I want to do', then that's a different issue. I want people to want to play for us and I want that decision to be right for the rest of the time."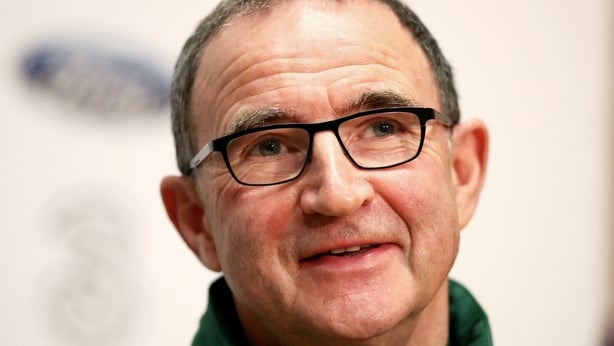 Ireland are currently bottom of their Nations League table and face relegation to Group B next time around.
After the Northern Ireland friendly the Boys in Green travel to Aarhus for their final Nations League game against Denmark, but by then it could be a dead rubber.
Denmark take on Wales in Cardiff on Friday and even a draw would be good enough to ensure them second place and condemn Ireland to the drop. If this happens, O'Neill says he'll use Monday's game to try out new players and formations.
"That could be the case, absolutely," he agreed.
"We will know the result on Friday evening so depending on what happens there, there's a possibility of looking at a few other things on Monday as it will be our last opportunity for some considerable time."
First up for Ireland is Thursday's friendly - a game O'Neill wants to win to arrest his side's recent slide.
"It's a friendly game, if there are such things these days now. For us, we'd like to get back to winning ways," he said.
"It has been a tough couple of months for us and we would like to win the game. We'd like to get on the front foot from the start, but Northern Ireland are in the exact same situation as us and they'll be looking for a win too.
"I think it'll be very competitive the game and one we'd like to win."