Michael Obafemi's international future could be set in stone before the Southampton striker's club career really gets going.
The Saints teenager made the final cut and received his first call-up to the Ireland senior squad ahead of this week's double-header, and now has a chance to make his international debut against Northern Ireland at the Aviva Stadium on Thursday evening.
A week training with the Ireland senior squad will give the Southampton striker vital experience as he sets off on the early stages of his professional football career.
And an international outing against Northern Ireland at Lansdowne Road should work wonders for the player's confidence, while also raising his profile back at the Premier League club.
Come the weekend, the Dublin-born youngster could be jetting out to Denmark for Ireland's final encounter of the inaugural Nations League in Scandinavia.
Obafemi was born in Ireland to Nigerian parents, yet moved with his family to England at an early age.
The football fields of north east London was where Obafemi was introduced to the game, following his older brother up to play with local side Ryan FC, aged four.
As a young teenager, Obafemi spent three years at Leyton Orient before signing for Southampton to play at their renowned academy, considered a veritable production line for the English Premier League.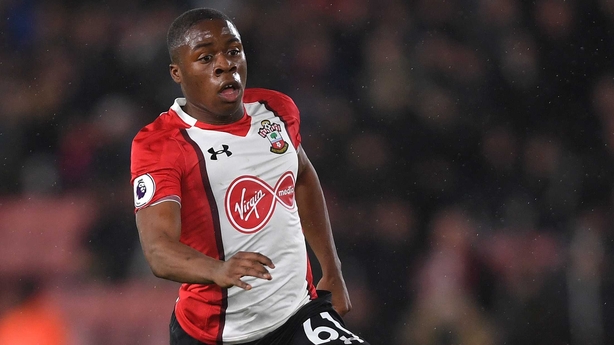 Obafemi established himself in the Southampton youth side and received widespread accolades following his first hat-trick at the club in a 4-1 Youth Cup victory against Wolves in December 2017.
A month later, the centre-forward was thrust into the first team and came off the bench to make his Premier League debut, playing the last eight minutes in a 1-1 draw with Tottenham.
The striker is the second youngest Southampton player to feature in the Premier League, aged 17 and 199 days, with current Manchester United defender Luke Shaw the youngest to represent the Saints.
"He's a really fast player and his speed is his most important quality," said then Southampton manager Mauricio Pellegrino.
"He is also a good finisher, and I observed that their back four was really high and he could have some chances. He was there and he was really close, but it's still the beginning of his career and he has to grow a lot."
A change of manager has not affected Obafemi's progress at the south coast club, and current boss Mark Hughes has now brought the pacey attacker into his struggling first-team squad.
Obafemi's form with the Southampton Under-23s earned him a place on the bench for the recent clash with Manchester City, where the 18-year-old was handed the last 20 minutes of the game, albeit with his side already trailing 5-1 to the league champions.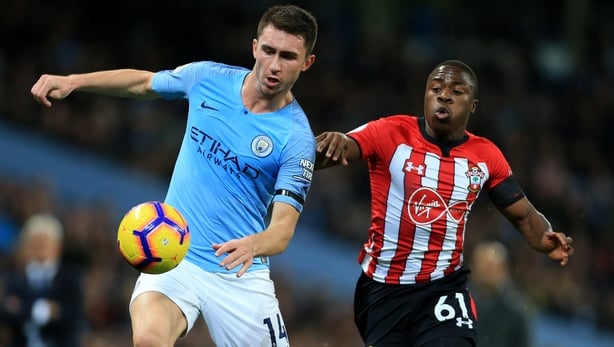 The striker kept his place in the squad and came on as a last-minute replacement at the weekend as Southampton drew 1-1 with Watford, which keeps the Saints just outside the relegation zone.
"He's got unbelievable pace," said Hughes. "It was important that I had a look at him in the Premier League environment because he could very well be someone we can use.
"Bringing on Michael late on in games as an impact sub could be something that will help us. I was pleased with what he did, he didn't look fazed by the stage he was on, so that bodes well as something we can work on.
"We'll see how he progresses. He's been playing well in the Under-23s and getting goals so he has deserved his chance."
When Martin O'Neill finalised his Ireland selection for the upcoming double header, it was no surprise to see Obafemi included with the senior squad, who gathered in Dublin for training on Monday ahead of Thursday's clash with Northern Ireland.
And with Shane Long, Obafemi's Southampton club-mate, ruled out with an ankle injury, there is every chance that the teenager will see some game time against Michael O'Neill's Northern Ireland.
"Direct, in behind. I like to cause defenders problems," said Obafemi recently, when asked about his style of play.
The striker will certainly hand the Ireland manager an energy-filled option in attack as Obafemi likes to hang on the last defender, begging for space to run in behind.
Obafemi has scored a string of carbon-copy goals for Southampton, racing through and calmly slotting the ball home.
The former sprinter – Obafemi was his Borough 100m champion, recording a time of 10.8 seconds – also said that he has studied lots of footage of Ronaldo, of the Brazillian variety.
"I thought he was fantastic, what he done on the pitch," said Obafemi when asked who was his footballing idol.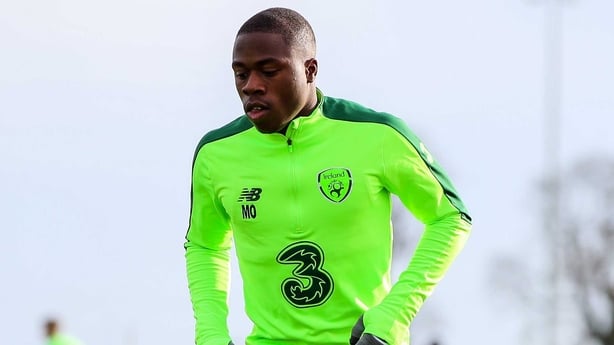 And so Obafemi, who has already played for the Ireland Under-19s, checked in and togged out with his senior international counterparts at the FAI HQ on Monday.
An hour earlier, the FAI sent out a press release confirming the squad for the upcoming games, making no distinction between the friendly against Northern Ireland and the Nations League competitive fixture against Denmark in Aarhus, other than stating that "Manchester United defender Lee O'Connor, who is captain of the Ireland Under-19s, will link up with the squad for training at the FAI National Training Centre".
So it came as a bit of a surprise when the manager addressed the media following training and revealed that he still needs to have a discussion with the player in relation to his future Ireland commitments.
"Obviously, he has decisions to make for his future. I would think that's something he will discuss with his family. There'll be no real pressure to make that decision in the next couple of days.
"I'd certainly have to have a discussion with him and I think members of his family too.
"If he has decisions to make then I'd respect that."
After all that has gone on within the Ireland senior squad in recent years in relation to players with more than one international option, it really is remarkable that a similar scenario to the Jack Grealish and Declan Rice conversation could occur once again.
The player, however, would also have known about the possibility of getting competitive action against Denmark, which would commit his international future to Ireland.
And to his credit, Obafemi turned up to train, and potentially play for Ireland.
Surely, at this stage, the only decision that remains is in the manager's head.