Mick McCarthy's side sit top of Group D following a 1-0 victory over Georgia, and the new man in charge admitted that he thought it was a "good day" back at the office.
Ireland's victory means that McCarthy's side lead the group on six points, with Switzerland two points back, following their 3-3 draw with Denmark and the manager, in his second stint in charge of the Republic of Ireland admitted that he was truly delighted with the passion and endeavour shown by his side throughout the 90 minutes at the Aviva Stadium.
Ireland took a 1-0 lead into the break and the manager revealed the words that he spoke to his side ahead of the second half.
Not asking to guarantee the victory or to hold on to what they have, McCarthy sent his team out asking for more of the same, following a high-octane and dominant performance in the opening half.
"That's how I set them up to play," said McCarthy at the post-match press conference, reflecting on the first-half performance.
"At half-time I was conscious of it and said to them, whatever we do, don't back off, we stay as we are.
"If they give me that for the next 45 minutes, that level of performance and energy, then I'll take it."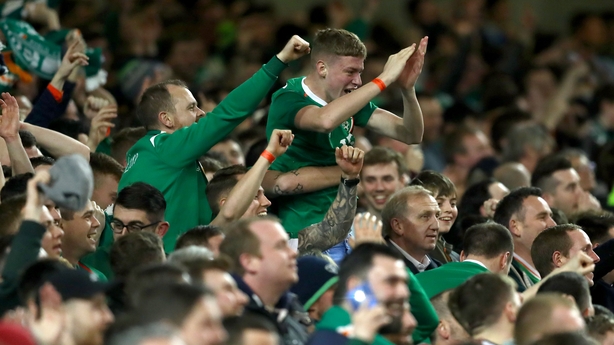 The performance remained and the result would be confirmed as Ireland kept Georgia deep in their own half, while also enjoying several opportunities to seal the victory.
And the manager felt that his side could have easily scored another couple given the amount of chances that they created.
"I said on Saturday, it's lovely if you can produce both [performance and result], that's really good, and I do think it was an excellent performance, I think we could have had two or three goals," he said.
"If we had nicked one from a free-kick and sat back and hung on, people wouldn't have enjoyed it as much, it wouldn't have been as celebrated at the end of cheered at the end."
McCarthy was full of praise for his side who he revealed followed his game-plan and worked hard at some of his basic requirements, while also revealing the freedom to which his sides are allowed to go out and express themselves.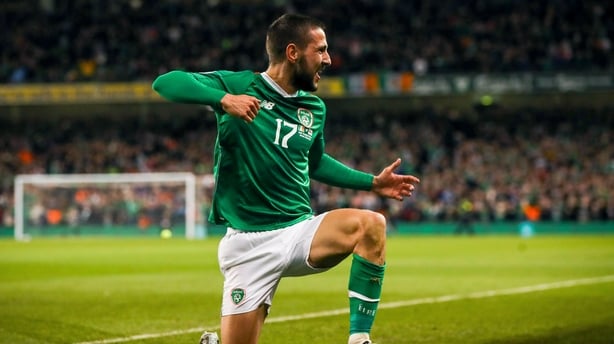 "There are some bits that I insist on that we do, starting with positioning and that's from restarts from goal kicks and throw-ins," he explained.
"Their goal kicks, our goal kicks, there's things I insist on and I thought they did that well.
"Other than that they have a licence to go and play. The two centre-halves mark the striker and the sitter gets us playing and marks their 10 if he is playing.
"And the rest can go and play, full-backs high up the pitch and go and attack."
That trust shown in the players was paid back in full with some excellent performances throughout the park, most notably man of the match David McGoldrick, or Didsy as the manager likes to call him, who left the pitch to a standing ovation.
"Didsy up front was excellent," added McCarthy.
"It was an excellent performance, I know Didsy, I trust him. I love how he plays and what he does."
And the manager also had a special word for the man who held it all together in the middle, and by right should have been enjoying a week's break, having already retired from international football.
Glenn Whelan came back into the squad, having been asked to return by the new manager, based on a string of excellent appearances for Aston Villa throughout the season.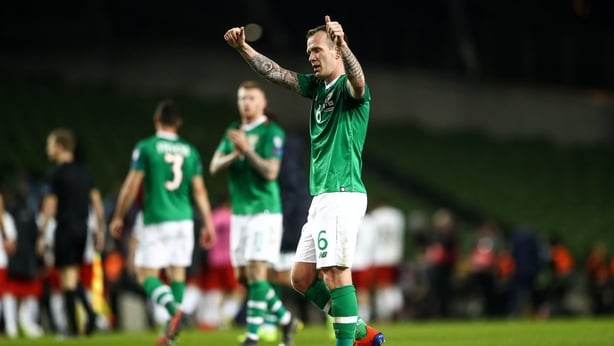 "He was absolutely remarkable. For 35, it's a testimony to how well he has looked after himself. I thought he had a really, really good game. He started us playing and he broke things up," said McCarthy
The manager admitted that he was unlikely to play Seamus Coleman and Matt Doherty in the same set-up that he utilised in Gibraltar on Saturday, but he praised the Wolves man for coming off the bench to do a job late in the game.
"Seamus Coleman is different class," said McCarthy. "Doc came on and did a job, simple as that.
"I am unlikely to play them again, as I did on Saturday.
"Means to an end sometimes, thought it might work on Saturday, didn't particularly.
"But he went on and did a good job helping us stopping them from scoring when Robbie had run out of steam."
The manager also had words of praise for James McClean who worked the left flank tirelessly all evening, while also admitting that he told him he would not take too kindly to him giving away possession in injury time in future encounters.
"James McClean crossing the ball when there is two minutes left, and if you saw me embracing him, I told him, I'll effing kill you if you ever do that again," revealed the manager.
"He said 'I know, I know, gaffer' – I didn't need to tell him, but I thought I'd tell him anyway.
"He was excellent. He put a real shift in."