John O'Shea would be "amazed" if Ole Gunnar Solksjaer isn't handed the reins at Manchester United on a permanent basis and said the Norwegian has transformed a club that had been in turmoil.
When Jose Mourinho was sacked a week before Christmas, United were sixth with a points total that left them closer to the relegation zone than leaders Liverpool.
Now, they're fourth, just three points off third-placed Spurs.
Solskjaer was not the obvious choice, but he has proven the right one and though the former striker has been given the job on an interim basis until the end of the season, his old team-mate O'Shea can't see how he won't be there beyond that.
"I'd be amazed if he doesn't get it on a permanent basis," the Waterford man told the RTÉ Soccer Podcast.
"The atmosphere around the whole club has changed. [Assistant] Mick Phelan would have a played a part in that too. Don't underestimate Mick's role.
"They have good quality in that squad. Ole's been able to bring it out.
"They were in a tough spot. What surprised people is how quickly Ole has been able to do it. People were saying, 'he's had a nice run of games', but they weren't performing in those games beforehand.
"He's been able to get them to win those games and win them comfortably. He's also been able to make the squad extremely competitive. Lukaku is a prime example of that.
"He was out of the team. Rashford was taking the limelight, but behind the scenes he was obviously working very hard and waiting to take his chance. Look at the way he's performed recently. I think that's a key sign of Ole's management."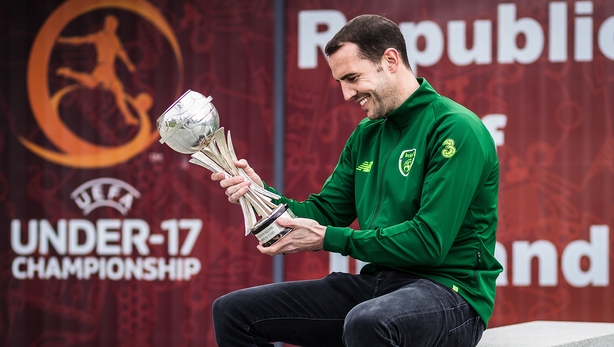 O'Shea is the tournament ambassador for the upcoming Under-17 UEFA European Championships which will be held in Ireland this May.
The big defender was part of the Under-16 side that famously won the Euros back in 1998 under the guidance of Noel O'Reilly and Brian Kerr. Golden memories, but times have changed, and young players now - O'Shea admits - face a wave of different challenges.
"It only seems like yesterday," he said of the incredible triumph in Scotland.
"They are amazing, amazing memories. To be part of that was very special. It was an important stage of my career that led me to Manchester United. I'll be forever grateful.
"There's an added pressure now on the mental side of the game. [Social media] is a huge part of younger players' profiles. The negativity that can come quite quickly from it. It's huge. A huge part of the game now is how a player copes with that and moves on from it.
"That's a key part of a player's development. Kids, when they go across the channel or play in the League of Ireland, they have a talent. They are all good players, but it'll be those aspects they deal with outside the game... if they can deal with those aspects better it will probably determine what level they reach in the game."
O'Shea, 37, retired from the international game a year ago after a stellar career in the green of Ireland but he's still playing with Reading who are currently fourth from bottom in the Championship.
The centre-half will assess his options at the end of the campaign, though he's open about his ambitions to follow Solksjaer into management.
We need your consent to load this SoundCloud contentWe use SoundCloud to manage extra content that can set cookies on your device and collect data about your activity. Please review their details and accept them to load the content.Manage Preferences
"We'll wait and see," he added. "The few injuries I've had this season would normally have cleared up a bit quicker. That's telling me I'm getting older. The little niggles that were taking a week, ten days, are now taking two, three, four weeks.
"At the end of the season we'll hopefully be in the Championship with Reading and then I'll dust myself down. I'm waiting to see what the future may hold.
"There's no decisions made yet but hopefully further down the line I'd want to get involved in the coaching and management side of things."
Subscribe to the RTÉ Soccer Podcast on iTunes, listen via Spotify or wherever you get your podcasts.