Celtic striker Leigh Griffiths has assured fans he is doing everything he can to return to action a "better and stronger person".
Griffiths thanked well-wishers for their support after manager Brendan Rodgers announced on Wednesday that the 28-year-old was taking time out of football to deal with ongoing off-field issues.
The Scotland international said in a statement on his club's website: "I just wanted to thank everyone at the club and so many Celtic fans and other people who have sent me such kind and powerful messages of support.
"I thank you all sincerely and want to let you know I'm doing all I can to come back as soon as possible, a better and stronger person."
Support has come in from across football, including some of Griffiths' former clubs.
Livingston told Griffiths to "take the time you need to get back to a happier place - there's always a seat with your name on it here", while Hibernian stated: "We're all with you, Leigh."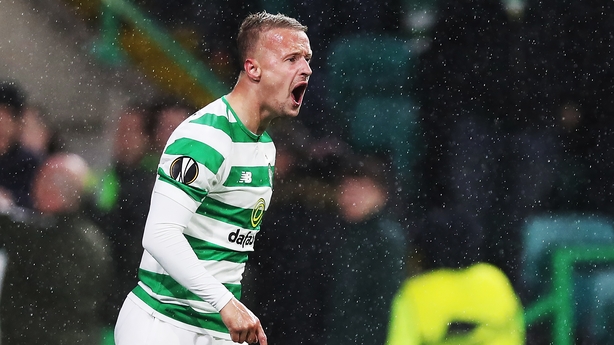 Rodgers revealed Celtic were seeking professional help for Griffiths and PFA Scotland chief executive Fraser Wishart reminded players that assistance was close at hand for anybody who was struggling.
Wishart told Sky Sports News: "In recent years we've had a number of players who have come forward with all sorts of issues, to do with mental health, to do with gambling and to do with other addictions.
"What it shows is that football players are not immune to the issues and troubles that people face every day.
"We recognised that a number of years ago and we've put in place a very robust support network for any of our members that wish to talk to somebody and get some support and advice.
"There's a bespoke phone number that they can text or they can phone and if they leave a message they will be seen within 24 hours.
"They are assessed by one of two or three GPs who are supporting the network and then after that, depending on whether it's pretty serious or more to do with anxiety or whatever else, they are placed with the appropriate counsellor or the appropriate person who is there to help them.
"It's entirely confidential and we hand out cards to players at every single club visit and it's widely used by our members and much needed."
Wishart added: "One of the things we're going to take to the next step is really sitting down with coaches and managers and doing some sort of training for these guys as well.
"The situations we've found in recent years, the clubs have been terrific. They've been a huge support to the players and that's of huge help because the last thing somebody who needs help with any kind of issue needs is pressure for their job as well.
"Clubs now are very much more to the forefront and have been very helpful and supportive."
Livingston defender Declan Gallagher recognised the improved help that is available to all players.
"There's a lot of helplines that you can speak to and a lot of doctors that you can speak to," Gallagher told Press Association Sport.
"I think mental health in football is starting to get better in terms of people to speak to, so hopefully Leigh will get the help he needs and will be back in football sooner rather than later.
"Leigh is an amazing player and to see this is a very sad thing, not just for him in a football sense but as a person." 1