Former Republic of Ireland Under-23 manager Pat Fenlon believes that issues within the Ireland international set-up go far beyond the manager and called for a 'root and branch' examination of what's happening in Irish soccer.
Ireland manager Martin O'Neill and his assistant Roy Keane both stepped down from their roles by mutual consent with the FAI, following a disappointing year on the pitch.
O'Neill's side suffered relegation to the third tier of the Nations League and managed to win just one of their last 11 games, with a lack of goals becoming a major problem.
However while Fenlon admits that Ireland have struggled on the pitch, he sees a deeper malaise within Irish soccer and believes that FAI chief executive John Delaney has some big questions to answer.
Speaking to RTÉ, Fenlon said: "The performances since the Euros, when we came out with a lot of hope after some really decent performances, have dropped and dropped really poorly and I think the last couple of games have shown that.
"I surprised that the manager has gone today, I just thought from a financial point of view it would be a very difficult thing to do but if he has stepped down fine.
"There's a bigger issue here. How we're developing our players, how we're developing our game and how we're developing our own league.
"Where we had players going to England and performing at the highest level, that has changed obviously with the dynamics of the Premier League," said the new Linfield general manager
"We need a root and branch look at what's happening in the game in Ireland, how we can develop the game in Ireland and I think at the top of that is the chief executive.
"He has to be responsible for where the game is, because if you compare our game at the moment to where rugby is and where gaelic football is and hurling is in the country, we're a long way behind and that can't continue.
"We're going to lose participants, we're going to lose interest in the game and I've been in a position as the manager, and results will always dictate, but as soon as the finger is pointed either a board or people within a higher position in that organisation, they will make change.
"That has happened now."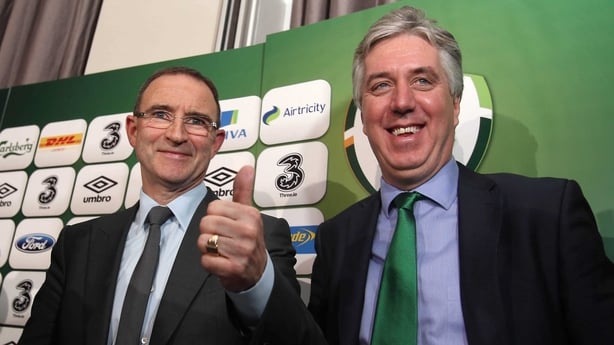 Speaking on RTÉ Radio 1's Today with Sean O'Rourke, soccer journalist Ken Early agreed with Fenlon's assessment, but went even further, suggesting that O'Neill and Keane were sacrificed because of the pressure that was coming on Delaney.
"I think it's maybe not so surprising in view of the fact that over the last few days you've seen a real swelling up of people say 'where's John Delaney in all this?'
"Once the name John Delaney starts getting mentioned by a lot of people in connection with a crisis in Irish football that's always bad news for whoever's managing Ireland at the time.
"We saw that over in Denmark at the game in Aarhus. Stewards there were actually taking anti-John Delaney banners from Irish fans on the way into the stadium. They'd been briefed on the content of these, I guess, offensive banners.
"The point is people had started to point the finger at the chief executive of the FAI and when that happens, well John Delaney doesn't like that.
"I those circumstances I guess he's decided to throw a piece of meat to the wolves in the form of Martin O'Neill and Roy Keane."