Dundalk manager Stephen Kenny took a moment to talk about the importance of the Homeless Street leagues after he was named the Premier Division manager of the year at the PFAI awards.
Kenny guided the Lilywhites to the second league and cup double of his reign in 2018 and a fourth league title in five years.
But while he said he was honoured to receive the award and the votes of his fellow managers, he chose to focus his speech on the crisis of homelessness in Ireland and the work of the volunteers in the Homeless Street Leagues.
"I think it was 17 years ago, Sean Cavanagh from the Big Issue contacted me about the Homeless Street Leagues and I think one of the things they've really done successfully over the years is the Homeless Street Leagues.
"Thomas Morgan is captain of the homeless team now in Mexico at the World Cup. I think the women's team were honoured in the Mansion House recently and the work that Sean Cavanagh and all the volunteers do in the leagues, I've just tremendous admiration for them.
"There's a lot of great volunteers and their names are never mentioned, but they volunteer and they give up their time and they help people. The whole idea of the Homeless World Cup is that you can only represent Ireland for one year because you're hoping that's all it ever is."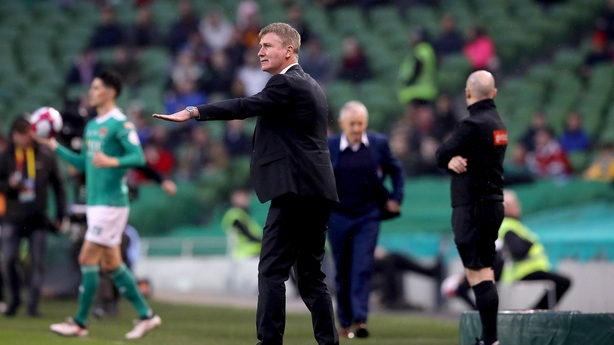 He continued:
"[Homelessness] is becoming a much bigger issue. Unfortunately [there's] more participants than ever. I think when you talk about real heroes in society, you talk about Fr [Peter] McVerry and the work that he does. He calls for the Government to act like this is a national emergency.
"You're talking about [people living in] hotel rooms. We could come here even three or four years ago, and pay €300 or €400 locally for a hotel room. Tonight for anyone, its 300 quid and if you're homeless, what chance have you got?
"It used to be people with addictions [but] now it's normal families who can't afford their rent. I think it's a massive issue and the fact that it's not being treated as a national emergency as Fr McVerry suggested is a big disappointment."
We need your consent to load this YouTube contentWe use YouTube to manage extra content that can set cookies on your device and collect data about your activity. Please review their details and accept them to load the content.Manage Preferences
Switching back to football, Kenny praised the efforts of his players who achieved the cup double this year on a night where Dundalk's Michael Duffy took home the PFAI's Premier Division Player of the Year while his teammate Jamie McGrath was named the Young Player of the Year.
"Being voted by fellow managers is a great honour," he said. "For me to manage the group of players that I do is a great privilege.
"To come in every day to see how hard they work, their level of professionalism, the standards that they set themselves, the desire that they have every single day. They want to get better and they push the boundaries out, I don't know how they do that.
"It's a privilege to come in and work in that environment so I can consider myself fortunate in that regard."