Martin O'Neill put last month's disappointing defeat down to two things; the brilliance of world class player Gareth Bale and the mistakes made by his own side that handed Wales two early goals.
Tom Lawrence opened the scoring with less than six minutes on the clock before a Gareth Bale wonder-strike just after the 17-minute mark doubled the home side's advantage.
Both goals, it must be said, were well taken, giving Ireland keeper Darren Randolph little chance of saving, yet at the same time, both were avoidable.
Schoolboy defending let Lawrence in on goal for the first, while a misplaced pass just outside the Wales box turned defence into attack for the home side – Gareth Bale did the rest.
Ireland had 73 minutes to play their way back into the game and look to claw back a two-goal deficit. Yet 20 minutes later Aaron Ramsey's sliding shot sealed the victory as the home side took an unassailable 3-0 lead.
"I think the adjustments that we'll have to make during the course of the match will be very important," said Martin O'Neill at the pre-match press conference when asked what lessons did he learn from the thumping defeat in Cardiff.
The manager, on reflection, perhaps believes that he could have made some personnel or formation changes following that second goal in Wales throughout that twenty-minute period before the third goal ended the game as a contest.
By the time O'Neill made his first substitution – Shaun Williams coming on for Conor Hourihane – Wales had actually gone 4-0 ahead.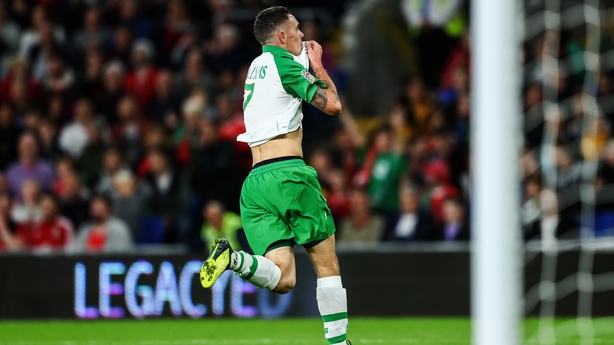 But on to tonight's game and just like the Danish result last November and subsequent return game in Dublin, O'Neill will need to undo some of the damage caused by the 4-1 in Cardiff.
Saturday's stalemate was the first step in the healing process, but now O'Neill will need even more from his side against Wales in what looks like a must-win game to remain in contention in this Nations League mini-group.
Wales have been rocked by the high-profile absentees in the squad as Gareth Bale and Aaron Ramsey are ruled out, as well as Chelsea prospect Ethan Ampadu, who was so influential in the first game.
And while, on paper, that is good news for Ireland's chances of securing their first Nations League victory, it also means that Ryan Giggs' side will have an unknown quantity element to it.
Wales ripped through Ireland in the first game, with not only their marquee names impressing, but a whole host of emerging Welsh talent, that played with freedom throughout.
And Giggs will, once again, unleash his youth on Ireland, telling them to play with no fear and to take the game to the home side.
Expect O'Neill to be pounding the technical zone in those opening exchanges to make sure that his game-plan is not Banksy'ed before the encounter even gets going.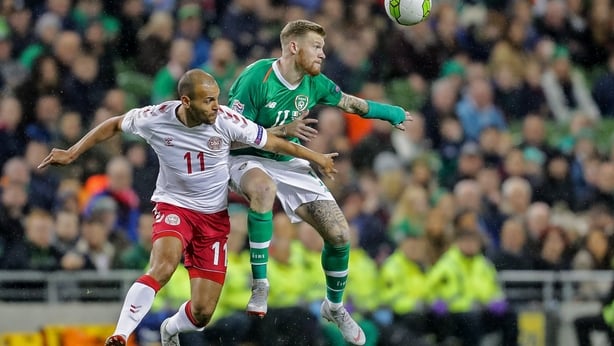 Front-Foot Football
The manager has promised front-foot football from the get-go as his side look to dictate proceedings.
Intentions were perhaps honourable on Saturday night, when the manager named an attacking team and formation, but what transpired was the polar opposite as Denmark soon had Ireland defending on the edge of their penalty box.
"We're at home and we have to try to get on the front foot and stay on the front foot," said O'Neill.
"Of course, there are going to be moments in the game where we're going to have to defend. As in Cardiff, Wales had a lot of the ball. We couldn't get it off them. It's up to us to do better. I think the players are ready for that.
"We've got to try and be more creative if we can. We have to try and use the ball in the final third and be confident on it. Absolutely, we have to be more creative."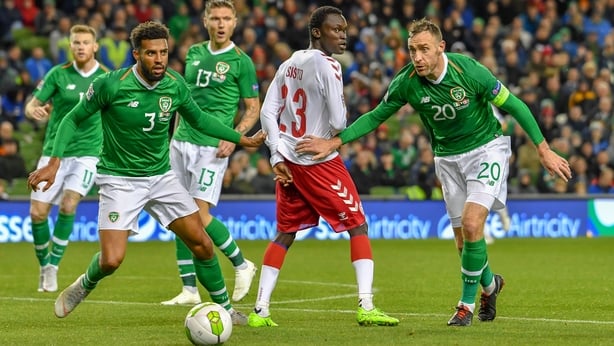 Formation – give it another go
As mentioned, the formation on Saturday suggested attacking intent from Ireland, yet the three-man defence was never implemented, except perhaps for the final twenty minutes when Ireland enjoyed a bit of momentum.
James McClean and Matt Doherty essentially played as full-backs throughout, as Ireland failed to get any joy in the opposite end of the pitch.
For the three-man defence to work, O'Neill need only look to the example of near neighbours England, for an imaginative and brave approach to attacking football.
England's two wing-backs are forever in the final third of the pitch – regularly, both at the same time – while Harry Maguire and Kyle Walker will often step confidently across the half-way line to instigate attacking play.
All this may prove a bit too gung-ho for a manager in the embryonic stages of adapting a new style of play, but if Ireland set up with a three-man unit in defence, that front-foot football must start with the wing-backs from the early stages.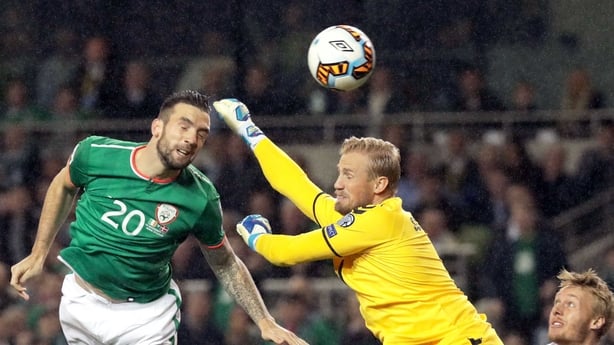 High Line – Out, Out, Out…!
Every schoolboy and amateur defender in the country has long lived by the motto, 'out, out, out' once the ball has been cleared from their end of the pitch.
Yet O'Neill's Ireland continue to defend on the edge of the box.
The manager, at least, did agree when asked did he think that the defensive line had to be a bit higher, which could transform the team in terms of the attack.
"I would not disagree with you, absolutely," said O'Neill. "I do think that we can try to push out and get up the field a little bit so that the distances between the centre-back position and midfield is not that far.
"It's a very big pitch, the Aviva, maybe we are shorn of a bit of phenomenal athletic ability in the side, so I agree that those distances are important and that we do try to work on that.
"When the danger is cleared for a start, let's get up a little bit so it gives everybody a better chance."
There was a caveat, of course.
"That's sometimes easier said than done."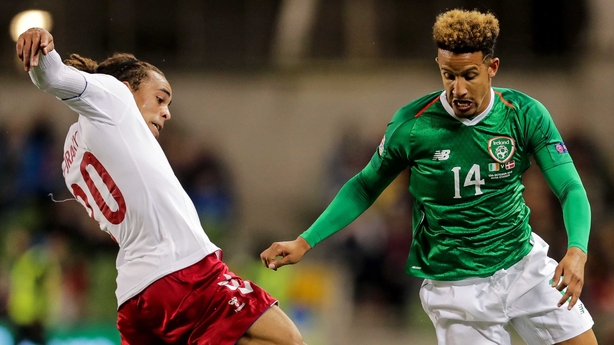 New-Look Ireland?
Callum O'Dowda is out, while Shane Long may not have recovered from his exertions on Saturday sufficiently to get a start in the side.
As a result, O'Neill will have to make changes.
But the manager will probably want his side to pick up where they left off on Satuday night, playing with that attacking intent, which forced Denmark to make a defensive substitution in the latter stages.
Should that be the case, O'Neill could be set to slot James McClean into the left side of that midfield three and hand Enda Stevens his first competitive start.
Does O'Neill believe that Matt Doherty did enough to stay in the team?
If not, Cyrus Christie will move over to that right wing-back role and a more established central midfielder will come into the trio in the middle of the park.
And Callum Robinson is bound to get the nod following his excellent cameo on Saturday. The Preston man is not a natural replacement for Long, but the manager believes he can play a variation of that front role.
"I thought Callum Robinson gave us extra energy, gave us some impetus, took on a couple of players.
"He's a nice footballer and a nice lad, though that doesn't guarantee him a place in the team," said O'Neill, not wanting to get the lad's hopes up too soon.
Sean Maguire and Scott Hogan will be on alert for a late role should Ireland need a goal, and while neither is match-fit, both will be eager to get a chance.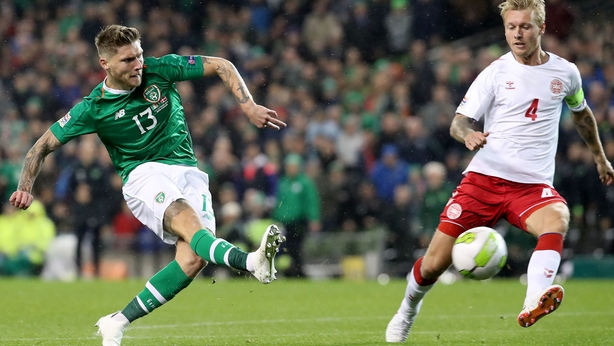 Don't Blame the Players
If communication can sometimes feel like an issue with O'Neill, there was nothing lost in translation when asked was he getting everything out of the players.
The manager believes that the players have given everything they have, and appeared quite passionate when talking about the efforts of his squad throughout his tenure.
"This group of players, certainly in my time here, have shown an incredible willingness to play for their country," said O'Neill.
"None more so than James McClean, who broke his wrist in training the day before we played Wales and was actually looking for an injection to see if he could play in the game.
"He's absolutely brilliant for us and he epitomises everything that this side has been about for the last few years.
"On technical ability, we're short, and I think everybody can see that. But we're not short of heart.
"We were well beaten last month but the players have given everything they possibly can for the cause."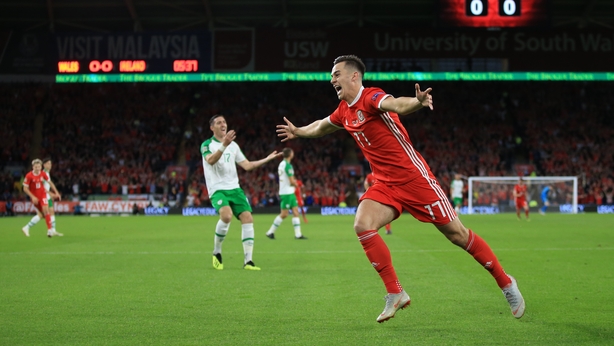 The Opposition
Wales manager Ryan Giggs has shown already that he is not afraid to make big decisions and is happy to take chances.
The Ethan Ampadu example from the last game shows the manager cares little for the phrase, "you'll win nothing with kids" as the 17-year-old put in an accomplished performance, never looking out of place on the international stage.
With Ampadu missing, Giggs will be looking for another youngster or two to step up and make a name for themselves
Giggs will still be content to take the game to Ireland and bring a high-energy performance to the Aviva as they look to go top in the group.
Read our Welsh View article here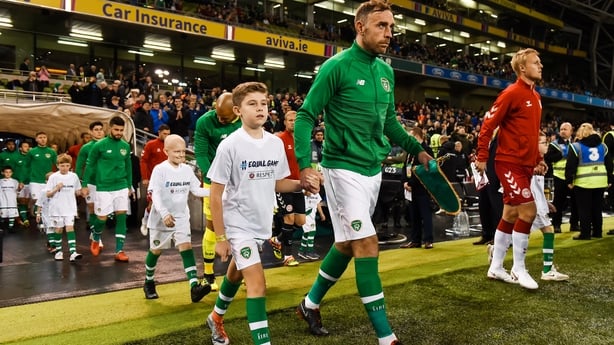 Captain Keogh
Richard Keogh captained the side on Saturday night in Seamus Coleman's absence and many would argue that the Derby County centre half was unlucky to lose his regular place in the team.
O'Neill took a shine to the Shane Duffy-Ciaran Clark partnership during World Cup qualifiers, despite Keogh performing well at the Euros against Italy and France.
But the player said that he has always remained patient and positive, ready to put himself in a position to get back in the side.
"The manager has been fantastic for me ever since he has been in charge," said Keogh.
"I have played a lot of games, he has given me some of the best memories of my career, so I have to thank him a lot for that.
"You have to be patient. That's just the nature of football. It doesn't mean that you don't train well, you put yourself in a position for the manager to put you forward.
"It's always been a fantastic honour for me to play for my country."
Before finishing, the manager took a moment to pay homage to the player sitting beside him, and O'Neill's sincere and heartfelt words gave us a brief glimpse of why he has a reputation to make players really believe in what he is asking of them and more importantly, make players believe in themselves.
"Sometimes Richard does not realise how influential that he is around the group," said O'Neill.
"He is pretty much like John O'Shea, and I cannot pay him a higher compliment than that.
"He is a really, really good influence, particularly with the younger lads here."
Ireland XI (possible): Darren Randolph; Richard Keogh, Shane Duffy, Kevin Long; Matt Doherty, Enda Stevens; Harry Arter, Cyrus Christie, James McClean, Jeff Hendrick; Callum Robinson.
Follow Republic of Ireland v Wales with our live blog on RTÉ Sport Online and the News Now App and listen live on 2fm's Game On from 7pm