Wales manager Ryan Giggs will still attempt to play his high-energy, pressing game as his side faces Ireland at the Aviva Stadium on Tuesday evening.
That's the view of BBC Wales football correspondent Rob Phillips, who feels the novice international manager will, once again, look to fill his side with pacey players to take control of the game in Dublin, much the same way that they did in Cardiff last month.
Wales romped to a 4-1 win in that Nations League opener, however, Gareth Bale and Aaron Ramsey are both missing from the side that travelled to Dublin for tomorrow night's game.
Yet Phillips believes that the squad still possesses several players who can cause Ireland problems at the Aviva.
"Their winning chances are substantially reduced with the fact that Aaron Ramsey and Gareth Bale haven't travelled," said Phillips, speaking to RTE Sport.
"You look at the Wales side that did so well against Ireland in Cardiff and they are now lacking Bale, Ramsey, [Ethan] Ampadu so there is no doubt they have been hit hard by injuries.
"I might be strangely naive but what they don't lack is attacking flair, with David Brooks on one side, Tom Lawrence and Harry Wilson, who has been in great form.
"It is not something that we can often say, but when we lose a player like Gareth Bale – any team would miss Bale – they don't lack for pace and flair, which I think is one advantage that they might have over Martin O'Neill's side.
"I think that Ryan Giggs will want to get as much pace in the team as possible and as much creativity.
"I think he will try to stick as close as he can to those same tactics, maybe he will be a little less adventurous."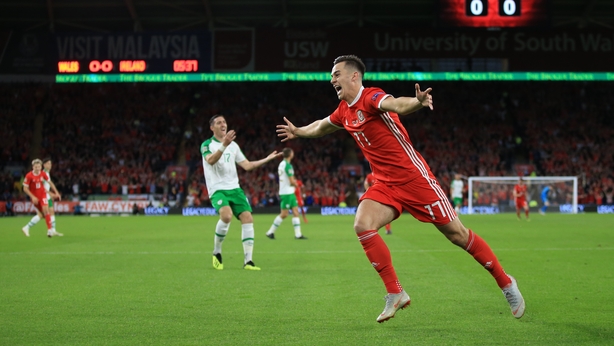 While this Welsh side have shown how effective they can be playing free-flowing football, Phillips does feel that the side are relatively inexperienced and will need to be at their best to handle everything Ireland throw at them at the Aviva.
"What they lack is definitely the streetwise mentality, because they are youngsters. And as we saw from previous meetings with Ireland, you have to have physical strength and you have to be able to cope and look after yourselves, so there may be question marks over that.
"There is no point trying to get into a battle with Ireland, because they will win it and they will do it well.
"We saw that in the World Cup. They came to Cardiff and they did a fantastic job on Wales."
Phillips also feels that Ireland will prove effective from the dead ball and that presents a real challenge for Giggs' Wales.
"Wales will have to watch the set-pieces, and they are going to have to be strong.
"They were dreadful in defence last week. The goal that Sergio Ramos scored, there were three Spanish players queuing up to head home from a free kick.
"Martin O'Neill is not daft. He and Roy Keane will have seen that and so they will be pressurising Wales in those areas."
Giggs has a lot of personnel changes to make to the team in the absence of their star players, as well as the 18-year-old holding midfielder Ampadu, who was inspirational against Ireland and remarkably, may prove the most difficult to replace.
"I wouldn't say there is an obvious sitting midfield player other than Andy King who hasn't played for Leicester," said Roberts.
Joe Allen will naturally dictate play in the middle of the park, as he did for the World Cup qualifier in Cardiff, where he stamped his authority on the game before getting injured in the first half, which Ireland eventually won 1-0.
So who will play around Joe Allen?
"If he was really adventurous, he will play Harry Wilson in the Aaron Ramsey role, with David Brooks, Tom Lawrence and Tyler Roberts or Vokes up front. And he might look at Matt Smith who did really well against Spain."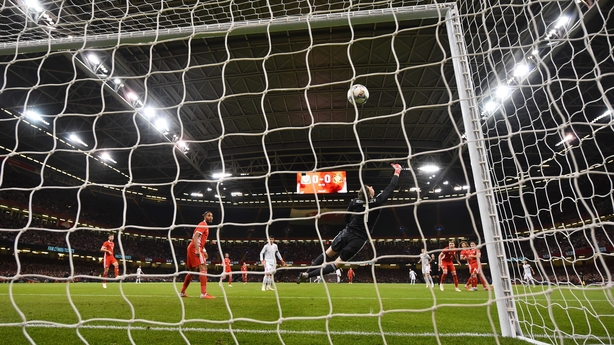 The Welsh defence looked suspect in last week's friendly defeat against Spain, however, Giggs still has the option of naming a very experienced back four.
"There is no doubt that Ben Davies will start on one side. There is a doubt on the right side whether it will be the experienced Chris Gunter, or Connor Roberts who has been in scintillating form Swansea City, and adds real pace.
"So it could be that Wales will line out with the same back four as the one that took them through the Euros with Davies, James Chester, Ashey Williams and Gunter.
"There are big questions over Williams at the moment because of his form, although he looked a lot better against the Republic in Cardiff.
"He didn't look so good against Spain last week, but he was taken off at half-time, so I suspect that he will definitely play."
Barely a month into his competitive managerial career, the former Manchester United man's style is already starting to show itself and Giggs has implemented changes since taking over from Chris Coleman, who guided Wales to the Euro 2016 semi-finals.
"Giggs has definitely changed it since Chris Coleman, he likes to play with much more pace and with much more of a pressing game.
"It will be a real test for Giggs. Managerial-wise, he has nowhere near the experience of Martin O'Neill and Roy Keane.
"The best thing that Coleman had was this tight-knit group, which really showed during the Euros. They thoroughly enjoyed themselves.
"Giggs has brought a steelier attitude in training and has brought his own style to it."
And while Roberts believes Wales might still have enough to win the game, he expects that Ireland will go all out to win it, while not anticipating a great spectacle from a footballing point of view.
"Ireland have to win this game to have any chance of going up from this section. But they are never great games."
Wales XI (Probable): Wayne Hennessey; Connor Roberts, James Chester, Ashley Williams, Ben Davies; Joe Allen, Andy King, Harry Wilson; David Brooks, Tom Lawrence, Tyler Roberts.
Follow Republic of Ireland v Wales with our live blog on RTÉ Sport Online and the News Now App and listen live on 2fm's Game On from 7pm