Martin O'Neill declared that Ireland were "ready for Wales" following his side's scoreless draw with Denmark at the Aviva Stadium.
Ireland fought hard to secure their first Nations League point, and considering the pressure that O'Neill's men were under ahead of the game, it was no surprise to sense the confidence and optimism starting to return to the manager as he spoke to the press following the Danish draw.
A dour draw perhaps, yet O'Neill admitted that he is very much in the early stages of a rebuild following the obliteration of his side's confidence over the past 11 months.
Coming into the game, O'Neill said that he was planning for 2019 and the start of the Euro 2020 qualifiers, and with the memory of the defeats to Denmark and Wales remaining very vivid within the Ireland camp, the manager was quite upbeat following the game.
"It's a start and it's a rebuilding process," said O'Neill. "It's kind of rebuilding after the defeat against Wales.
"We kept a clean sheet tonight, which is very, very important."
The foundations appear to be in place ahead of the Wales encounter in three days' time, yet things appeared a little less clear as the game began at the Lansdowne Road venue.
It certainly appeared that O'Neill was taking a major gamble with his formation and player selection.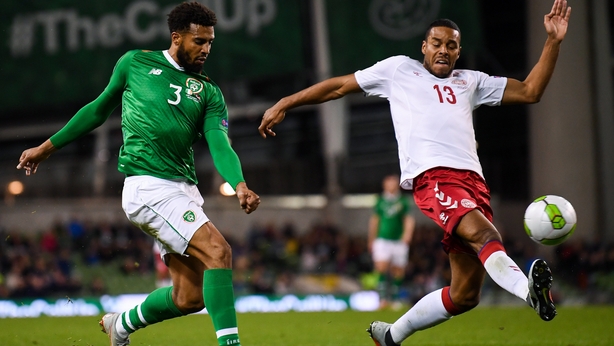 A most unlikely trio was sent in to marshal the middle of the park as Harry Arter was joined by Callum O'Dowda, while remarkably, Cyrus Christie would make up the midfield trinity.
Christie has been loyal to the manager and O'Neill has endeavoured to use the Fulham defender whenever possible.
And while we watched and wondered, it appeared that O'Neill was never in any doubt that Christie could cope.
More that cope, as it transpired, the versatile right-sided player proved energetic and effective throughout the night in what turned out to be a man of the match performance.
"I thought he was terrific, I thought he did very, very well indeed. It's not a problem to him. I have obviously got a lot of faith in him as a player.
"He's athletic, strong and even though he doesn't always play at Fulham, he keeps himself in really good condition.
"He's played full-back for me, he played wing-back, he's played right-wing as well and he played in the middle and I thought he did things very well indeed."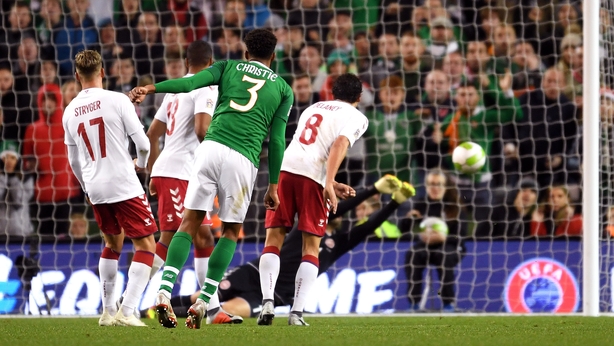 Christie almost capped off the perfect night with a match-winning strike, but was denied by a fine save by Danish keeper Kasper Schmeichel.
However, O'Neill was more impressed with the player's awareness throughout and his ability to cover his midfield role while also helping Matt Doherty on his competitive debut.
"Also he would help young Doherty as well, I thought that was important," beamed O'Neill.
"Sisto playing on that side might definitely cause us a few problems and Cyrus was basically the first one out to him and I thought he did well on that.
"He also had a splendid shot on goal parried away by the goalkeeper, so I was very pleased with him."
Ireland found themselves in a position to go for a victory late in the game, and O'Neill, to his credit, did take the initiative and push both Callum Robinson and Aiden O'Brien into the attack late in the game.
Denmark, by contrast, made a defensive substitution as the game entered its final stages.
"Their substitution at the end with Christensen, a defender coming on for their centre-forward, might have told you something," emphasised O'Neill.
It must be noted, however, that Ireland played a large chunk of the encounter very much in defensive mode as the experimental three at the back, soon became five, and at times eight across the box, as O'Neill's side were guilty of sitting too deep.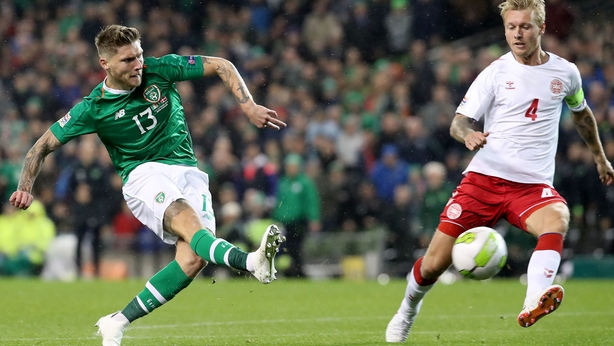 Understandable perhaps, considering the acclimatisation period for his players and the fact that there was a makeshift midfield in operation.
O'Neill acknowledged that his side allowed Denmark to dictate the play, while at the same time he took heart from the fact that his goal was rarely troubled.
But it keeps coming back to possession.
And again Ireland went for long periods chasing the ball.
While the manager continues to take flak for such situations, O'Neill maintains that keeping the ball remains high on his agenda.
"I thought we allowed Denmark to dictate the game possession-wise, and while they didn't really cause us that many problems, they still had possession of the ball.
"The early part of the second half definitely belonged to them, but our intention was to try to get more possession of the ball and eventually try to create a little bit more than we did.
"And as we started to get into it when we had possession and kept it for a little while, the players grew in confidence and we looked pretty strong."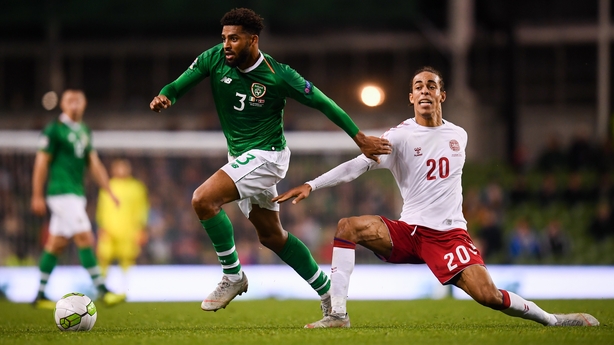 Whether the manager employs the same tactics and formation for the next part of the double header on Tuesday night remains to be seen, as he will await an injury update on Callum O'Dowda and will assess others who have lacked match fitness due to inactivity at their clubs.
"I think they're ready for Wales," declared O'Neill.
"We'll see how they are now. We'll see how they come out of the game. Some of the lads don't always play for their clubs and don't play often enough and are a little bit tired.
"Shane Long lasted longer in the game than I thought he would do. So we'll see how they come out of the match."
Doherty performed well on his first competitive start for Ireland and others staked a claim for further involvement, most notably Callum Robinson who made a real impact coming off the bench.
"I thought Callum [Robinson] came in and I thought he enlivened us for that period really nicely.
"He took the player on down the touchline and got the crowd going again. It was nice for him to make that sort of impact."
"Obviously, there was a lot of expectation on him because he's doing fine at Wolves," added O'Neill, regarding Doherty's performance.
"Overall, he didn't do too badly at all. I think he was delighted with the help he was getting around him and I'm sure he can improve."