If Martin O'Neill thought that Matt Doherty was as good as those who deemed the Wolves player more impressive than Eden Hazard, there is no doubt that the Dubliner would have earned many an Ireland cap by this stage of his career.
But the fact that the 26-year-old former Bohemians man has yet to earn a competitive appearance throughout O'Neill's five-year tenure shows that the manager does not rate him as highly as those who took part in the PFA's September player of the month poll.
Doherty won the award by a "landslide" according to the PFA website in relation to the Bristol Street Motors-sponsored fans' vote, garnering 39% of the vote compared to Hazard – one of the world's best and most in-form players – who could only poll 26%.
Sergio Aguero and Raheem Sterling managed less than 10% between them for their performances for the league leaders.
To suggest that this particular poll was hijacked by Wolves fans, would do a disservice to the great work and undeniable entertainment value that fans polls carry throughout the sporting world – remember the Irish lad at Juventus – but to start clamouring for the jersey on the back of such a poll would be asinine.
Doherty should be judged on what he does on the pitch. It should be the only barometer and it the only thing the player himself would advocate.
"I went to see him Saturday," said Ireland manager Martin O'Neill when asked whether Doherty was pushing Cyrus Christie close for the jersey in the continued absence of captain Seamus Coleman.
"The team didn't play particularly well in the first half," continued O'Neill.
"But".
Thank goodness, a 'but'.
"He was strong through the second half in particular and he scored a goal as well, so he's having a really good time at the moment."
"He's one player who's playing regularly well in the Premier League at the moment. He's got a good chance of being involved," added O'Neill.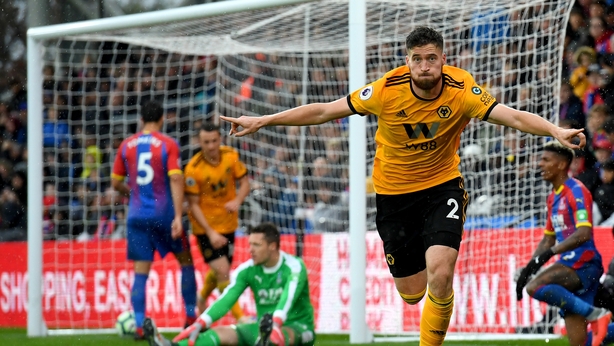 So the Ireland manager went to view the merchandise and he liked what he saw.
O'Neill needn't have gone to Molineux to see how well the player was playing this season, because, the attention that the flying wing-back has been receiving throughout the embryonic stages of Premier League 2018-19 has been widespread and coming from many respectable sources.
In a team full of slick and silky, ball-playing Portuguesers, Doherty has been more than holding his own and in fact, is credited as the main driving force in this team.
Ireland manager O'Neill has his favourites within the squad and certainly has his fair share of detractors looking in from the outside, but to suggest that Doherty's face does not fit in with the current Ireland squad, is perhaps a bridge too far.
If you want to see what a face that doesn't fit in with this Ireland manager, look no further than former Celtic striker Cillian Sheridan, who despite playing and scoring at the top end of a very good top flight in Poland, cannot get a look in, even when this Ireland squad are in desperate need of strikers.
If Martin O'Neill does not rate you, you will most certainly be outside the proverbial tent.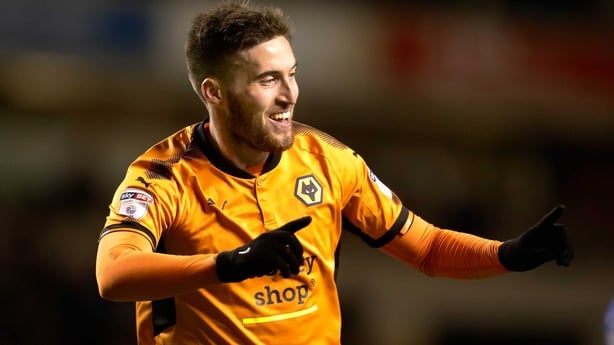 Doherty has been involved in many an O'Neill training camp at this stage and when the manager took the reins of the international side he was playing at a much lower level than he is currently.
O'Neill correctly reminds us that it was not too long ago that Doherty was not guaranteed his starting berth at Wolves and was being used a lot at left back as well as in the centre of defence, and it is only since the player was pushed into a right midfield role by the new manager at Wolves in front of a back three that he has really gained the recognition as a top player.
But at club level, the past 12 months have been a revelation for Doherty under the new regime at Wolves as the Irishman became integral to Nuno Espirito Santo's style, formation and philosophy as the Black Country side played their way to Premier League promotion with four games to spare.
Doherty played, and still plays on the right side of a four in midfield, in front of a three-man defence, and while his team play primarily on the front foot, the energetic Doherty is always tracking back and helping out with duties in his own half of the pitch.
So based on the fact that Doherty has yet to start an international match for Ireland – there have been five fixtures since the Denmark demolition and four of them friendlies – it begs the point, does O'Neill know enough about the player?
On this front, and based on the form and recognition the player has received over the past 12 months, the manager must be questioned over his attention to detail or perhaps his judgement.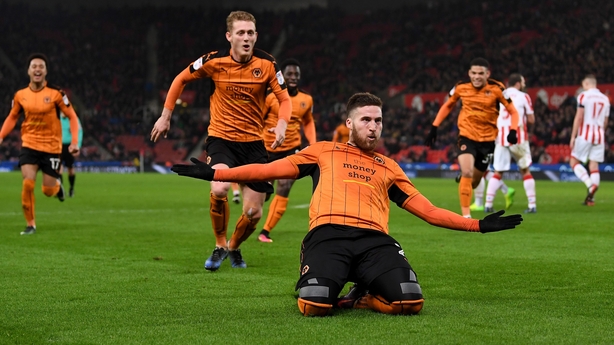 It is abundantly clear that O'Neill thinks the world of his captain, Seamus Coleman, and with good reason, and he probably believes that Cyrus Christie, a loyal lieutenant of the O'Neill era, is the perfect understudy.
If the benefit of the doubt is to be handed to the Ireland manager, it can only be that he does not fancy Doherty as a tried and tested full-back.
It is true that Christie has rarely, if ever, let Ireland down during the 12-month period when captain Coleman was out with a broken leg, yet neither has the Fulham man ever displayed a match-winning or match-saving performance in the green, and for this matter, O'Neill should have been open to the idea of an alternative.
O'Neill will come under serious pressure this week if results don't go his way and should Doherty fail to pick up his first competitive start on Saturday, the manager will be seriously questioned.
Perhaps the manager needed a motive to justify picking Doherty without feeling like he is bowing to external pressure.
That alternative option does present itself this week as the manager has hinted that he is ready to go with three at the back, a formation that would utilise two wing-backs.
The manager has named seven centre halves in his defensive unit for this double header and just three players who can play both full back and wing back.
If Matt Doherty does not start at least one of these two matches, perhaps the case can, once again, be reopened as to whether Doherty's face fits.
Follow Republic of Ireland v Wales via our live blog on RTÉ.ie/sport and the News Now App, or listen to national radio commentary on Radio 1's Saturday Sport.