An Indian Summer was on hand to greet Pope John Paul II when he touched down at Dublin Airport on that September day in 1979.
Much has been written and spoken about how Ireland has changed in that time ahead of this weekend's visit of the current Pontiff, Pope Francis.
And with all this reflection, a snapshot of the sporting world from that summer of 39 years ago is perhaps also appropriate, a throwback to a different era.
A papal visit was mooted in the months before it was finally confirmed on Saturday, 21 July.
On that same day, something special was happening on a Lancashire Golf Course.
Spanish wizadry at the Open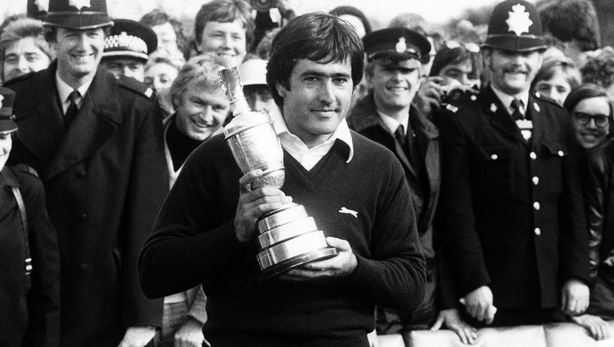 A swashbuckling Spaniard by the name of Severiano Ballesteros won the Open Championship at Royal Lytham and St Anne's in some style.
Two behind Hale Irwin as they entered the final round, Ballesteros was one of only four players to break the par of 71 and his final round of 70 saw him eventually finish three clear of Ben Crenshaw.
It was on the par-four 16th where the destination of the Claret Jug was ultimately decided. On that hole, Seve smashed his driver well right into a car park. He would surely drop a shot and give his pursuers hope.
No. After picking his ball out without penalty from under a car, he put his second shot on the green and then sank a huge putt for birdie. He would not be reeled in after that.
For his troubles, he picked up a cheque for £15,000. John O'Leary was the best of the Irish in joint-13th place.
Saving the best for last
In the days following Margaret's Thatcher's election as British Prime Minster, Arsenal and Manchester United were involved in the 'Five-Minute' FA Cup final on 12 May.
The Gunners were in control and heading for victory after goals from Brian Talbot and Frank Stapleton gave them a 2-0 advantage.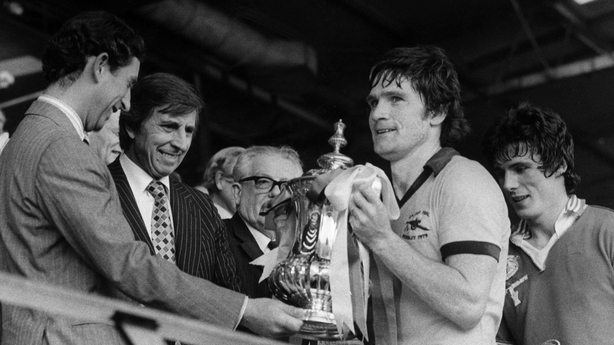 And then came the drama as United awoke from their slumber. Gordon McQueen stuck a leg out to make it 2-1 and then Sammy McIlroy showing great agility tied it up .
Extra-time beckoned until Liam Brady set up a move that ended with Alan Sunderland getting on the end of a cross to put the Gunners back in front. They would hold on for victory.
That same week, Art Garfunkel was number one in the charts with 'Bright Eyes' a track that featured on the soundtrack for the animated film 'Watership Down'. Even though it's a kids movie, it was quite scary in parts.
Also in May, Liverpool regained the English First Division Championship, while Nottingham Forest won the first of their European Cups, defeating Malmo 1-0 in Munich.
Dundalk's European adventure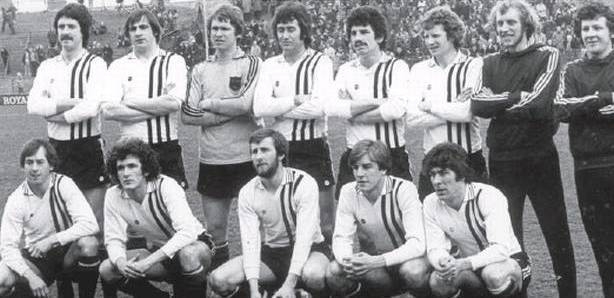 At home, Dundalk were the dominant force in domestic soccer after achieving a league/cup double.
Jim McLoughlin's side were drawn to face Linfeld in the preliminary round of the 1979-80 European Cup on 29 August.
The match at Oriel Park, which took place two days after the assassination of Lord Mountbatten and the Warrenpoint ambush, saw violence erupt before, during and after the game.
Security arrangements to keep rival fans apart were far from adequate, with Linfield supporters ignoring appeals from their own players to behave themselves at the start of the second half.
The game, by the way, finished 1-1.
The late Philip Greene was behind the mic for RTÉ Radio on that tense evening.
Afterwards, UEFA clearly held the Belfast club responsible for the unsavoury scenes and ordered them to pay for the damages caused to Oriel Park and to pay Dundalk's costs for the return leg.
A return leg that was played at a neutral venue - Haarlem in the Netherlands. Before a paltry attendance, two goals from Cathal Muckian saw the League of Ireland outfit advance 3-1 on aggregate.
Next up was a date with Malta Hibernians. Dundalk scraped home 2-1 on aggregate to set up a glamour tie with Celtic. A 3-2 reverse at Parkhead was deemed a terrific result in the first leg, with fans knowing that 1-0 win in the return would see Dundalk through to European Cup quarter-finals on away goals.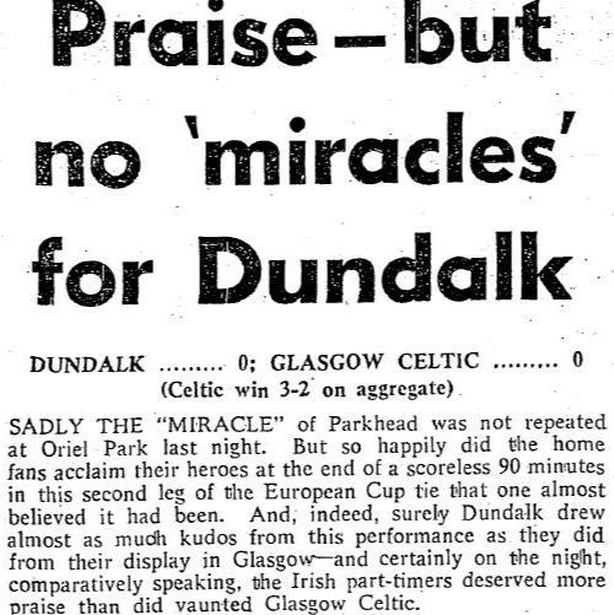 A crowd of 17,000 turned up at Oriel Park and while Dundalk gave the visitors a few frights they could not find a way through and 0-0 was enough for the Scottish champions to advance.
The highest grossing movie ($106million) of 1979 in the USA was Kramer v Kramer, starring Dustin Hoffman and Meryl Streep. In the UK, Superman (11.5million), which came out at the end of 1978, topped the list.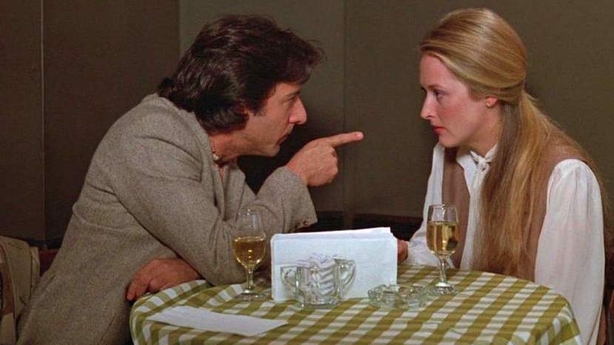 Rugby ructions over the No 10 jersey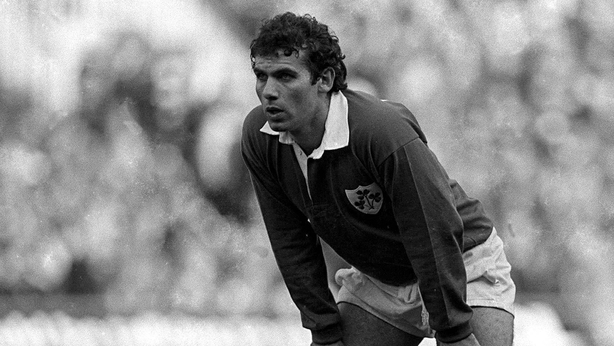 In 1979, an Irish squad travelled Down Under and beat Australia 2-0 in a Test series. They wouldn't win again away from home against the Aussies until Joe Schmidt's side came up trumps in June of this year.
Yes, but it's the Tour from '79 that still generates as the man of the moment Tony Ward was dropped in favour of Ollie Campbell. The story made front page headlines.
Ward was hot property at the time and had transcended a sport that very much had an elitist air about it back then. Was Ward getting a bit too big for his boots? That's how the player saw it and in his autobiography 'Twelve Feet Tall', the Dubliner suggests that the IRFU had grown wary and resentful of his burgeoning profile.
RTÉ's Conor Neville explored this story in advance of this summer's concluding Test.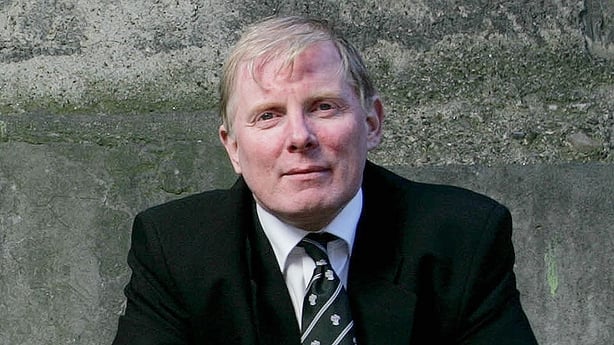 Looking back on those events from that June weekend in '79, Campbell told RTÉ Sport: "There was nobody more surprised than I was to be selected for the Test side. Tony was the European player of the year for two years in a row. He was probably the first absolute star of Irish rugby.
"For me at that stage, even to be selected for the Tour at all was a surprise."
In the piece, Neville also came across an explanation for Ward's demotion in Tom English's book 'No Borders'
Fergus Slattery, one of the trio of selectors who made the decision, said that Ward's game lacked the structure of Campbell's and the decision was only a surprise to those who didn't understand what they were looking at.
"The problem with Tony's game was a lack of pace and it wasn't apparent to the intelligentsia in the media," Slattery told English.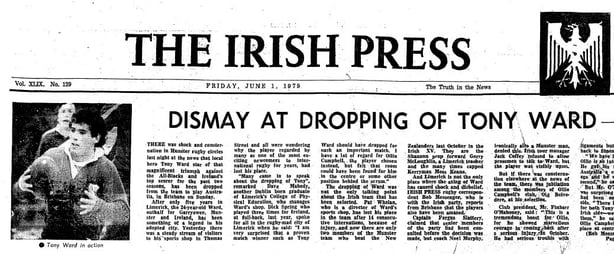 "He didn't have the pace to do the things he tried to do. He was a great dancer, small and agile, but there was far more structure to Ollie's game.
"Wardy had a tendency to crab across the pitch rather than go forward and that put pressure on the outside. It was only a bombshell to the people who didn't know what they were saying."
In time, Ward and Campbell have become good friends, with the the latter also telling RTÉ Sport: "I think it's fair to say it's been a rare week in the last 40 years where someone hasn't mentioned Australia '79, myself and Tony and our battle for the coveted No. 10 Irish jersey.
"But it was purely a sporting rivalry. It was never personal. Coming back on the plane from Australia, we even sat beside each other.
"We've become great friends. I think we've both come to accept that we've been joined at the hip for the last 39 years since '79 and probably will be for the rest of our lives."
For five weeks in 1979, Brendan Shine had a Number 1 hit in Ireland with 'Do You Want Your Oul Lobby Washed Down'. Indeed, the song stayed in the charts for over 40 weeks.
Something new from RTÉ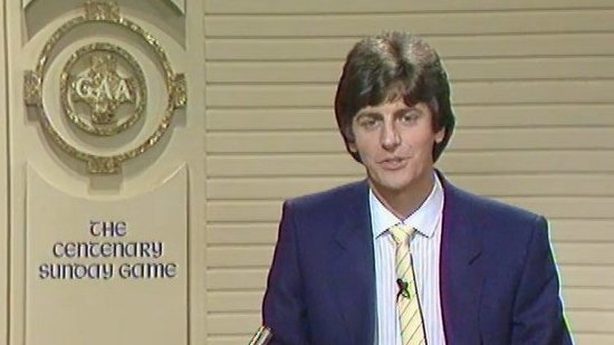 In GAA, Kerry's dominance in football was really taking old and they easily defended their All-Ireland football crown, defeating a waning Dublin side 3-13 to 1-08 in the decider. It was the first final to take place on the third Sunday in September, a move prompted by the Bishop of Rome's impending arrival.
No doubt, Dublin's Jimmy Keaveney was cursing the Pope's visit on one level as he would ultimately miss the September decider following an eight-week suspension he picked up after his sending off in the Leinster final against Offaly. He would have been eligible to face the Kingdom if the final had not been brought forward.
Kilkenny were back on top in hurling after they comfortably saw off Galway 2-12 to 1-08 in the finale.
They were high hopes that the Tribesmen would put it up to the Cats after they ended Cork's four-in-a-row-drive in the semi-final, but they fell flat on the day.
The summer of '79, however, would see the beginning of a new sports programme, entitled 'The Sunday Game'.
It began on the 8 July, with highlights of the Munster hurling final between Cork and Limerick.
A fortnight later, the best of action from the Monaghan-Donegal Ulster football final took centre stage.
It was a case of the 'band stayed on' in the opening few minutes as this link shows.
The first presenter of The Sunday Game, which went out at 8pm on RTÉ One, was Tuam native Jim Carney. and on the panel was camogie player Liz Howard.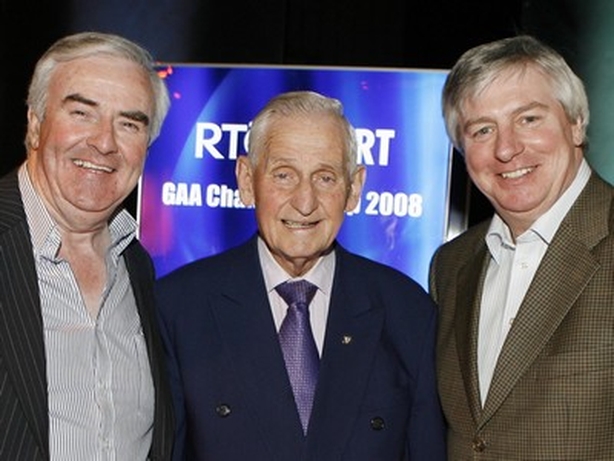 Subsequent presenters were Seán Óg Ó Ceallachain, Bill O'Herlihy, Michael Lyster, Pat Spillane and Des Cahill.
Lyster has been with the programme since 1984 and earlier this year announced that he was stepping down as presenter of The Sunday Game Live. Joanne Cantwell will assume that role in 2019.
Irish band The Boomtown Rats had their second No 1 in the Irish & UK charts with the song 'I Don't Like Mondays' - a composition inspired by a school shooting in San Diego in January '79.
And elsewhere...
Showjumping was big in 1979 and many were glued to their tv sets when Ireland completed a hat-trick of wins in the Aga Khan Cup.
In athletics, Eamon Coghlan broke the world indoor one-mile record in San Diego with a time of 3 minutes and 52.6 seconds.
Dick Hern's Troy was the dominant equine force on the back of success in the Epsom and Curragh Derbys and the King George at Ascot.
For those of you who remember The Superstars, Pat Spillane was flying the flag for Ireland in '79.