Ollie Campbell says it's been a rare week in the past four decades that no one has mentioned Tony Ward, the Australian tour of 1979, and the selection dilemma that caused ructions within the Irish rugby fraternity.
In 1979, an Irish squad, coming off the back of an okay-ish Five Nations campaign, travelled Down Under and beat Australia 2-0 in a Test series. They wouldn't win again away from home against the Aussies until last weekend. Hell, they wouldn't beat them at all in any venue until 2002.
And yet, despite the landmark achievement, the tour is principally remembered now as the scene of Tony Ward's shafting and Ollie Campbell's dramatic elevation.
Any retrospectives or potted histories of that tour fixate on the psychodrama surrounding the selection and treat the actual test wins as a mere post-script. The victories are cited less as fine wins in their own right and more as vindication for the selectors.
Ward's omission for the First Test was regarded as a shocking moment by many, not least the player himself.
Ward had starred in the 1978 and '79 Five Nations campaigns, collecting more Man of the Match awards than he could fit in the boot of his car (the IRFU were evidently concerned about this space issue as they prevented him collecting the last two of these).
He was crowned both European Player of the Year and the Rugby Writers' Player of the Year for the 1978-79 season. Not only that, but he was the starting out-half for Munster's win over the All Blacks in '78 and on the first tour match Down Under he broke the Irish points scoring record in a win over the Australian Capital Territories.
It seemed incomprehensible to many that he would be dropped.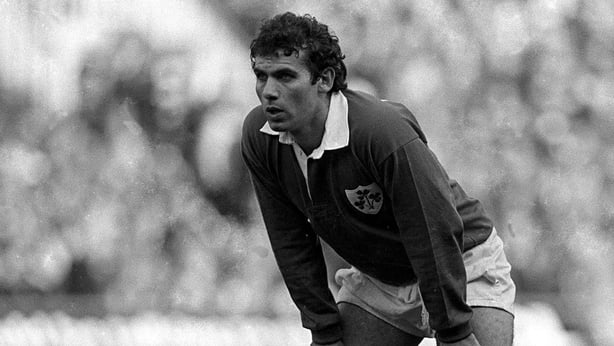 Rugby pundits, historians and promo makers are renowned for never taking a backward step in the hyperbole stakes.
In that spirit, we might describe this as the biggest selection controversy in Ireland since Dev decided not to pick himself for the Treaty negotiations.
It also jarred heavily with what was reputed to be standard practice in Irish rugby at the time.
After all, ancient lore has it that players were never, ever dropped from the Ireland rugby team in those years.
The only thing in the world harder than getting picked for the Irish rugby team, the old joke went, was getting dropped from the Irish rugby team.
Willie John McBride was speaking once at one of those Will Carling-led after dinner yokes that proliferate on YouTube.
You may have seen them. A host of past rugby players from down the decades line up Usual Suspects style on stage and tell well-worn anecdotes about their playing days and marvel at how much more craic filled - and shambolic - they were compared to the soulless professionalism of the present day.
After telling the crowd that he was delighted to be 'anywhere' at his age, Willie John recalled his own international debut at Twickenham in 1962 and speculated that his predecessor at lock "must have died or something".
One other player gobsmacked by the selectors' decision was Ollie Campbell himself
Then, when remembering his twilight years in the jersey and how his career briefly intersected with youthful opposite number Billy Beaumont, he expressed (probably ironic) bemusement that "they kept changing the English team" year on year.
In that context, the decision to drop the European Player of the Year was regarded as a remarkable bombshell.
One other player gobsmacked by the selectors' decision was Ollie Campbell himself.
Speaking to RTE Sport this week, the unfailingly modest and polite Campbell said he was relieved to be picked for the Test squad in the first place.
"There was nobody more surprised than I was to be selected for the Test side. Tony was the European player of the year for two years in a row. He was probably the first absolute star of Irish rugby.
"For me at that stage, even to be selected for the Tour at all was a surprise."
Why was Ward dropped? In his forthright autobiography 'Twelve Feet Tall', Ward suggests that the IRFU had grown wary and resentful of his burgeoning profile.
Ward was hot stuff in the late '70s, and in this narrative, the union, always pathologically obsessed with signs of creeping professionalism, took an almost visceral dislike.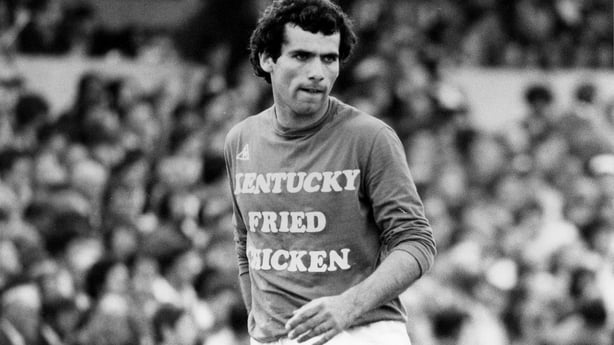 Despite his form on the pitch, Ward got an uneasy feeling on tour that coach Noel Murphy had it in for him. His antenna was cocked for any hint of hostility and he felt that repeated training ground comments about the need for teamwork were in fact swipes aimed at him.
The selection committee consisted of Murphy, team manager Jack Coffey, and team captain Fergus Slattery.
Munster hooker Pat Whelan evidently got notice of which way the wind was blowing before the announcement and whispered to Ward: "prepare yourself".
Despite his earlier forebodings, Ward still admitted to being "rattled and dumbstruck" by the announcement. Campbell was so surprised that he initially assumed he was selected elsewhere in the backline rather than in place of Ward.
However, there is another rugby-based explanation for the decision. Tom English's book No Borders: Playing Rugby for Ireland is highly revealing on that score.
While some players were blandly diplomatic on the matter, several of the Leinster forwards – notably Phil Orr, Willie Duggan and Fergus Slattery – were surprisingly bald in expressing their support for the selectors' call.
Slattery, one of the trio of selectors who made the decision, said that Ward's game lacked the structure of Campbell's and the decision was only a surprise to those who didn't understand what they were looking at.
"The problem with Tony's game was a lack of pace and it wasn't apparent to the intelligentsia in the media," Slattery told English. "He didn't have the pace to do the things he tried to do. He was a great dancer, small and agile, but there was far more structure to Ollie's game.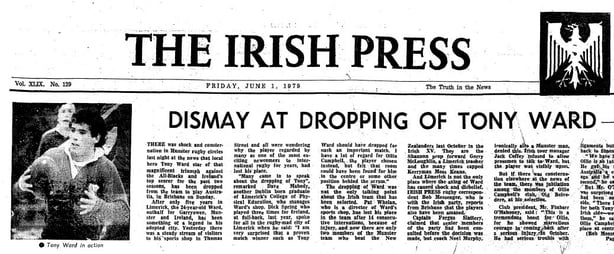 "Wardy had a tendency to crab across the pitch rather than go forward and that put pressure on the outside. It was only a bombshell to the people who didn't know what they were saying."
The late Willie Duggan was more earthy in his language. Ward's shimmying, off-the-cuff, improvisational game sometimes left him and his backrow colleagues at sea, he argued.
"You can't just follow the ball as a backrow forward, you have to take the shortcut. You need to know where it's going to go and then you go there. Sometimes with Wardy you looked around and he'd gone the other f*****g way. You were standing there like a p***k in the wrong place. He was a very good player but with Ollie you knew where you were."
Whatever the rationale, Ward was especially upset at the heartless manner of his demotion. Neither Murphy nor Slattery, he said, felt it incumbent upon them to give a detailed, or indeed a vague, explanation for the decision.
In his book, Ward recounted a bizarre anecdote of how Murphy, rather than talk through the selection call, brought him instead to the cinema where they watched some unnamed Vietnam War movie, one which Murphy proclaimed 'rubbish' halfway through before beckoning them leave well in advance of the end.
Somewhat confused by this episode, Ward reasoned later on that Murphy was attempting to keep him away from the rest of the squad so as to prevent dissent from spreading.
Any time I meet Noel he says the same thing to me every single time. He says if the selection hadn't worked, he would now be an Australian citizen
Murphy, known by the nickname 'Noisy' during his long years as player, coach and administrator, knew he was taking a big risk with the call.
Every time he meets Ollie Campbell these days, he greets him with the same line.
"Any time I meet Noel he says the same thing to me every single time. He says if the selection hadn't worked, he would now be an Australian citizen. He would have stayed."
Murphy could be satisfied the gamble worked and he was free to return home.
Australia were historically regarded as the poor relation of Southern Hemisphere rugby. With no David Campese or Mark Ella on the scene yet, they hadn't evolved into the potent force that would decorate the game in the 1980s and 90s.
But Ireland were still big outsiders to win down there.
"That Australian team at the time was a very, very experienced team," says Campbell. "They had beaten England in a Test series two summers before that. They had beaten Wales the summer before. And they had actually beaten the All Blacks in Eden Park - which is a very rare thing to do - the year before as well when Greg Cornelsen, one of their back rows, had actually scored four tries in that match.
"So, we weren't really given much of a chance. To say we were rank outsiders would be something of an understatement. But we won the first Test 27-12 in Ballymore in Brisbane. It came as quite a shock to the Australians at that time.
"And we won the second Test in Sydney and we won that by a much narrower scoreline of 9-3."
"We weren't conscious of it at the time but we subsequently became aware that we were actually the first Northern Hemisphere individual country that won a Test series in the Southern Hemisphere."
Ward's international career thereafter was an interrupted affair, though he did start at fly-half for the Lions in the First Test against South Africa in 1980. He entered the hall of fame of Irish sportsmen more beloved by fans and the media than by the Ireland coach.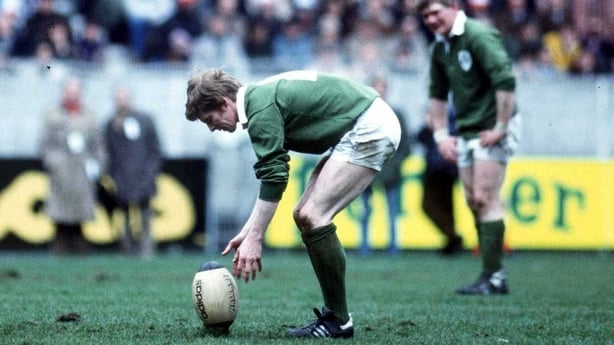 When Campbell was laid low with persistent hamstring injuries (which would soon force his retirement) Ward reclaimed the No. 10 jersey for the final couple of games of Ireland's already doomed 1984 Five Nations campaign.
Paul Dean, an inside centre on the 1982 team, was then picked at fly-half for the Triple Crown winning season of 1985. This again caused bafflement among many in the media and the public, who couldn't understand the aversion to picking Ward.
Ward himself, however, was much more philosophical and understanding about that decision and said that coach Mick Doyle had got it "spot on" in picking Dean, one of Ireland's best ever passing out-halves.
Wardy's last games for Ireland were wins over Canada and Tonga in the pool phase of the 1987 Rugby World Cup in New Zealand.
For Campbell on the other hand, the events of 1979 were the launchpad for a stellar Ireland career in the early 1980s.
As the most influential figure in the 1982 Triple Crown win, he became a rugby folk hero, earning the adulation of Paris resident Samuel Beckett in the process. (The anti-TV Beckett told a journalist that he only watched the box for the rugby games. "And only when the Irish play," he added.)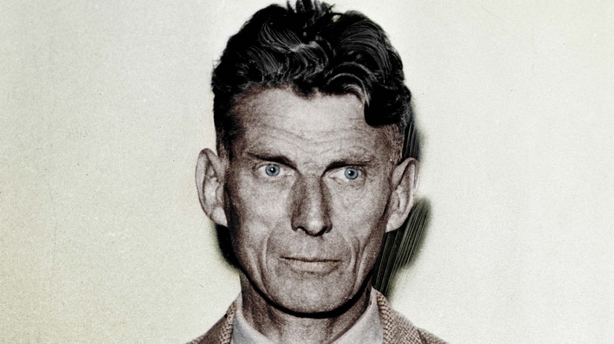 He held down the 10 jersey the following year when Ireland again won three out of four and shared the Five Nations victory with France (more innocent times). His career would end on a bum note as he was forced to retire with injuries before his 30th birthday.
Campbell told RTÉ this week that he and Ward became firm friends over the years and acknowledged that events in Australia '79 have tied them together for the rest of their lives.
"I think it's fair to say it's been a rare week in the last 40 years where someone hasn't mentioned Australia '79, myself and Tony and our battle for the coveted No. 10 Irish jersey.
"But it was purely a sporting rivalry. It was never personal. Coming back on the plane from Australia, we even sat beside each other. We've become great friends. I think we've both come to accept that we've been joined at the hip for the last 39 years since '79 and probably will be for the rest of our lives."
With the decisive Third Test coming down the tracks on Saturday, Campbell believes that this team will write its own history down in Australia and people might henceforth stop talking so much about the events of 1979.
"I don't think Australia will take too kindly to having been comprehensively outplayed last Saturday. I don't think they will take that lying down so I would expect a better performance from then.
"But I think this Irish team under Joe Schmidt is so well drilled, so accurate in everything that it does. It's so disciplined and so unbelievably hungry. The more success it has, the more they seem to want it.
"So I don't want to tempt fate but I would be quietly confident that we will win the match on Saturday and hence the series. And this team will make its own piece of history. And from now on, people will be talking about the Irish team in Australia and Grand Slam winners of 2018 rather than the team of 1979."
Follow Australia v Ireland on our live blog on RTÉ Sport Online and the RTÉ News Now app and listen to live commentary on 2fm from 10.45am (11am kick-off).