John Caulfield says the Champions League first-leg qualifier against Legia Warsaw played out more or less as he had hoped, but rued missed opportunities in the 1-0 defeat at Turner's Cross.
A stunning strike from Michal Kucharczyk 11 minutes from time was the only goal of the game in the first-round qualifier and the Polish champions will be strongly fancied to complete the job in next week's return leg.
In front of a boisterous crowd of 5,795, the home side had to defend for large parts of the game, but had a couple of gilt-edge chances to score on the night through Barry McNamee and Graham Cummins.
"We're bitterly disappointed how the game went," Caulfield said afterwards. "The game went exactly as we thought it would. We did a tremendous amount of work on their team.
"Legia are a fantastic team. Their manager says they can go to the Champions League group stages, so that shows the level they are at.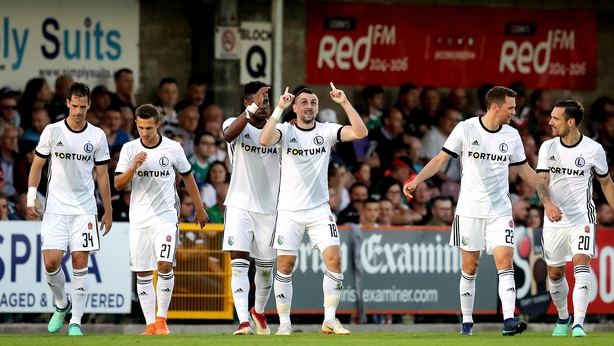 "With 10, 15 minutes gone in the game and we had a chance from 10 yards out and unfortunately for Barry, he just scuffed it and didn't connect properly.
"Over the course of the 80 minutes, if someone told you that you were going to get three or four chances, you are saying you have to take them. Moral victories are no good."
Damien Delaney was handed his first competitive start for the club since returning to Cork and says the resilience shown by the home side was superb.
"I'm disappointed, but extremely proud of the lads and the way they were able to execute the game plan.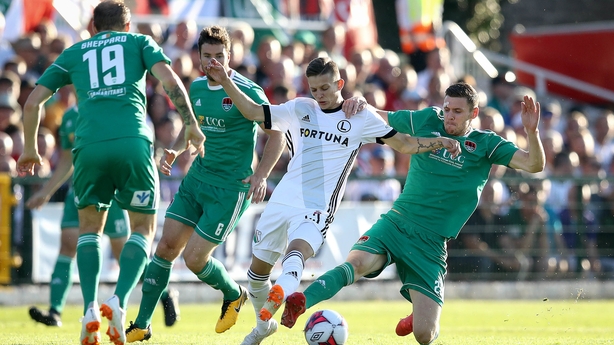 "We had a couple of chances in the first half, and the goal, there wasn't much we could do about it. You can't legislate for that.
"I thought we were very effective in ourselves. It wasn't just a case of sitting in. In the first-half we played some nice stuff."
"I think we needed to be coming out of here with 0-0" - John Caulfield
While the defender said his team have "kept the tie alive", his manager was a little more circumspect on their chances of progression next week.
"We were seeing if we could try and create a little bit of history at home. It's difficult when you go away from home.
"I think we needed to be coming out of here with 0-0."
Legia Warsaw manager Dean Klafurić said the win was primarily down to a change in attitude after a  frustrating opening 45 minutes for the visitors.
"They changed their mindset and understood what we wanted."