As we countdown to Russia 2018, we take a look at all 32 teams and suggest a reason to back them. With 16 days to the big kick-off it is the turn of Mexico.
***
What an easy task this is. My colleague Eoin Ryan drew the shortest of the straws in the office pool and had to urge readers to wrap the flag of St. George around their shoulders this summer.
Compared to that, this is a doddle.
As Irish people it should be natural for us identify with Mexico.
What is Mexico? It's a nation sitting next door to an imperial superpower, a great deal of whose population have felt obliged to enter said superpower for employment.
It's practically Ireland on the Pacific.
Both countries are even now having to contend with the possibility of a hard border being erected on their doorstep, thanks to the emerging popularity of right-wing nationalism among their anglophone neighbours.
We both wear green. We are both - or were once - considered Catholic countries. We even eat more burritos per head of population than them at this point (more research needed on that claim).
It's easy to be sickened at the handy ride the Mexicans get in qualifying. While the Republic of Ireland must pinch and scrap for points in the terrifying shark tank that is the UEFA qualifying section, the Mexicans are blessed to have to navigate the far more tranquil waters of the CONCACAF section where largely harmless creatures reside.
Their run to the World Cup was made far more satisfying this time thanks to their role in sinking the land of Donald Trump en route.
A mere three days after Americans shocked the world by electing Mr. Trump - a man who had delighted in insulting Mexicans for the previous two years - the Mexican team travelled to Columbus, Ohio to play the US in the opening round of the Hexagonal.
Goals from Sevilla's Miguel Layun and a late winner from their ancient and legendary defender Rafael Marques gave them a 2-1 victory. A deliciously sweet one too given the heightened international tension between the two countries.
They made serene progress through the rest of the qualifiers, assuring themselves of a place in Russia well before the nervy final day.
Once the final round of the Hexagonal arrived, they proceeded to do 'an Italy' and lose the final match to Honduras, a result which condemned Trump's boys to miss their first World Cup since 1986.
Manager Juan Carlos Osorio boasts a team comprising of players based in Spain, Portugal and Mexico itself, along with a few sprinkled around England, Belgium and Holland.
Javier Hernandez is the player best known to Irish fans but former Barcelona veteran Marquez is still plugging away and is set to compete in his fifth World Cup this summer.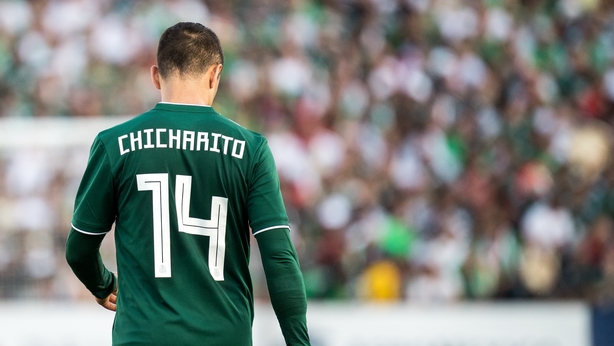 In asking you to support Mexico, I am of course asking you to look past the fact that Ireland have grim experience of playing the country on the game's biggest stage.
Orlando on Friday 24 June 1994 was, as every Irish fan knows, the hottest place on earth on the hottest day in human history. (We don't care what the records actually say).
We've heard tell of reports that Irish fans were actually fainting in the stands at the Citrus Bowl that afternoon.
The red-faced and sweating Irish players suffered too and were given the run-a-round by the "little Mexicans".
The Irish dugout spent much of the 90 minutes firing water bottles onto the pitch at every interval but it was to no avail.
Six days after the glorious victory in the Giants Stadium, this was our come down. Almost the only thing anyone remembers from the 2-1 loss is John Aldridge bawling out an irksome little jobsworth from FIFA who was bizarrely intent on preventing him getting him on the pitch.
Jack Charlton made clear that God was to blame by saying that next time we'd play the Mexicans in winter and see what happens then. We never did get around to fixing that winter re-match.
But the Mexicans would do us a good turn in a World Cup group match many years later.
One of the chief reasons why it's so easy to encourage Irish people to throw their lot behind Mexico is that so many of our people have done it before.
17 June 2010 and Thierry Henry and his petulant teammates - "they went to the World Cup feeling like frauds", in the words of one French journalist - were dispatched and put out of their misery by Mexico, with the help of goals from little Javier Hernandez and Blanco (who, like about 40% of central and south American footballers, became a politician after he retired).
And so the French met with karma and the Mexicans were there to be sure they did.
You can follow the FIFA World Cup from 14 June with RTÉ. Live blogs of every game on RTÉ.ie and the News Now App, with 56 games live on RTÉ television and all 64 games available on the RTÉ Player.