2005 Champions League winner Didi Hamann believes that the arrival of Virgil van Dijk at Anfield has helped Liverpool move from a team 'not going anywhere' to potential Champions League winners.
Liverpool take on Real Madrid in Kiev on Saturday with the biggest prize in European club football at stake as the two sides face off in the Champions League final.
However back in September of last year, Liverpool twice threw away the lead in their first Champions League group game to draw 2-2 with Sevilla.
At the time that result prompted Hamann to question Liverpool's progress under manager Jurgen Klopp and he said: "I have rarely seen a more unbalanced squad in Liverpool's history".
The Reds have kicked on and improved significantly since then, with Mohamed Salah grabbing all the headlines, but Hamann believes the biggest difference to the side has come at the back thanks to the January arrival of van Dijk.
Van Dijk moved to Anfield from Southampton for £75million after a protracted and at times acrimonious transfer deal, but for Hamann the defender was worth the wait and the fee.
Speaking to RTÉ Sport, he said: "I think Liverpool is a different team since he's signed. The defence has always been the Achilles heel, I think they're a lot more solid, they're a lot more stable at the back.
"Yes they conceded two goals late on at home against Roma and they conceded late goals against them away from home but you always felt in a way they were in control.
"I think he's made a huge difference and not only is he a terrific player, he makes other players better. I think that's one thing Liverpool have lacked for some time.
"I still feel in defensive midfield they may need an addition. Whoever has played there, Henderson, Milner or Wijnaldum, they've done a very good job for the team but I think they were also helped by having somebody behind them that will talk to them.
"You need people who will lead and who will talk and guide other players and I think they were missing that, that's why the difference he's made since he's joined is huge."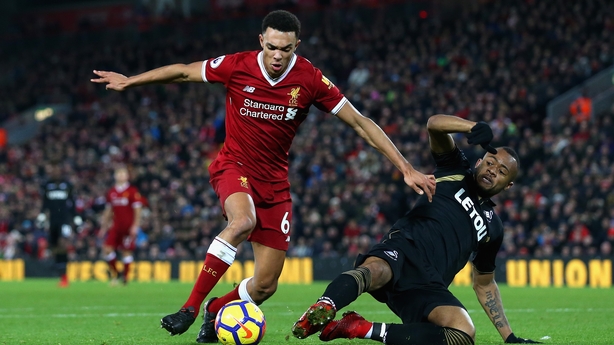 Hamann also believes that the emergence of Liverpool's two first choice full-backs Trent Alexander-Arnold and Andrew Robertson has helped his former side tighten up at the back, with van Dijk playing a big part in their development.
"A lot has improved since Van Dijk came and I think he gives both of them a helping hand. I wouldn't worry about the full-backs too much because they've been two of the best players in recent months for Liverpool.
"Obviously there's always a chance that there might be a bit of nerves which is probably normal but I wouldn't worry too much because they seem to be two very humble, down to earth players.
"I wouldn't worry about the full-backs too much."
Questions have also been asked of the Real Madrid defence which has looked shaky in Europe and domestically they have conceded more goals than any other top four side in La Liga.
Some of the blame for that defensive frailty has been laid at the feet of Brazilian fullback Marcelo, who has regularly been accused of getting himself caught out position, but Hamann believes that the fault lies within the Madrid system rather than one individual.
"I think he's a terrific player," he said of Marcelo. "You want ball playing fullbacks and attacking fullbacks and obviously if you're attacking and the ball is lost then sometimes you leave gaps at the back.
"I think Marcelo is a terrific player and I certainly wouldn't single him out as a weakness.
"If you say the games against Bayern Munich, they were defensively fragile and the number of chances that Bayern had was really staggering but I wouldn't single out Marcelo.
"I think as a team, by their standards, they've been pretty vulnerable at the back but as I said, I think it's more of the team as a whole, not just Marcelo."
Keep up to date with Saturday's Champions League final with our live blog on RTÉ Sport online and the News Now App. Live coverage on RTÉ2 Television from 7pm.