Manchester United manager Jose Mourinho insisted that his side were the better team in the FA Cup final and that they deserved to beat Chelsea.
Chelsea ran out 1-0 winners thanks to Eden Hazzard's first-half penalty and despite controlling the game for long periods, United rarely threatened Thibaut Courtois' goal and struggled to create clear-cut chances.
Not for the first time, United's big-name attacking players were unable to impose themselves of the game with Paul Pogba and Alexis Sanchez both anonymous for large periods.
Chelsea were comfortable defending the lead that came about when Phil Jones was punished for a poor challenge on Hazzard, who made no mistake with the spot-kick.
Mourinho did congratulate Chelsea for their success but claimed that it was his side that should have lifted the trophy.
"I congratulated them because they won but I don't think they deserved to win," he said.
"I congratulated them because I am a sportsman. They scored one more goal than us and they got the cup and so I've got to do what my job asks me to do.
"I'm the Manchester United manager and I have to be respectful, not just because they were my previous club but because they were the opponent that won the cup.
"I think we deserved to win, I think we were the best team, but that's football."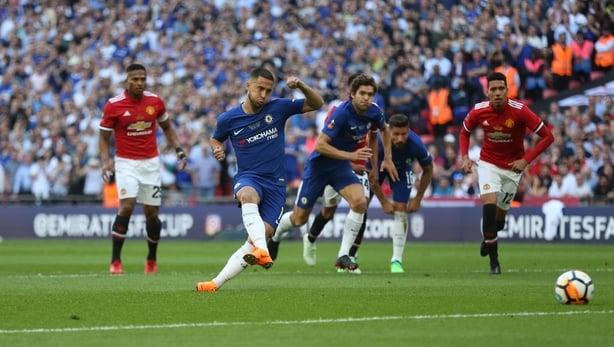 Mourinho went further in his post-match press conference, where he said that he was happy with United's performance, and accused Chelsea of being 'predictable' and a 'long ball' team.
"My opinion on my team's performance is that every defeat hurts, but for me personally the ones that hurt less are when you give everything and you go without any regrets.
"I prefer to lose like today than lose like we did at, for example, Newcastle. I leave my players happy with them. For me that's really important.
"I think our team did a fantastic defensive job without defending. We controlled positions, transitions really well.
"They only played long balls to (Olivier) Giroud to flick. When you play against a team so predictable it's quite easy to adapt to it.
"I thought we wouldn't concede any goal in this match. But of course Hazard is a very good player and he created a penalty."