Declan Rice didn't know he was going to be handed a starting berth for the Republic of Ireland against Turkey, or the number 10 shirt, but settling in as a vocal presence in the squad was always the plan.
The defender was man of the match on his first appearance for Martin O'Neill's side, drawing unanimous praise in the aftermath of the 1-0 defeat.
Indeed it was the build-up to the match, in the training camp, that the West Ham man caught the eye of his manager, and it was why he was handed a role from the off.
This week he is preparing for an important Under-21 match against Azerbaijan at Tallaght Stadium on Tuesday, having been named Under-19 Player of the Year at the FAI awards prior to his senior debut.
It has, to say the least, been a whirlwind time.
"I was thinking 'am I going to play, am I going to get some minutes?' as we were going away and Martin started me and I have probably had one of the games of my life. Now I'm coming here for a massive game. It has been a crazy international break.
"I've enjoyed every single minute of it - it's something you dream of as a little boy to be honest, having a week like this.
"Literally an hour before the kick off was when I found out I was going to start against Turkey. The manager doesn't name the team, that's the way he works. We got there and an hour before he just said the team and straight away you just got to prepare yourself for what is coming and I was fully focused from that moment and knew it was a massive night for me ahead. I had to perform."
.@Corktod caught up with Republic of Ireland debutant @_DeclanRice after a "crazy week"  for the @WestHamUnited player https://t.co/EFHDgsUZcG pic.twitter.com/6vA6C1Y75p

— Soccer Republic (@SoccRepublic) March 26, 2018
And claiming the squad number that is normally reserved for an attacker?
"To be honest I've no idea. I walked into the changing room and saw my name with the 10 and all the lads were going...'how have you got 10?'
"Don't ask me, ask the kit man. But you know it looked good up on the wall. I've got to live up to some legends like Robbie Keane and Liam Brady.
"I think it changes every game but to get 10 on my first game and get man of the match....that has made it a bit more special."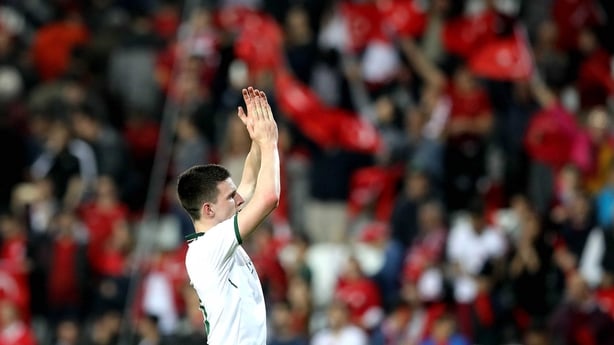 What stood out for most observers was Rice's composure, technical ability and clear leadership qualities at such a young age.
He explained that communication on the pitch is something he always keeps in mind. He also isn't allowed forget it. 
"I'm always composed, calm and always believe in my own ability and if I start well then I end up having a good game usually.
"I think it's important that you're vocal during the match, especially at centre-half. You're basically the eyes and ears of the team and, if you don't open your mouth, it's not going to help the team out.
"It's important to be vocal and to be fair I've always had that in me to be honest. One of the things my Dad has always said to me is make sure you're vocal and before the game I always get a text off him telling me to do the things well and again 'be vocal Dec'.
"I was trying to be vocal and help out the team as much as I can."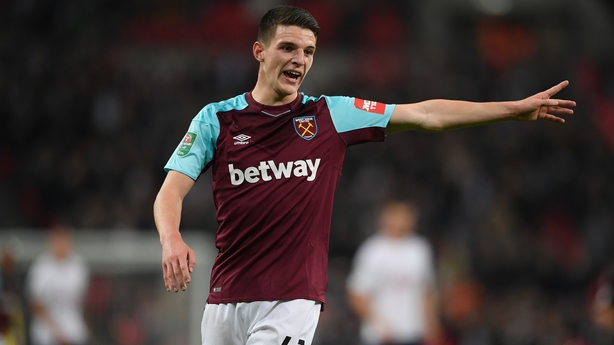 Rice's father is a major part of his story. He will be in Tallaght, just like he was there in Antalya, where he was in position as his son stepped off the field as the best player on the pitch, a proud day for the family.
The Ireland captain Seamus Coleman presented the award in the post-match interview, and said the rest of the team could look to Rice for how they should have performed. He had already reviewed it with his Dad by that stage though. 
"Back home everyone was rooting for me, everyone had it on RTÉ, streaming it, my phone just didn't stop to be honest. Mum was proud of me, my brothers, it was an amazing moment.
"My Dad doesn't miss a trip. He's coming to the Azerbaijan game as well, he loves following me around. I didn't even realise he was probably in the best seat in the house, I don't know how he got in there.
"I went over to my Dad, I couldn't believe he was there. I thought I was going to see him outside.
"Obviously I had to come and do the interview and then I went and had a good chat with him for 10 or 15 minutes."
Ireland captain Seamus Coleman presents the man of the match award to debutant Declan Rice, who he says "has been brilliant all week". #TURIRL pic.twitter.com/XyPpoNR8b0

— RTÉ Soccer (@RTEsoccer) March 23, 2018
Rice's progression from the future of the Irish squad, to likely becoming an established name, still has some steps to go.
Noel King's Under-21's will need his services for the must-win European qualifier. He admits the players have enjoyed his success, and given him some playful stick as a result, but he is glad to be back with a team he loves playing with.
West Ham may be too happy with the balance of Under-21 and senior status for longer than this week, but while he can do it, the 19-year-old will try to carry it off.
"I've missed the [Under-21s] to be fair, I haven't seen them in ages and it's good to get away every now and then.
"We haven't seen each other now for a good four months so when you get together it's a good old laugh. It's a massive game against Azerbaijan. We've beaten them once and it's important now we beat them again.
"I think it's one of them ones, where I'm only 19, so I can't make decisions to say I'm only going to one squad.
"Where I can play for the Under-21s and the first team, it will be one of them ones where I go and hopefully get called up for the first team and come back and play for the 21s.
"I'm happy to do that because we want to qualify for the next tournament. We want to go as far as we can."
Does he harbour similar ambitions for a long prosperous career in the green shirt?
"Yeah, yeah I hope so."