President Michael D Higgins has led tributes to former Republic of Ireland midfielder Liam Miller, who died on Friday at the age of 36 after suffering from pancreatic cancer.
Miller is survived by his wife Clare and his three children Kory, Leo and Belle.
"It is with great sadness that I learned of the death of Liam Miller, who brought skill and passion to his games, for the Republic of Ireland, Cork City, Celtic, Manchester Utd. and other clubs," said President Higgins.
"I send my condolences to his family and friends, and all those who love Irish sport."
Miller's former team-mates and clubs expressed their shock and sadness on social media, with fellow Ireland international Andy Reid calling the Cork man "a great lad with a brilliant dry sense of humour and fine player".
Martin O'Neill: "He was an excellent footballer and a fantastic man"
Ireland manager Martin O'Neill, who gave Liam his senior debut for Celtic, praised the midfielder as he recalled his fond memories of him.
"I remember the impact that Liam had in a big Champions League match against Lyon. We were pressing strongly and trying to find the breakthrough when Liam scored a magical goal that gave us momentum to win the game," said O'Neill.
"At the end of that season, Liam moved on to Manchester United but had already made a strong mark at Celtic Park and the players were extremely disappointed to see him go.
"Liam's passing is very sad and he will be greatly missed. He was an excellent footballer and a fantastic man."
Steven Reid said he was a "top player and a great person" while Kevin Kilbane said he was "proud to have shared a dressing room with him". Kevin Doyle added that Miller was "a gentleman".
Cork City boss John Caulfield said: "I think everyone is shocked and saddened. While we have known that he was very sick, we are just thinking of his family, particularly his wife and three kids. When he was here, his two sons, Corey and Leo, used to be at training quite a bit. It does put everything into perspective. It's hard to imagine what has happened, just three years after he was here."
"He got to the highest level, winning international caps and playing for some big clubs. He was so modest, nothing ever went to his head. He came in every day and trained; a lovely person with a great attitude, a down to earth, humble guy."
Gutted to hear the news Liam miller has left us, played with him for ireland from u16s all the way up and then again for Sunderland, he was a great lad with a brilliant dry sense of humour and fine player! Puts life into perspective, cherish every moment! #RIPLiamMiller

— Andy Reid (@AndyReidXI) February 10, 2018
Gutted to hear the news that Liam Miller has lost his battle. Proud to have had him as a team mate. Thoughts and prayers are with his family and friends at this difficult time pic.twitter.com/cwXQJ45h0D

— Matt Holland (@mattholland8) February 10, 2018
Sad hearing the awful news that Liam Miller has passed away this evening, taken far so soon by a terrible disease. Proud to have shared a dressing room with him over the years. #RIPLiamMiller

— Kevin Kilbane (@kdkilbane77) February 9, 2018
RIP Liam Miller. Was lucky enough to room with Liam on a few international trips.. top player and a great person. Thoughts and prayers with his loved ones. 🙏🏽

— STEVEN REID (@stevenreid12) February 9, 2018
Minister for Sport Shane Ross also paid tribute to Miller.
In a statement, he said that Miller was "full of courage on and off the field, and we can see from the emotional tributes that he gave joy and inspiration to so many. He was a magnificent role model who will be sorely missed."
FAI chief executive John Delaney added: "It is very upsetting to learn of the passing of Liam Miller at such a young age. I only visited with Liam in Cork very recently and he was still fighting bravely against his illness.
"A gifted midfielder, Liam helped the Ireland Under-16s win the UEFA European Championships in Scotland and went on to forge a fine senior career that saw him pull on the green jersey for Ireland at senior level - and we will all remember his superb goal against Sweden.
"While Liam achieved a lot as a player, he still had a lot more to give and that is the most tragic aspect of his passing. We send our deepest condolences to Liam's family at this difficult time."
RIP Liam miller was a honour to play with you such a good footballer and a great guy as well such sad news thoughts go out to his family at this sad time 💔🙏🏾

— Clinton Morrison (@morrisonclinton) February 9, 2018
Extremely sad news,Rest in peace Liam Miller, a gentleman

— Kevin Doyle (@KevinDoyle1983) February 9, 2018
Terrible news Liam Miller has lost his battle.. sad day to all those who knew him. Thoughts and prayers are with his family and close friends Rest In Peace young man 🙏

— John Hartson (@JohnHartson10) February 10, 2018
The former Celtic, Manchester United and Ireland midfielder fulfilled two boyhood dreams.
Miller grew up in the Cork village of Ovens, and although he played Gaelic football, his real passion was soccer, with a fondness for Celtic taken from his father Billy, a Scotsman from Motherwell.
He joined the Parkhead club at the age of 15 and, on May 21 2000, in Kenny Dalglish's last game as Hoops manager, he made his debut as a second-half substitute in a 2-0 home win over Dundee United.
A loan spell at Aarhus in Denmark followed before the talented playmaker broke into the Celtic first team in 2003-04 under O'Neill, picking up a Scottish Premier League medal that season.
Miller, a quiet man not prone to breast-beating, initially took some stick from the Parkhead fans when he controversially rejected the offer of a new deal from the Glasgow club to sign for Alex Ferguson's Manchester United on a 'Bosman' at the end of the season.
O'Neill was pragmatic, saying: "We're all disappointed that Liam's going to be leaving. But contrary to what some people might think, I have not got a problem playing him. Whatever reaction he'll get from the Celtic fans I think Liam will be able to cope with it."
Before he left Parkhead, Miller won the first of 21 caps with the Republic of Ireland in a 2-1 win over Czech Republic at Lansdowne Road - "getting onto the pitch was definitely one of the proudest moments of my life, I've always dreamed about it and it came true" - and he scored once for his country, in a 3-0 win over Sweden in 2006.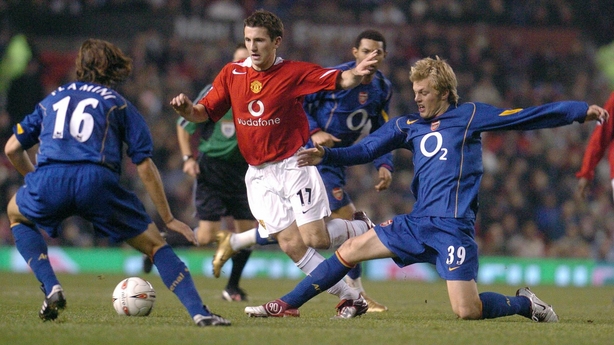 Miller struggled to establish himself in United's central midfield and he had a loan spell at Leeds in 2005.
The Irishman joined Sunderland in 2006 and spent three years with the Black Cats, then bossed by former United team-mate Roy Keane, winning the Football League Championship in 2006-07 before moving to QPR in January 2009 only to be released that May.
The next move was back to Scotland where he signed for Hibernian, staying at Easter Road for two seasons before moving to Australia's A-League where he joined Perth Glory.
After spells at Brisbane Roar and Melbourne City he returned to Ireland in 2015 to join Cork City.
A year later he was off to Wilmington Hammerheads in the United States before returning to his home town last November after being diagnosed with his illness.
Everyone at #CelticFC is deeply saddened to hear of the passing of former midfielder Liam Miller. Our thoughts and prayers are with his family and friends at this time.

RIP Liam, YNWA. pic.twitter.com/vMkT1CtJ2m

— Celtic Football Club (@CelticFC) February 9, 2018
Speaking to the Irish Examiner in February 2015, following his return to Cork, Miller rejected any notion that his career had not reached the heights it had promised.
"I genuinely look back and think, 'I played for Celtic', my boyhood club," he said.
"I dreamed of playing for Man United and I got that opportunity as well. I don't know how many other people can say they played for their two childhood clubs, or even one childhood club.
"Of course, I would have loved to play more games, don't get me wrong, but I got to learn from some of the best players ever. Looking back, it was wonderful.
"Growing up for me, I just wanted to play football. And as I got better and better, the opportunities came around for me. Nothing's ever guaranteed - you could get an injury in the morning, touch wood - but I worked my socks off and the hard work paid off for me."