Eamon Dunphy believes the rapid inflation of football transfer fees means authorities will soon have to act to restrict the sums paid for players and in wages.
Phillipe Coutinho today became the third most expensive player of all time when he officially joined Barcelona from Liverpool for £142m, tailing only Neymar (£200m from Barca to Paris Saint-German) and Kylian Mbappe (£166m from Monaco to PSG). All three transfers have taken place this season.
Dunphy believes the switch is good business for Liverpool, given they only paid an initial £8.5m for the Brazilian, but fears that the game's traditional elite has now shrunk even further to just a handful of teams.
"Liverpool lost Suarez to Barcelona, now they've lost Coutinho to Barcelona," Dunphy told 2fm's Game On.
"The money that's being spent now by PSG, Manchester City, Barcelona and Real Madrid will exclude (other) clubs.
"All Italian clubs are out of the ball game now. Bayern Munich are out of the ball game. I don't think Manchester United are in it, they couldn't really bid for a top player.
"It's  a revolutionary time in football and not all of it is good for the game.
"If you spend €220m on one player, you want instant success and that doesn't happen."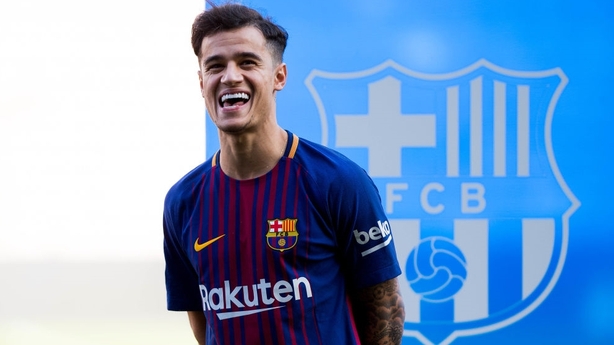 Dunphy thinks a combination of scarcity of talent and the wealth of clubs financed by resource-rich states has distorted the transfer market beyond repair.
"If you look at transfer fees, there's a revolution taking place, driven by the shortage of quality players and the sums of money available," he said. 
"In places like Qatar (PSG owners), Abu Dhabi (Manchester City owners), money is no object.
"The sums of money are crazy. The game is unregulated and somewhere in the not too distant future, UEFA and the Premier League are going to find they'll have to regulate transfer fees and salaries.
"Otherwise, there'll be only three or four clubs in Europe and they'll be owned by people from the Middle East."
The RTÉ soccer pundit expects more big-money moves in the near future, given Real Madrid's struggles in La Liga this season.
"They're 16 points behind Barcelona now. This is a club in deep crisis," he said.
"They are going to want to fight back and sign big cheques.
"They're going to be looking for players but there aren't any out there.
"It's a fascinating story that they can be in the position that they are.
"And when you see Barcelona in the Champions League in a couple of weeks, they are not that wonderful, despite the money that they've spent. They still need players."