Pep Guardiola basked in Manchester City's Premier League record of 15 consecutive wins but admits the landmark will count for nothing if they do not win the title.
City broke the 14-game winning streak set by Arsenal in 2002 with a 4-0 thrashing of bottom-placed Swansea on Wednesday night.
David Silva scored twice to cap another man-of-the-match display, and Kevin De Bruyne and Sergio Aguero were also on target.
"The record means a lot - to get 15 victories in a row is amazing," City manager Guardiola said after his side retained their 11-point Premier League lead.
"Records are there to be broken but at this level today it is so competitive - the managers, the players, the analysts - and that means we are strong in the head.
"Normally you can decrease a little bit your concentration, but when you can do it 15 times in a row it means that every single day you are there."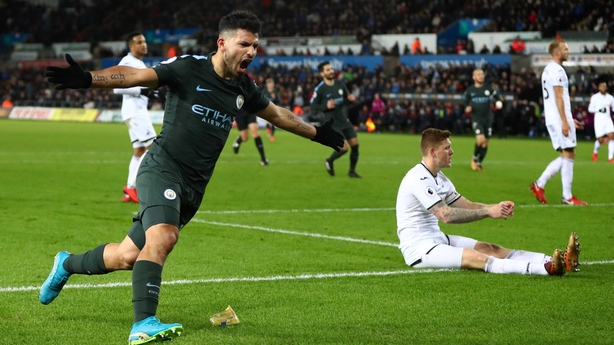 Guardiola declared City's record was even more remarkable given the quality of English football over the years.
"There have been amazing teams in history," Guardiola said.
"Liverpool, Manchester United under Alex Ferguson, and Chelsea with Jose Mourinho.
"There are a lot of good teams, but we are the first one to win 15 games in a row.
"Of course that will not make sense if we do not win the title - it will be just a record then.
"This record will be broken, but it will not be easy because (to win) 15 games in a row in the Premier League is so complicated."
City dominated Swansea from the start, with Silva taking his tally to four goals in three games.
And, just like their Manchester derby victory on Sunday, City celebrated by playing music in their dressing room after the game.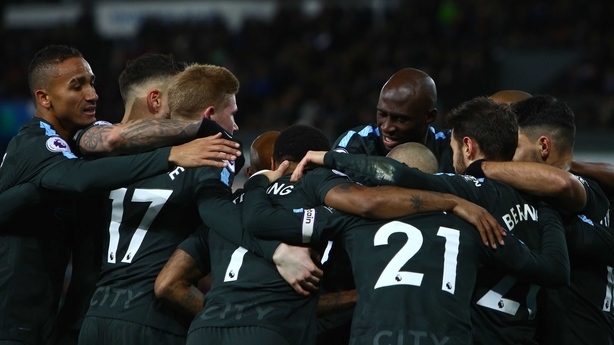 United manager Jose Mourinho had complained that City had played music too loudly after their Old Trafford win, leading to reports of ugly scenes in the corridor and a Football Association investigation into the incident.
But, although he was in danger of being drowned out by music coming from City's adjacent dressing room at the Liberty Stadium, Guardiola told reporters at his post-match press conference: "No problem.
"Our job depends on it if we win and we are happy in our jobs and our lives.
"We are so happy, we played really good - especially after the Old Trafford game.
"We go to the ball like animals, in a good way, and we understood better the patience to attack in the right moment.
"They are hungry still and they want to win. That is the good thing."
Swansea boss Paul Clement was disappointed with his side's performance, saying; "It wasn't nice to see that from my point of view.
"I would have liked it to be closer and my team to have played better.
"But they are a really great side - one of the best I have ever come across."