Ireland surprised the football world in 1997 when Brian Kerr's adventurous side claimed third in the 1997 Youth World Cup Finals in Malaysia.
Declan Whooley spoke to all 18 members of the squad to find out how their football careers panned out after their incredible performance 20 years ago.
****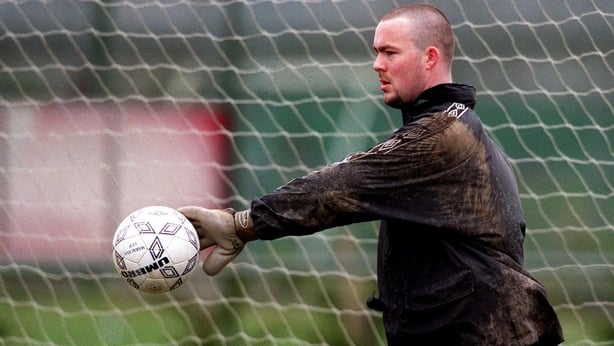 Goalkeeper – Derek O'Connor
"Solid and dependable in goals, Derek was a very funny character off the pitch. He did a great job for us and international football suited him more than club football." – Brian Kerr
After the World Cup in Malaysia, O'Connor was second choice goalkeeper at Huddersfield Town and yet to make his first team debut after joining from Crumlin United in 1994.
"I struggled a bit with my weight, but between the heat and food poisoning that summer I was in great shape," he recalls.
O'Connor made his debut the following August in a League Cup tie and two months later was handed his first start with the Ireland Under 21s.
Things quickly changed however when Brian Horton was sacked as Huddersfield manager. His contract wasn't renewed and O'Connor was on the lookout for a new club in the summer.
Spells at non-league sides Bradford Park Avenue and Frickley Athletic followed, but the passion for football was ebbing away as he supplemented his part-time career with a job in a warehouse.
"I dropped my head more than I should have and I probably should have worked harder."
A pre-season game against Sheffield United in the summer of 2000 was an opportunity to impress Kevin Blackwell, his youth team manager at Huddersfield, and then assistant manager at the Blades.
"I showered and went home. I decided to pack it in at that point...It got to me and I decided that was enough"
It was a final shot at getting back into the professional game.
In the previous two friendlies, O'Connor and the other goalkeeper at the club at the time were afforded half a match each to show their wares to the new manager. On this day however, the 21-year-old was informed at the interval that there wasn't going to be any substitution.
"I showered and went home. I decided to pack it in at that point. Coming from the highs of Malaysia, to be in that situation two years later…you start to question the whole thing. It got to me and I decided that was enough."
Pat Dolan offered him an opportunity with St Patrick's Athletic, but the enjoyment, and crucially the fitness, wasn't what it might have been.
"I just didn't have a feeling for the game that I had before."
His only involvement after that was five-a-side with friends until last year when he was asked to help out with coaching the goalkeepers at AUL side Collinstown, and it wasn't long before he was asked to tog out.
"One game turned into the rest of the season. I hadn't played since 2001, but I really enjoyed it."
Now a landscape gardener, O'Connor's teenage son showed the family genes remain strong after winning a league and cup double last year as a goalkeeper.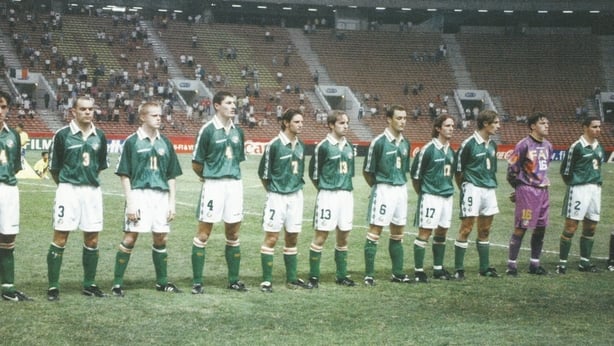 Goalkeeper - Paul Whelan
"When I came into the underage set-up, Paul was battling with Nicky Byrne for a starting spot. A very good shot-stopper, he was probably surprised himself to be thrown into the action so early, but he handled himself very well. A calm presence, that save against Morocco was so crucial. What a tournament he had. You have to have a special temperament to go from where he was to do what he did." – Brian Kerr
Whelan was one of three players without a club going to Malaysia after being released by Oxford United.
Trials at Hull and Fulham upon his return failed to amount to anything and the shot-stopper decided to return home to sign for Shelbourne. With Alan Gough and Stephen O'Brien ahead in the pecking order, a move to Home Farm Everton in the First Division followed.
A job in a Building Society was the first foray into the financial world as the passion for football began to diminish somewhat.
"As time goes on, it gets more gradual. You realise that you are probably never going to get to a standard that I had been part of, or played a small part of," he says.
"It was a lot of time given up and other commitments begin to mean more than travelling the length of the country. It's not a glamorous life at that stage."
He left to go travelling and after returning home, the Leinster Senior League was his last meaningful involvement as a player.
Whelan works in the AIG Treasury and has cut his teeth as a coach most recently with Shelbourne Ladies, helping the club to a league and cup double last year.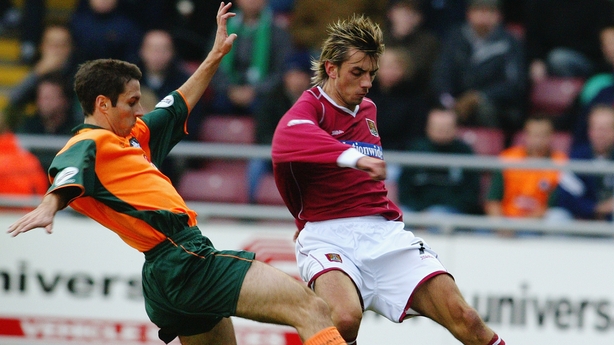 Defender – David Worrell
"Dave brought a calmness to the team that is very difficult to coach into players. His reading of the game was outstanding and his tackling was right on the button. He was so alert and sharp to any danger." – Brian Kerr
Worrell became the inaugural winner of the U21 Player of the Year award in 1997, based largely on his performances in Malaysia.
At club level, new Blackburn Rovers manager Roy Hodgson arrived from Inter Milan and quickly offered the right-back a new contract.
"Training was great and I was more involved with the first-team sessions and was given a squad number."
Brian Kidd overlooked the Dubliner after taking over at Ewood Park and Worrell left Blackburn Rovers without making a single first team appearance in 1999, signed by Paul Sturrock at Dundee United.
Just 18 months later and the pair linked up again, this time at Plymouth Argyle in what proved to be the most successful period of his club career. Worrell won Third and Second Division titles and was a mainstay in the team in his four and half seasons at the club, racking up more than 150 appearances.
"I lost a bit of interest in football, but I had no idea what was going on body-wise"
The Dubliner subsequently moved to Rotherham and back to Scotland to Dundee.
Physically struggling to get through training and matches, Worrell decided to seek medical advice and was diagnosed with Hodgkin's lymphoma, a blood cancer that forced him into retirement aged just 30.
"I lost a bit of interest in football, but I had no idea what was going on body-wise."
Worrell finished his playing career as a part-time footballer with Montrose in 2008.
While playing part-time, was learning his trade as a financial advisor and moved back to Ireland three years after hanging up his boots.
Worrell works for Conexim in the Financial Services industry in Dublin, a company that provides investment solutions to financial advisors, financial brokers and pension trustees.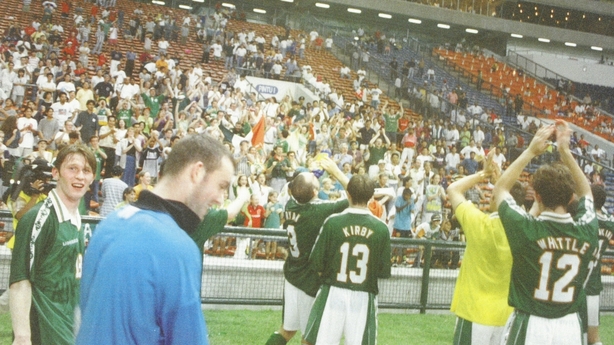 Defender - David Whittle
"Dave played well for me at U18s started the first game in Malaysia against Ghana, but it was a big step-up for him. He suffered in the situation where the the back four was very settled. He was strong mentally and physically. Calm in possession, he was a good tackler, but didn't get enough opportunities to show his ability." – Brian Kerr
After the exertions of Malaysia, Whittle, who started in the opening-game defeat to Ghana, was given extra time off by Queens Park Rangers.
"I missed pre-season and it took three or four months to get going," but nonetheless, progressed to reserve team football.
Ray Harford handed him his first-team debut in January 1998 as the Londoners struggled to adjust to life outside the top-flight.
Coming towards the end of his four-year deal, the Waterford native had a decision to make.
"I had a year left on my contract. The manager at the time, Gerry Francis, wanted me to go on loan and it's funny, the club wanted me to go to a club in Malaysia. I turned it down because I didn't want to be that far away. Looking back, it might have been a mistake.
"I hadn't intended that that was that for me with professional football, but decided to come home to Waterford United."
Whittle played alongside his brother and also enjoyed spells at Longford Town and Kilkenny City.
"I'm really lucky that I have only had two jobs since I finished playing," he says of his initial sales role with Citroen and since 2010, manager of DID Electric in Waterford.
Still involved in junior football, Whittle is the manager of Waterford Bohemians.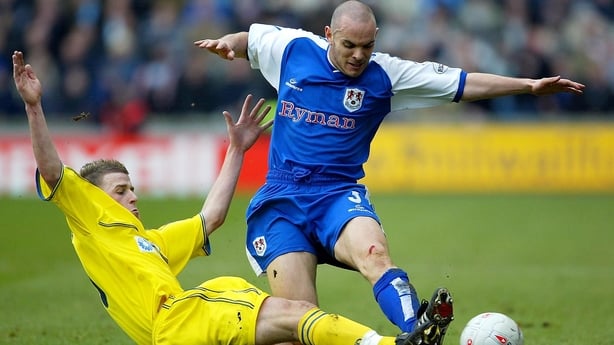 Defender – Robbie Ryan
"Robbie played on the edge tackling wise and he had to adapt his game. He had to restrain himself and become more disciplined during the World Cup in Malaysia because the refereeing was quite strict. He improved with every game and became a go-to player with his raiding on the left-hand side. He was swashbuckling. His partnership with Duffer playing ahead of him on the left worked so well. My image of him is calling Duffer back into a defensive position." – Brian Kerr
So impressed was Huddersfield Town manager Brian Horton by Robbie Ryan's displays in Malaysia, that he informed the Dubliner that he would be the club's first-choice left-back.
On reflection, it was the high point at the club. "I didn't do well that season," is his honest assessment of the 1997/98 campaign.
"Looking back now, the buzz of the World Cup probably affected me. I was thinking I'd be on cloud nine all the time. I went from such a high to the bottom of the league."
Horton was subsequently sacked and Millwall paid £10,000 to bring him to the New Den. The teak tough defender quickly settled and soon added the Second Division to his medal collection and signed a three-year deal at the club, with no improvement on his salary.
"It wasn't a bad contract and it wasn't about the money," he readily admits, with the collapse of the ITV deal another factor in the mix.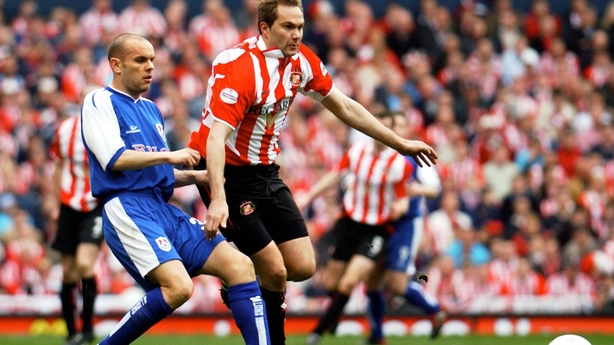 The end of his contract culminated with the 2004 FA Cup Final where he came face-to-face with Ronaldo in a 3-0 defeat.
Despite being a regular at the club, he remained one of the lowest earners in the first-team, and was offered just a one-year deal.
"It was about principles for me and Millwall didn't want me. I refused the contract, but it's one of those decisions I look back on."
A move to Bristol Rovers came about somewhat fortuitously. The son of their chief scout Paul Molesworth was an avid Championship Manager player and informed his father of Ryan's contract situation at Millwall. The club moved quickly and Ryan swapped a full house at Wembley for a mid-table League Two side.
"Straight away I knew it was a mistake to join," and says he struggled to adapt at a lower level of football from what he had been used to.
"I wish his son never played Championship Manager!"
Signed by Tony Pulis and ignored by his successor Danny Wilson, his fortunes changed under Paul Trollope before an ankle injury stopped him in his tracks. The Dubliner worked his way back to fitness, but couldn't force his way into the first-team.
Ryan trained with Brentford, but they decided against offering the 30-year-old a short-term contract despite utterances to the contrary.
"'I couldn't be bothered with this no more' was my attitude when that deal fell through," though a new beginning was just around the corner.
A friend organised an interview with London Underground which led to an offer that was quickly accepted, and a decade later, Ryan is adamant it was the best decision he ever made.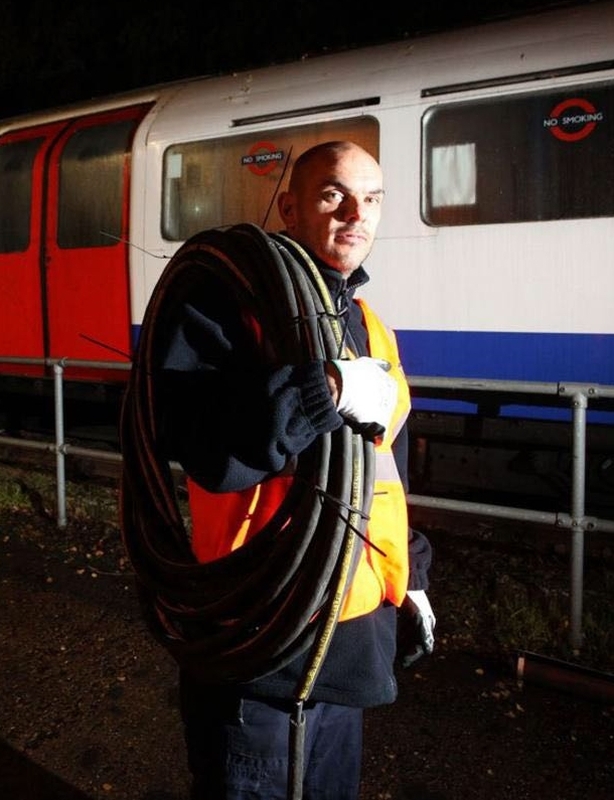 "I'm a 'call the cable' linesman. When an electrician needs to work in a certain section of the underground, I can knock that section off so there's no electricity. We do cables on the track," though says it took a bit of getting used to working through the nights.
He played part-time football during the beginning of his life in the Underground, but has very little interest in the game these days.
"It's quite sad. Bristol changed me. I fell out of love with football, even though it had been my life. It doesn't bother me because I'm happy. Nowadays I can hardly watch 90 minutes and I don't really watch Ireland."
Ryan is godfather to Derek O'Connor's son.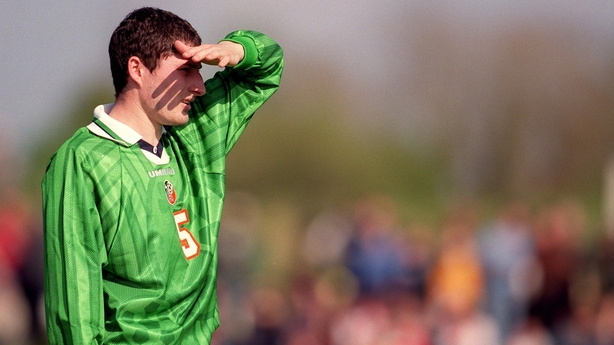 Defender – Colin Hawkins
"Colin was a big, aggressive defender and good in the air. Like his central defensive partner Dave Worrell, he was calm with the ball at his feet. Part of such a solid defensive partnership, you need to have a strong spine and we had that." – Brian Kerr
Released by Gordon Strachan at Coventry City, the big central defender was another who departed for Malaysia without a club.
Tranmere manager John Aldridge gave Hawkins the chance to impress during the club's pre-season tour in Ireland, and caught the eye of St Pat's manager Pat Dolan. Despite interest from Nottingham Forest, he signed a three-year deal.
By the end of the season he had won a league title and was named both PFAI Young Player of the Year and League of Ireland Player of the Year.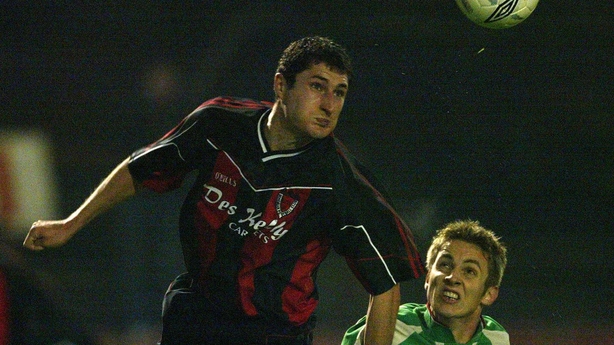 He spent just a year at Doncaster before financial restrictions saw their playing squad reduced, and returned to Ireland to win further titles with Bohemians and Shelbourne, before his career came the full circle in January 2007.
Ten years to the week after Coventry released the Irish centre half, the Sky Blues re-signed Hawkins on a two-year deal after winning a league with Shels.
"You get setbacks and you just keep working at your game. I signed on a Tuesday and went straight into the first-team the following Monday."
A ruptured Achilles tendon came at the wrong time. Manager Iain Dowie left, the club was sold to Ray Ranson, and the Galway man didn't feature in Chris Coleman's plans.
Things were going well at new club Brighton until he ruptured his other Achilles tendon, and it was back to Sweden for more surgery and a further eight months on the sidelines. "It was unfortunate that they both snapped at different times."
With a second child in the family, Hawkins was weighing up whether to return to the League of Ireland when Sporting Fingal manager Liam Buckley, his old boss at Pat's, persuaded him to return home for a new, exciting project.
"We had a serious team and we would have seriously challenged the following year," he recalls of a squad that boasted the likes of Ronan Finn, Glen Crowe, Gary O'Neill and Sean Williams, before the plug was pulled on the Dublin club.
Hawkins was a year into his Dundalk contract when Stephen Kenny signed him at Shamrock Rovers as a player-coach, before becoming first-team coach under Trevor Croly.
"I always knew I'd get into coaching," and is now in his second year as a Director of St Mochta's in Clonsilla, where Glen Crowe is coach of the men's senior team.
Hawkins works for Diageo as a regional manager.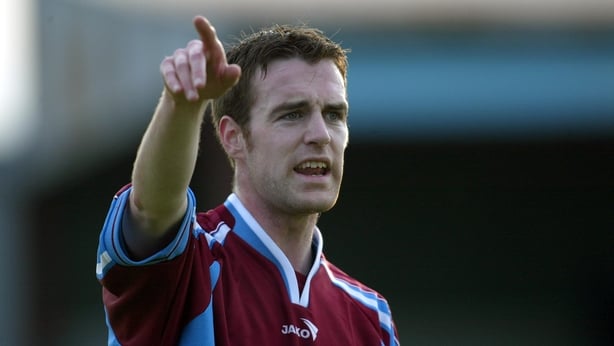 Defender – Aidan Lynch
"Aidan picked up an injury early on in Malaysia and didn't play until the last game. He was a good centre half at UCD, intelligent both on and off the pitch. Unfortunately for him, the central defensive partnership was just too good and I couldn't break it up. He was well respected within the group as he never let his own spirits drop even though he wasn't in the team." – Brian Kerr
One of only three Irish-based players in the squad, the UCD defender returned to League of Ireland action and continued his studies.
An injury set-back kept him out of the game for the best part of a year, but worked his way back to fitness and enjoyed a career that included stints at Drogheda United, Dundalk, Dublin City and Monaghan United.
"The League was really strong at the time," he says, and won a First Division title in his time at Oriel Park.
The change to summer football suited the teacher and he is now Deputy Principal at Ballinteer Community School.
"Football has had such an influence in everything I do. You learn more in a dressing room than you would anywhere else."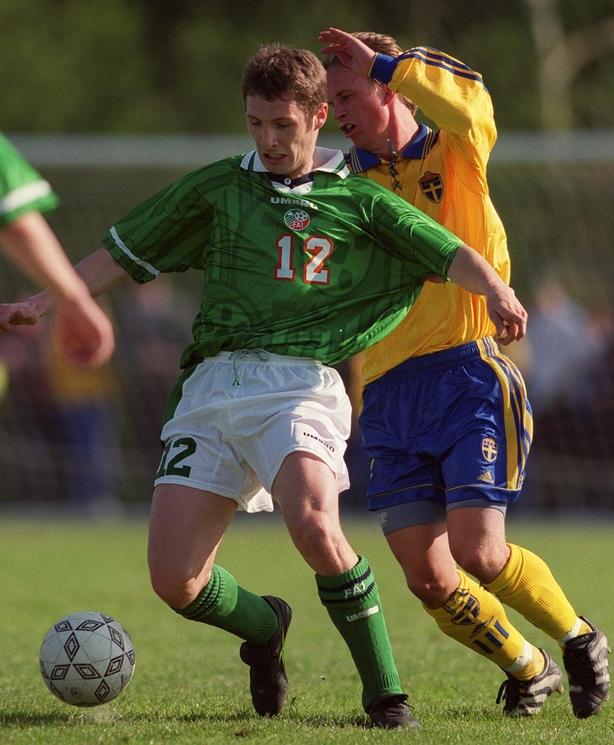 Defender – Mickey Cummins
"Mickey impressed me in the World Cup warm-up games, he was strong and versatile. He was confident too, had a bit of a swagger on the ball. When he went to right-back, it sort of clicked. He got up and supported the attack and got two goals of his own. He did a sensational job for the team." – Brian Kerr
The versatile Cummins went on to make more league appearances in England than any other player in the squad (519 versus Damien Duff's 465) in a career that began at Middlesbrough in 1996.
'Boro were not short of financial clout at the time - "If they needed a midfielder, they just got the cheque book out" – and made his debut at the end of the 1998/99 season in a 4-0 defeat to West Ham United.
"It dawned on me that I could stay on a long contract or go and experience football," he says reflecting on the decision to leave for first-team football.
In March 2000 Cummins left for Port Vale and enjoyed six seasons in both the Championship and League One, turning out more than 300 times for the Valiants.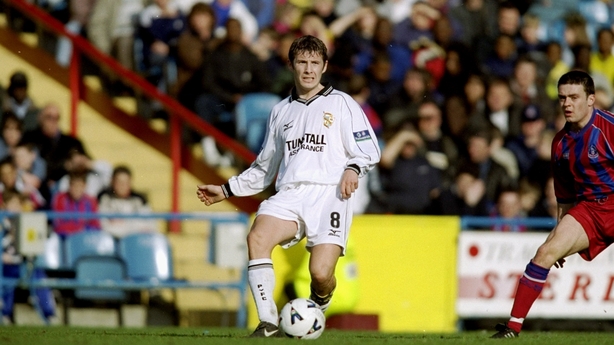 Spells at Darlington, Rotherham and Grimsby followed, with Gateshead his final destination as a player.
At 36, the Gateshead manager offered him the chance to take over the U19s and reserves. Deep down he felt he had another year in him as a player, but the offer was too good to refuse in the twilight of his career.
Cummins has combined the role with that as coach of Middlesbrough U15s for the past four years; the mornings are spent with Gateshead and the evenings at the Championship side and he is appreciative to remain within the game.
"It's the closest you will get to playing. I've got my own philosophy on how I want my kids to play and I feel that started from Brian and Noel, putting the belief into young lads.
"It all stems back to Malaysia."
Midfielder – Stephen Murphy
"A skilful midfielder, Stephen was strong and one of the few physically big players in the squad. He got forward well from the middle and linked well with Thomas Morgan. He came on as a sub in a few games and was important at set-pieces. Stephen had to wait for his chance, but was a real bubbly character. He loved to sing and always had a big, smiley head on him." – Brian Kerr
One of three Huddersfield Town players in the squad, Murphy linked up with the pre-season tour which was in Ireland upon returning from Malaysia.
Hopes of progress into the first-team were dashed when manager Brian Horton was sacked, and Murphy was soon on the lookout for a new club.
The midfielder moved back to Ireland and played five or six games for Bray Wanderers in pre-season, but didn't put pen to paper.
Halifax signalled their interest after they earned promotion out of the Conference and the two seasons at the club bring back nothing but fond memories.
"It was brilliant. I had a bit of bad luck with injuries, but I got to play league football, and a couple of games in the FA Cup."
A move to Carlisle was turned down and the decision was made to return home to League of Ireland football with Shelbourne.
Disaster struck however in his very first training session when he broke two bones in his ankle
"It kind of went downhill from there".
Football after that he says was "stop-start" and finished his playing days with Malahide United.
Murphy works for an airline in Dublin Airport.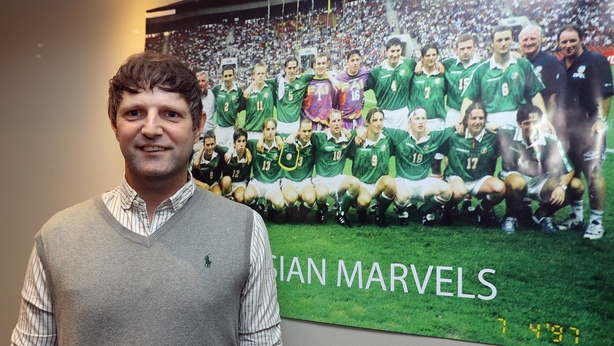 Midfielder – Niall Inman
"Combined pace and skill to good effect. Niall was well balanced and comfortable on the ball. He understood the game so well and had real game intelligence, which meant he was adaptable. He slotted in to the three in midfield with little fuss. A lovely technical player and fitted in so easily with the group." – Brian Kerr
Inman had already tasted first-team football at Peterborough United by time he linked up with the Ireland squad for Malaysia, making his debut at 17.
The midfielder went out on loan to Stevenage and was part of the team that brought an Alan Shearer-led Newcastle United to a replay in the FA Cup in 1998.
A move to Kettering (loan) and Dover followed before making a permanent switch to Kettering, while a bad ankle injury kept him out for nine months.
"From that point I started thinking of new career," and enrolled to a local college to pursue a childhood interest.
"I knew I liked drawing and design and I was put on a construction architectural course."
Inman has been a lecturer in Construction and Architecture in Cambridge Regional College for the past eight years.
He maintained an interest in playing – "I loved the thought of playing with my brother again" – and linked up with his sibling in local, non-league football.
"I still play five-a-side with my brother and father in goals."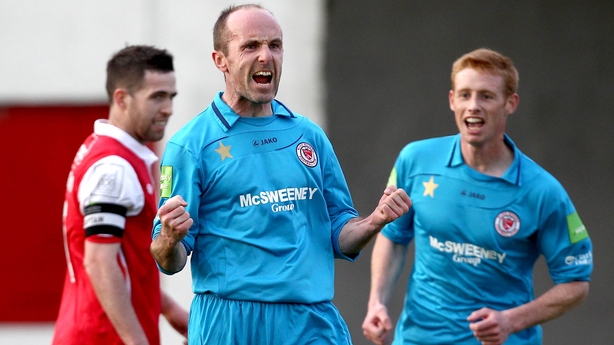 Midfielder – Alan Kirby
"Another adaptable player for us, Alan was a winger who could play on either side or through the middle. He was hugely energetic, had a good temperament and worked really hard for the team. Alan slotted into the middle of the field when needed and could spot an attacking opportunity when it arose." – Brian Kerr
Exhausted from his World Cup exploits, Kirby was surprised to return to training immediately with Aston Villa,
"I was very disappointed with that. After a long season, I was physically drained, but their attitude was, 'sure you are only young'.
"Sure enough I hit a brick wall half ways through the season."
Burnt out and disillusioned, Kirby was released at the end of the season and when nothing materialised following trials at various clubs, he returned home.
"I don't know if I ever said that's the end for professional football, I just tried to give it my best shot back in Ireland, but I knew my chances of going back to England were slim."
Waterford United was the first port of call, while six years at Longford Town yielded two FAI Cups and a League Cup, as well as the 2003 PFAI Players' Player of the Year Award.
In a four year period playing for St Patrick's Athletic, Sporting Fingal and Sligo Rovers, Kirby added two more FAI Cup medals, finished runner-up in the League on three occasions and played in both the UEFA Cup and Europa League. His playing career ended with a second spell at Longford Town.
"I think that a lot of footballers, and me included at the time, stay in and around the sport in some capacity because it is all they know," but Kirby was determined to forge ahead with a new career.
He attained a Diploma in Anatomy and Physiology and a National Cert in Exercise and Fitness before going back to college at the age of 30 to do a Business Degree.
"My 30s was spent making up for my 20s!"
Kirby is a qualified tax advisor for BDO Ireland.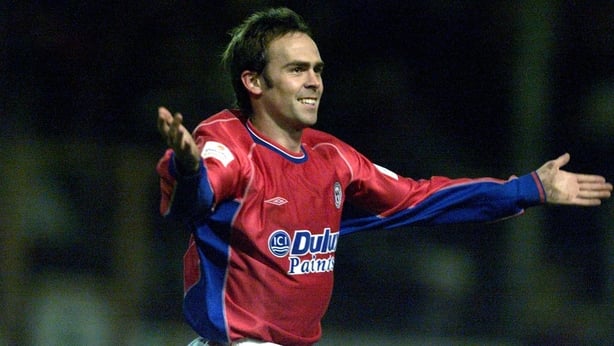 Midfielder – John Burns
"John was a highly technical player, on the edge of first-team football at Nottingham Forest. He was a player that I saw as a key man as he could move the ball well and was also a goal threat. John was playing well against the USA in the second game before he broke his foot. We didn't think it was that serious, but it had a big impact on his career. Another key part of the squad atmosphere." – Brian Kerr
The gifted midfielder returned to Nottingham Forest injured following the group game victory over the USA and began the long slog of rehabilitation.
He made his debut in 1999, but struggling to make the breakthrough, departing later that year for Bristol City.
Manager Tony Pulis left the club months after Burns penned a three and a half year deal and he never got the opportunity to showcase his ability to Danny Wilson.
"It wasn't even that I didn't get on with him, he just didn't even give me chance."
He spent six memorable months on loan at Shelbourne, chipping in with important goals as they secured a league title.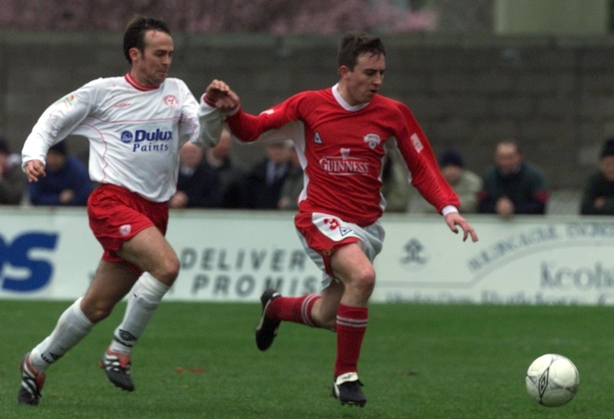 Burns went back to England at a time when clubs were cash-strapped following the collapsed ITV deal and after turning out for Carlisle and Burton, he dropped down to semi-professional football. He did however make good use of his additional time.
The former Belvedere schoolboy attained his coaching badges, and took the first steps down the path of his current profession, a fully qualified mortgage advisor.
For good measure, he founded The Establishment, a music group with four friends and credits the PFA with getting the band off the ground.
"I wrote a letter to the PFA about what we were doing and they funded our first four-track demo, which I'll be forever grateful for," a remembers a wholly satisfying time in his life living the dream.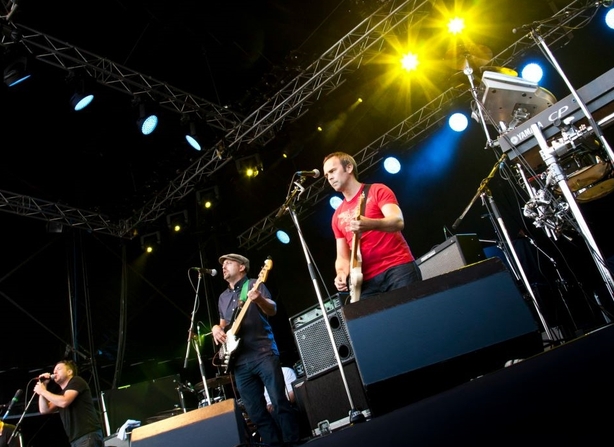 During their time together, the band, managed by former Manchester United and Aston Villa player Dion Dublin, played Electric Picnic and supported Ocean Colour Scene on several dates.
"We got to do stuff that bands only dream of."
"We never announced that we had split, but the money doesn't last forever. We made a fantastic album that we're really proud of, and will be for the rest of our lives, but lads have commitments, kids, mortgages, bills to play."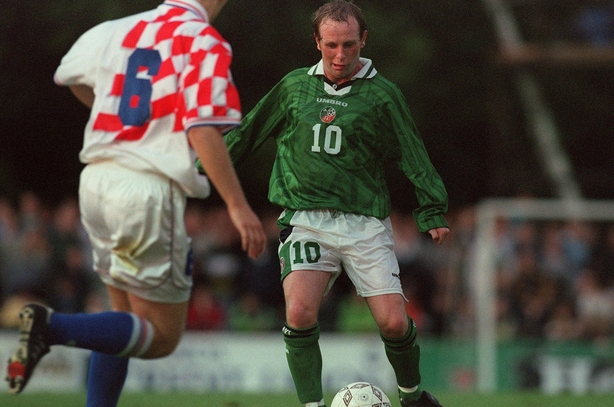 Midfielder - Thomas Morgan
"Thomas was the leader of the pitch in terms of the discipline of the team. The players did what they were told by him. He dictated the way we played. If I was to compare him to someone, he was an Andrea Pirlo-type player. He dropped short, gave it to feet and had a good range of passing. He knew when to give a pass and when to slow it up. A magnificent player." – Brian Kerr
Released by Blackburn before the World Cup, Morgan admits it was an uncertain time in his club career.
"You are hoping that you are putting yourself on a pedestal in Malaysia".
The midfielder went on trial at lower league clubs, including Blackpool and Rochdale, but one-year offers were quickly turned down.
Pat Dolan enticed him to St Patrick's Athletic, joining international team-mates Colin Hawkins and Trevor Molloy, where he won two league titles in three seasons before moving north of the border to join Newry Town. He returned to League of Ireland football within 12 months with Bray Wanderers and spent two seasons under Pat Devlin, who had initially sent Morgan on his trial to Blackburn.
Pat Fenlon afforded him the opportunity to play for Shelbourne in 2003, and two further league medals were added in his two years at the club, as well as some notable European nights.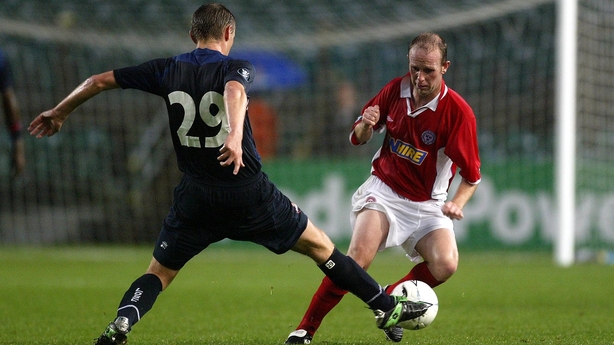 "That was a fun time. Pat Dolan was trying to create a full-time environment at Pat's, but there were still part-time players involved. At Shels, everyone was full-time. We trained Monday, Tuesday, Wednesday, Thursday, match Friday, recovery Saturday.
"It was great to be in a full-time structure."
Spells at Dundalk and Kildare County briefly followed, before he hung up his boots in 2010.
Morgan has been a Development Officer with the FAI since 2013 and is involved in a wide range of programmes including coaching and college education, dealing with clubs and schools, summer camps, social inclusion programmes and as well as all that, manages the Ireland homeless World Cup team.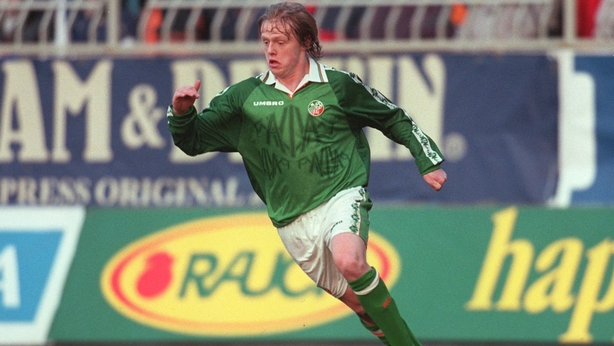 Forward – Damien Duff
"An exceptional dribbler, Damien knew when to dribble and when to pass. His decision making was always right. His ability to hold up the ball and give us a bit of a breather was really important to the team. He was just sensational." – Brian Kerr
The superstar of the group, Duff was earmarked for big things right from the outset. He made his Blackburn debut in the final game of the 1996/97 season, picking up the man-of-the-match award and shortly after announcing himself on the global stage in Malaysia, including the first ever Golden Goal.
Roy Hodgson, whom Duff credits as one of the best coaches he ever worked under, afforded him time off after the tournament, but the winger was keen to knuckle down and make a positive impression.
"Roy wanted me in the first-team squad straight away. You don't want a holiday, you just want to go back and train."
The first of his 100 senior caps arrived within 12 months and was a key figure in Ireland's 2002 World Cup, scoring against Saudi Arabia during the group stages. He continued that form into the domestic season, finishing as top scorer for Rovers who qualified for the UEFA Cup, before Chelsea came calling in a £17m deal.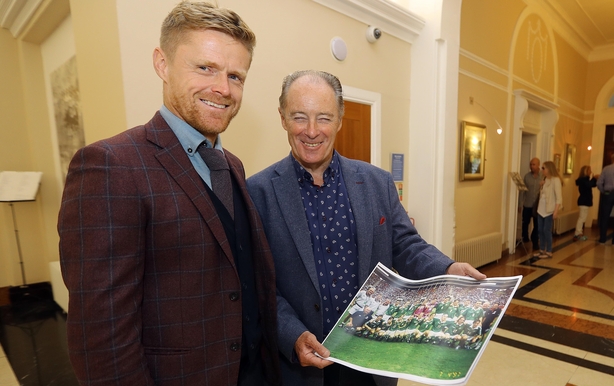 Two league titles and a League Cup followed, and the team spirit fostered was crucial in Jose Mourinho's first term at Stamford Bridge.
"You grow together as a group, so the Chelsea team that won two leagues on the bounce, that was a special group. We'd be going out most weekends together having a few drinks and then just steamrolling teams, sometimes without even playing well. We grew as team off the pitch."
The arrival of Arjen Robben led the Dubliner to question his situation at Chelsea and he made the ill-fated decision to join Newcastle.
Injuries curtailed his time on Tyneside and after three Premier League seasons there and a single appearance in the Championship, he made the switch to Fulham. Duff enjoyed enjoyed a much better time of it at Craven Cottage, making 130 top-flight appearances in five seasons and helping the club to a Europa League Final.
"That was a special, special group. Lads that I'm still in touch with."
Euro 2012 proved to be his international swansong and he spent a year in the A-League with Melbourne City, before finally hanging up his boots at Shamrock Rovers in 2015.
Duff is involved with underage coaching roles with both Rovers and the Republic of Ireland and is an analyst with RTÉ Sport.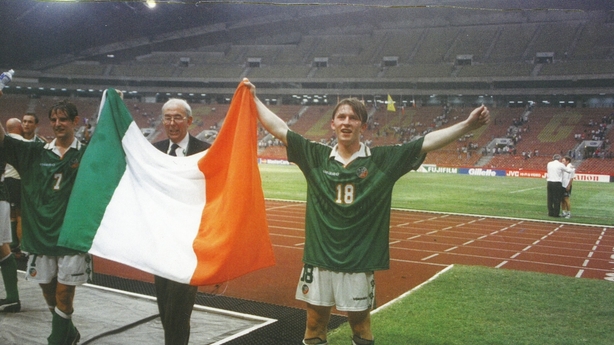 Forward – Trevor Molloy
"I would describe Trevor as a professor of street life! He played like a street player, and he's still a street player now at 40 years of age. He had such guile and cuteness...he could have played a part in Oliver the musical because he could sing and dance as well. Ian Dury and the Blockheads had a song called 'Clever Trevor' and that's how we saw him. He hounded defenders and adapted to any of the attacking roles we asked him to play. He was really admired in the group for his trickery and honesty." – Brian Kerr
The two-goal star from Malaysia swapped Athlone Town for St Patrick's Athletic and was central to their attacking threat. He was the league's top goal scorer in his second season at Inchicore and picked up two titles before moving cross-city to Bohemians.
Molloy memorably scored the goal to knock Aberdeen out of the UEFA Cup in 2000 and enjoyed a league and cup double at Dalymount Park.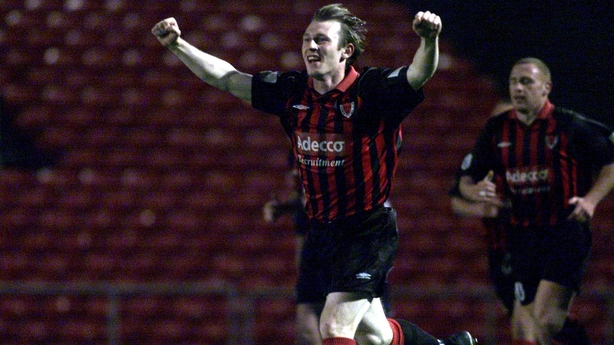 A cross-channel switch to Carlisle United didn't work out as hoped, but he is honest to appreciate why he failed to settle in England.
"I was homesick at Carlisle. I'm a home bird, I know that now."
He returned to play for Shelbourne, Shamrock Rovers and Pat's again before he tried his luck with Motherwell.
"I never had an injury up to that point, but I blew my knee out twice. I had a go, but it just didn't work out. Nobody can ever say I didn't have a go."
Molloy finished up playing with Bluebell United last season and turns out for their Masters team, but coaching is where he sees his future, with the A licence the top of his priority list.
"I want to get that done and get back into the game."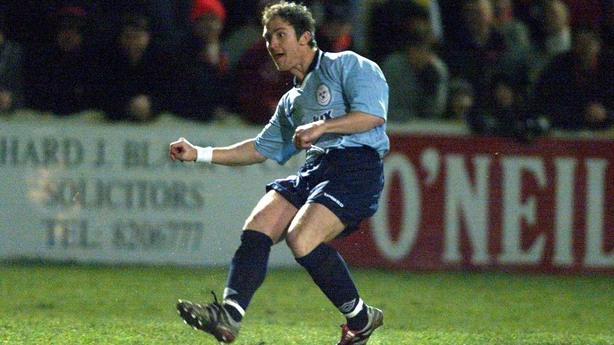 Forward – Dessie Baker
"Dessie was the star boy as a young player after going to Manchester United. He was playing with Shelbourne at a time when I was managing Pat's and I really respected him. He was used to 4-4-2, but he was another who adapted to 4-3-3 and could play wide left, wide right. He had to bide his time and when he got his opportunity he was brilliant. He took his goal fantastically well against Ghana but he played well in the other games when he came in too. He had a good touch and was a funny character in the group." – Brian Kerr
Baker joined Shelbourne in 1996 after five years at Manchester United and helped the club to an FAI Cup success prior to Malaysia.
In a decorated domestic career that included UCD (loan), Longford Town, Shamrock Rovers and finally a loan move to Dundalk, Baker won four league titles, three FAI Cups and a League of Ireland Cup. He also helped Dundalk to a First Division title in 2008.
"I'm blessed I won eight major titles over a 13-year period and it all stemmed from coming back from Malaysia. I just never stopped winning."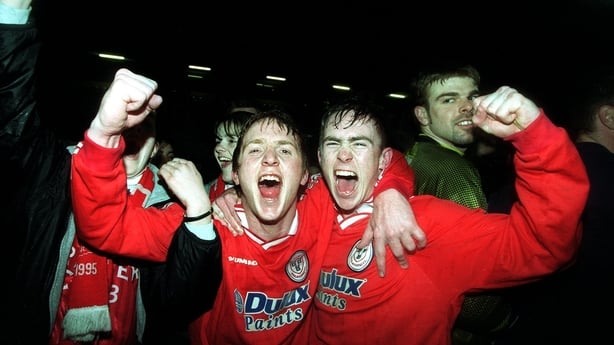 Baker retired six years ago aged 33, but is especially pleased how his career panned out at a time when the domestic game was never so strong.
"I knew players that came back from England and couldn't make it. There are lads playing League of Ireland now that wouldn't be in squads eight or nine years ago."
Initially he wasn't going to remain in football, but was soon lured back in.
Baker was asked by Edenderry FC to get involved with the underage teams and later became Director of Football and subsequently first-team coach. He left after seven years and is going to complete his training badges to get back into coaching.
"I'm ready to kick on for the next stage in my career."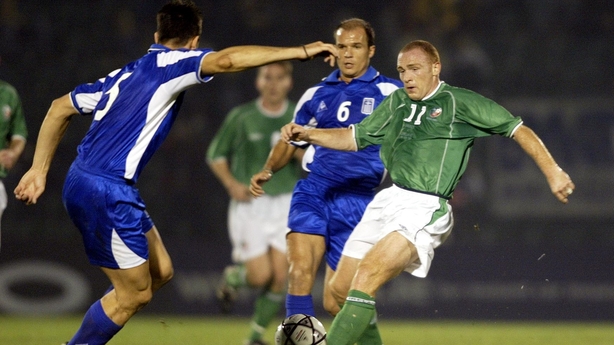 Forward – Glen Crowe
"Glen was an aggressive, bustling centre forward with a great work rate. He was coming from a 4-4-2 environment with Wolves when he wouldn't have had so much defensive responsibilities, so he had to adapt for us. He was a goal scorer, but unfortunately for him, we weren't a team that could cope with just having a goal scorer, especially out there where he suffered with his pale complexion." – Brian Kerr
The only other player to make the senior international grade besides Damien Duff, the goal poacher had already made a name for himself cross-channel before jetting out for Malaysia.
In May 1996, Crowe opened his Wolves' goal scoring account in his first start for the club, but the arrival of fellow Dubliner Robbie Keane impacted on his opportunities to impress, and spent time on loan at Exeter (twice) and Carlisle before signing for Plymouth in 1999.
After just 11 appearances and three years on from his goal scoring debut (full), Crowe returned home for what would be a prolific decade in a spell for Shelbourne sandwiched in between two stints with Bohemians.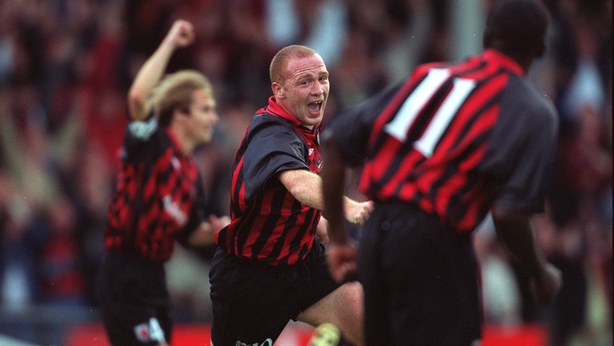 Five league titles, two FAI Cups, two Players' Player of the Year awards and three successive years as top goal scorer were just some of the achievements, but the two caps for Ireland are what stands out.
"It's a hugely proud moment and something that when I think about it, that it was just me and Duffer from that team that made it as senior internationals. I had minimal impact in Malaysia. I thought there would be a lot more caps shared out between the squad."
In November 2002 Crowe became the first League of Ireland player to represent his country in a senior international since Pat Byrne 16 years previous when caretaker manager Don Givens gave him the nod for a friendly with Greece.
"I had a great time at training, playing with established Premier League players. I was told the night before, so the nerves were tingling for a bit."
The second cap arrived five months later when he replaced his former Wolves team-mate Keane as Brian Kerr oversaw a 1-0 victory over Norway.
Crowe had a season with ill-fated Sporting Fingal, and hung up the boots for good at St Mochta's in 2015, where it all began for the budding striker. Since then he has been in a coaching role with the club.
"I'm doing it because I love the club. They gave me a good start. I'm building up coaching experience and I have my B licence.
"Management isn't something that appeals. I'm more into the hands-on that goes with coaching."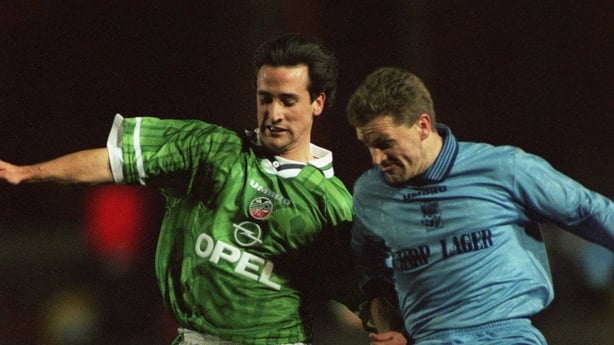 Forward - Neale Fenn
"Fenner came in and he was a bit shy, and maybe he didn't know where he stood in the group. He's a Cockney boy, but he fitted in so well and the game suited him. He played as the lone front player, and had to drop into midfield sometimes to get the ball. What a touch he had and he was clever in the use of his body to shield the ball. He was hugely important in our style of play." – Brian Kerr
Along with Damien Duff, Fenn was the only other player with Premier League experience prior to Malaysia. The UK-born striker made his Spurs debut against Manchester United in an FA Cup tie in January 1997 and had four top-flight outings under his belt by time he departed for the U20 World Cup.
With Les Ferdinand, Teddy Sheringham, Steffen Iversen, Jurgen Klinsmann and Chris Armstrong just some of the strikers ahead of him in the pecking order, Fenn struggled for game time at White Hart Lane: "They always seemed to sign another striker".
Loan moves at Leyton Orient, Norwich City, Swindon Town and Lincoln City came and went before he departed Spurs for Peterborough in 2001 after only 10 first-team appearances and one goal to his name.
He played "okay" by his own admission at Peterborough, but struggled to adapt to a more direct game plan. "Getting flick-ons and running down the channels wasn't really my type of game.
Fenn left before the third year in his contract and got in touch with former Posh team-mate Dan Connor at Waterford United. Happy with the standard of football, Fenn made his debut as a substitute for future senior international Daryl Murphy.
"It wasn't long ball – It was better than the football at Peterborough".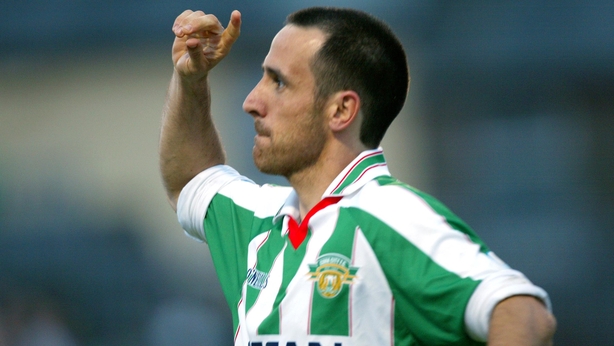 A move to Cork City saw the playmaker become an integral part of Pat Dolan's 2005 eye-catching league winning side, while another title was added from his time with Bohemians before he concluded his playing days at Dundalk and Shamrock Rovers.
Fenn progressed into the Ireland U21s and made one appearance for Ireland B, though was on Mick McCarthy's radar at senior level, but controversy marked his solitary call-up.
Before the senior match in Iceland, Fenn was on U21 duty and received his marching orders from the match referee for retaliation. An Icelandic defender goaded him after a missed penalty and Fenn reacted.
"The referee said I head-butted an opponent after he started laughing at me for missing a penalty. I hadn't, it was kind of an elbow as I pushed him away and he went down like a sack of spuds.
"Mick asked me if I had head-butted him and I hadn't. I was in the senior squad a couple of days later and he told me he couldn't promote me to the squad as it looked like I had head-butted him. It was disappointing.
"He told Willie Boland and I that we would be involved in more squads, but when you are not playing for your club, you aren't going to get the call up."
Fenn runs a soccer academy, with centres in Cork and Dublin, that coaches kids from 6-18, but management has always been a desire.
An assistant manager's role at Drogheda United was a first foray, while last season he was asked by his friend Ömer Rıza to be become his right-hand man at Leyton Orient for the final six games of the season as they failed to avoid the drop out of the Football League.
Fenn was appointed Longford Town manager in June.
Malaysia 1997 - A glorious chapter in Irish football