In 1997, Ireland surprised the football world with a third-place finish in the Youth World Cup in Malaysia.
Battling the stifling heat, food poisoning and suspensions, Brian Kerr led his Under-20 squad to the best finish any Irish adult team has enjoyed at a World Cup.
Twenty years on from that momentous achievement, Declan Whooley spoke to the manager and the entire 18-man squad to relive that magical journey to a semi-final against a star-studded Argentina side where a long-lasting bond still holds to this day.
The journey began on 1 February 1997 when Brian Kerr was appointed Ireland U20 manager, also taking over the reins with the U16s and U18s.
With Noel O'Reilly as his right-hand man, they began preparing for the upcoming Youth World Cup in Malaysia, where qualification had been secured courtesy of an earlier U16 European campaign.
Kerr added more scope to his extended squad.
Changes in eligibility – FIFA allowed for eight months more than UEFA in terms of the age cut-off point which meant Robbie Ryan, Thomas Morgan and Neale Fenn were introduced, while Kerr's involvement with the U18s saw him blood Paul Whelan, David Whittle and Damien Duff into the training panel.
Limerick's UL campus would be the venue for the final training sessions and friendly games before an 18-man squad would be selected for Malaysia, and for some, the professional approach was an altogether new proposition.
"When we met up in Limerick, Brian was saying, 'We're here for a long time, so be prepared for that'. I knew a couple of the lads, but it was my first experience of an almost full-time football experience," Aidan Lynch recalls.
The student accommodation saw four players to each apartment and fostered a team bond and responsibility.
"It was interesting the blending of the group, the interaction between them, building up a team spirit, and yet they were all on edge wondering whether they were actually going or not," Kerr recollects.
The three U18 players Damien Duff, defender Paul Whittle and goalkeeper Paul Whelan were made to feel welcome in the group, but like in his senior career, the tricky winger was often content to keep himself to himself.
"We [Duff, Whittle and Whelan] get a bit of stick now that we stuck together, but you are still a bit intimidated by older lads that have played in the first team and that you look up to."

When we had the ball, it was about keeping possession, trying and find a green shirt to link up with and not to be afraid to do your own thing. They all had that little bit of freedom to take players on, to try and come up with something because there were very good individual players with that type of skill.
Off the pitch the players were enjoying the freedom and responsibility, while at the same time, no stone was left unturned in order to have the squad in the best shape possible.
At times with comical consequences.
"It's fabled at this stage the whole sauna thing," David Worrell says. Paul Whelan describes it as "mad but effective."
In an effort to acclimatise for the sweltering heat and humidity that lay in store, the players donned the full training kit, complete with rain gear, to the saunas.
It was in sharp contrast to England's preparation, where a squad featuring the likes of Jamie Carragher, Michael Owen and Danny Murphy departed for Singapore to take part in a pre-tournament.
The Absentees
A host of future full internationals were unavailable to Kerr for selection.
David Connolly and Ian Harte (already capped by Mick McCarthy) were deemed by their respective clubs not fit to travel.
Alan Mahon picked up an injury at the Limerick training camp, Kevin Kilbane underwent groin surgery prior to his summer move to West Brom (he would make his senior debut four months later) and Alan Maybury opted to concentrate on the U18s.
Richard Dunne was also eligible but not part of the squad.
"That was disappointing for me," admits Kerr. "I tried to get the best squad I could get. Some players who could have come, didn't."
Ultimately all 18 players selected in Kerr's squad would see game time in Malaysia.
The Gameplan
Twenty years ago, few Irish teams veered away from the traditional 4-4-2, but Kerr and his management team chose a formation and strategy that best utilised the undoubted talent within the squad.
"We had a game-plan that we stuck with all through the tournament," O'Connor contends.
It involved a fluid 4-3-3. When attacking, the front trio of Damien Duff (left), Neale Fenn (middle) and Trevor Molloy (right), would spread out and utilise the space down the channels.
Without the ball, Duff and Molloy would fall back into midfield and assist defensively.
"Ahead of their time" is captain's Thomas Morgan's viewpoint of the strategy, with his role centered on anchoring the midfield.
Crucially as far as Kerr was concerned, the players were encouraged to express themselves.
"When we had the ball, it was about keeping possession, trying and find a green shirt to link up with and not to be afraid to do your own thing. They all had that little bit of freedom to take players on, to try and come up with something because there were very good individual players with that type of skill."
With a solid defence and ball-playing technical midfielders at hand, the key was to stretch opposition on the counter attack.
With Fenn the focal point in the middle of the front three and willing runners all around him, it was a tactical ploy that bore fruit again and again.
"I used to just pass it to Thomas Morgan and Damien Duff and let them do their thing," left-back Robbie Ryan modestly admits, while Duff acknowledges the key role of his strike partner Fenn.
"When we didn't have the ball it was backs to the wall at times, but Fenny up front...to this day we all laugh about it.
"He had the best touch of a football I have ever seen in my life and I have played with some players, but no-one touches him. If you win the ball back deep, fire it up to him and you know it will stick."
Team bonding
Utterly professional in their approach to taking on the elite in underage football, the players were thoroughly enjoying the time together on the other side of the world. With the Internet in its infancy and technology a world away from today's possibilities, Duff believes it was beneficial for team morale to have less distractions.
"Back then we didn't have anything else but each other, so we had no choice but to spend time with each other and bond. I think that was a big benefit because we grew as a group."
Friendships deepened in the time cooped up together and the sing-songs conjure up positive memories for all concerned.
"I used to sing a few songs with Noel O'Reilly, God bless him, who had the guitar," recalls John Burns, who would later turn his musical passion into professional reality.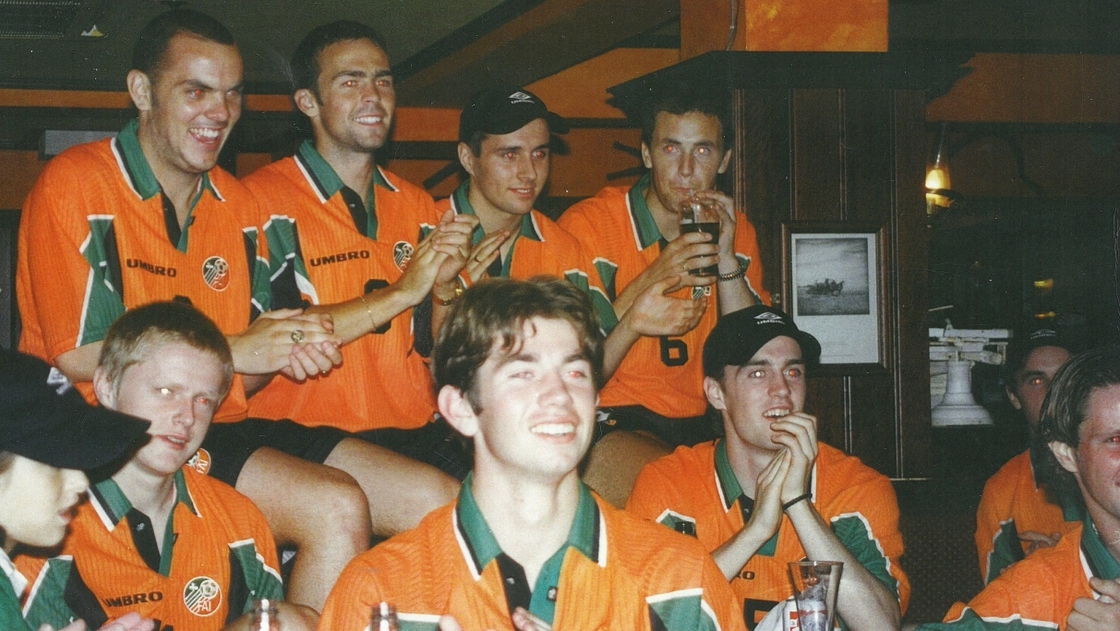 "Oco [Derek O'Connor] used to love an old sing-song. It was often him and I leading the way a lot of the time with the lads following in. Brian used to sing a few songs himself every now and then."
The sing-songs took place in the hotels, the bars, even outside a university campus on one occasion. Other teams staying in the same hotel were bewildered to find the Irish contingent exercising their vocal chords well into the night.
Midfielder Stephen Murphy thinks back to the time together socialising and dismisses the possibility of tournament tedium.
"You read about England going away at World Cups and getting bored, but for the whole tournament we had some laugh. As the competition went on, we all became closer. You could see that on the pitch."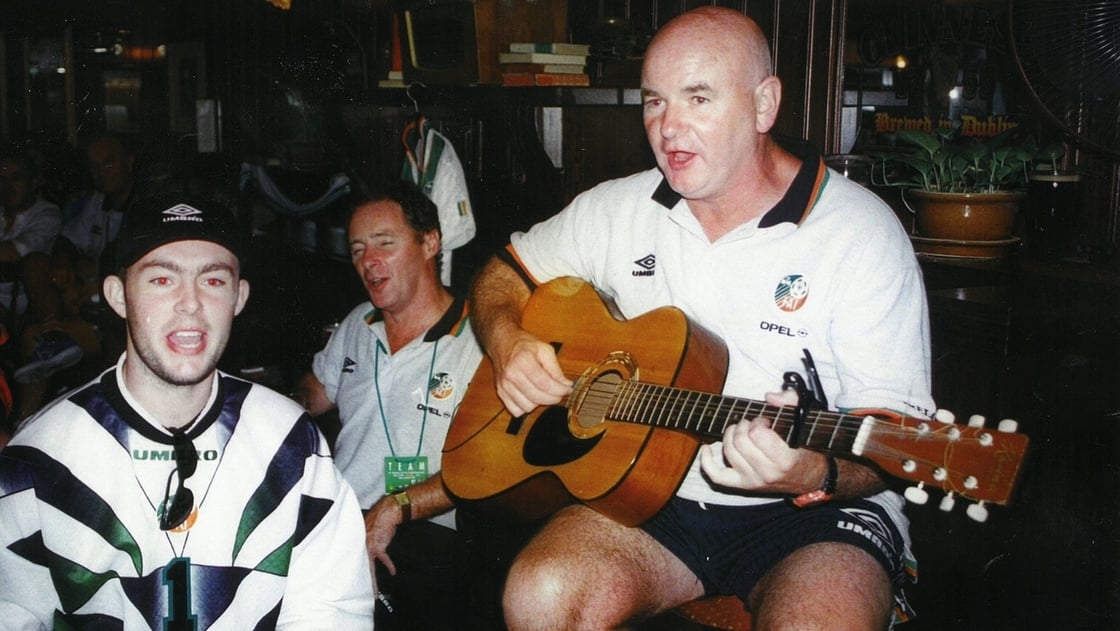 Kerr calls to mind a "draining" day for everyone. The atmosphere, heat, humidity and technical ability of the Ghanaians, U17 world champions three years previous, illustrated the standard of competition.
"A couple of unfortunate errors in defence proved costly as the Republic of Ireland lost their opening game in the World Youth Championship finals in the Stadium Darulaman in Alor Setar.

Hammered and outplayed in the early stages of the game by the sheer class and skill of the Ghanaians, the World Cup under-17 champions of two years ago, the Irish rallied magnificently in the second half to take control and were unfortunate to lose out when they lost possession from a kick-out in the 66th minute and Mohamed-Kamil Mouktar stole in for the winner."

- The Irish Examiner on the team's 2 -1 defeat to Ghana
Trevor Molloy's goal – "I can't remember the goal itself, but I remember running off like a demon after I scored" – brought Ireland back into the contest and gave confidence to the team.
A defensive game-plan focused on containment was never on the agenda.
With three possibly getting out of the group, the seeds of what Ireland could achieve were sewn
"When Trevor scored, I thought 'Hang on, we can compete here. We've scored against the world champions at our age group in a World Cup'. They weren't running rings around us," argues O'Connor.
"It filled us full of confidence that firstly, we were able to play in that heat, and secondly, we could compete with the best teams in the competition," Neale Fenn remarks.
Food
There were further obstacles which had to be overcome by the touring party, and one in particular had a significant impact on Kerr's team selection.
"There was a danger the food wasn't always in the best of shape," the manager says. "I don't think there was a single member of staff who didn't suffer with a dickey tummy at some stage."
The food buffet in the team hotels was left in containers at mid-day, but depending on training and team meetings, it was sometimes close to two o'clock before it was consumed.
Derek O'Connor and Niall Inman were ruled out of the USA game each because of food poisoning, while Damien Duff's iconic Golden Goal against Morocco was set against the backdrop of being ill the previous 48 hours.
Others, including Dessie Baker, took to their own precautionary methods.
"I just lived off Mars bars."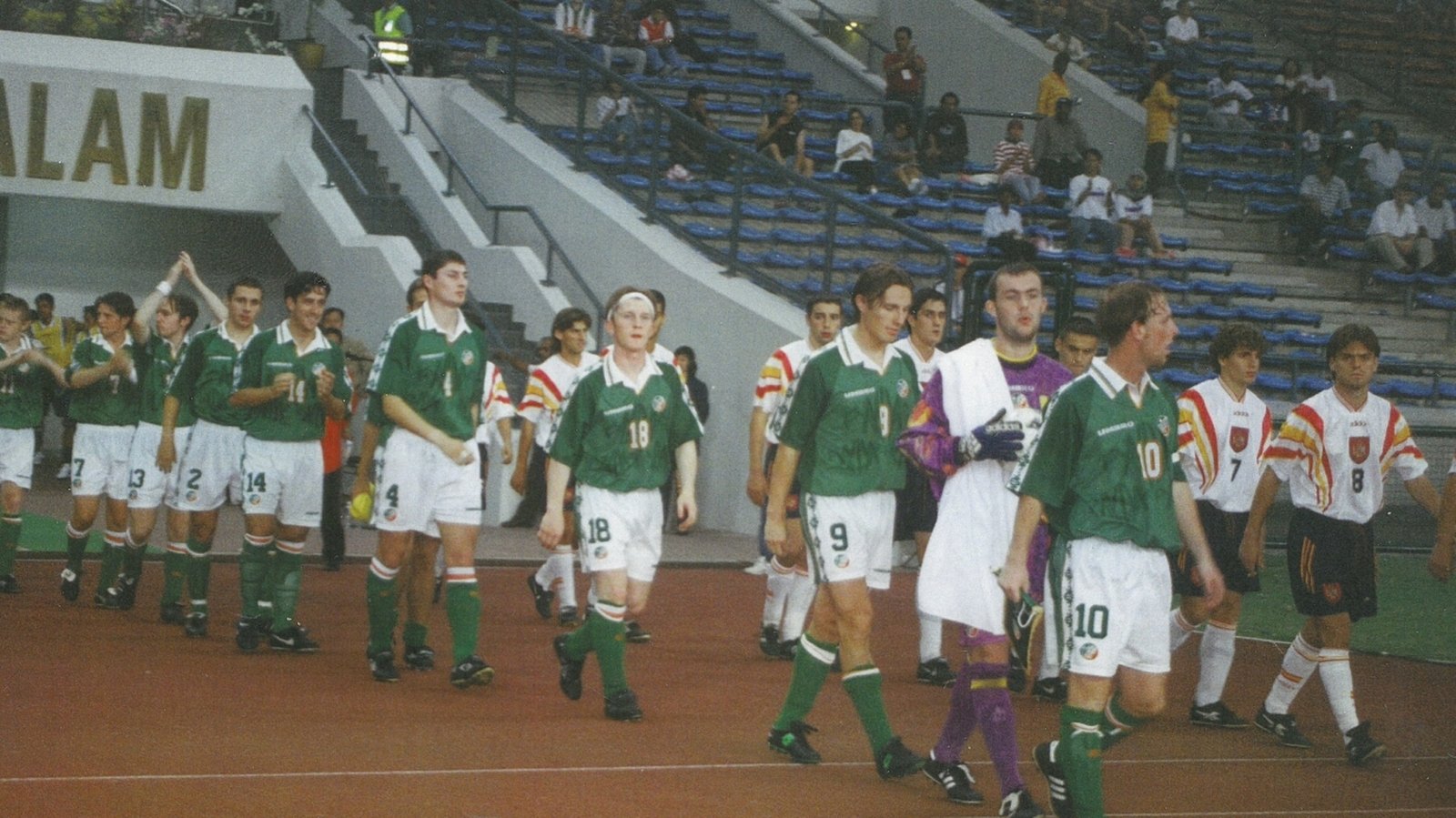 "Brian Kerr's battling Irish U20 side brilliantly defied all the odds to put themselves on the brink of qualifying for the second round of the World Youth Cup finals in Malaysia."

- Irish Independent on Ireland's 2-1 victory over USA.
With his first choice goalkeeper hospitalised, Paul Whelan got his chance to shine, but for Kerr, his concerns over Derek O'Connor's health were more long-term.
"I went to see him with the doctor and I asked him if he thought he'd be alright for the next day to play. He said yes, but I was really more worried if he'd survive, looking at how bad he was in the hospital."
A well-drilled American outfit were defeated with Mickey Cummins central to the win. He scored the opener and was instrumental in the second, an own goal by the USA.
"I believe to this day I scored the second goal, though it was credited as an own goal. It was the same routine we practiced in training and I flicked it on, though Trevor claims he got a touch on it over the line."
The only blot on the copybook was the injury picked up by John Burns. Initially unsure of the damage caused, it would rule him out of action for nine months and have a significant impact on his football career.
"Of all the injuries I had in football it was the worst I had. I was out for nine months."
"The drama was almost soap operatic as Ireland historically qualified for the World Youth Cup second round in Alor Setar. Brian Kerr's U20 side grabbed the point they needed from Chine to qualify but had to do so despite the controversial 80th minute dismissal of goalkeeper Derek O'Connor."

- Irish Independent on Ireland's 2-1 victory over USA.
O'Connor was restored to the team after passing a fitness test, but was far from his physical peak. He still wasn't eating and only adrenalin was getting him through.
More drama was just around the corner with Ireland needing just a point to qualify for the knockout stages.
O'Connor had developed a quirk with his kicking out of hand, where he struggled to get his planted foot in the right position.
"I was even trying to mark my steps back so I knew how many I had taken, but for some reason it was just all wrong."
The anxious shot-stopper would stop his run up and take a step back, before going again in an effort to correct his feet. While the crowd cheered and enjoyed the spectacle, the referee took it to be time wasting.
Two yellow cards later and Whelan was again thrust into action
"It was ridiculous," says Kerr 20 years on. "It wasn't like we were two-up. It was astounding at the time."
It was backs to the wall as China aggressively pushed forward for a goal to remain in the competition, but the 10 men held firm and Ireland advanced.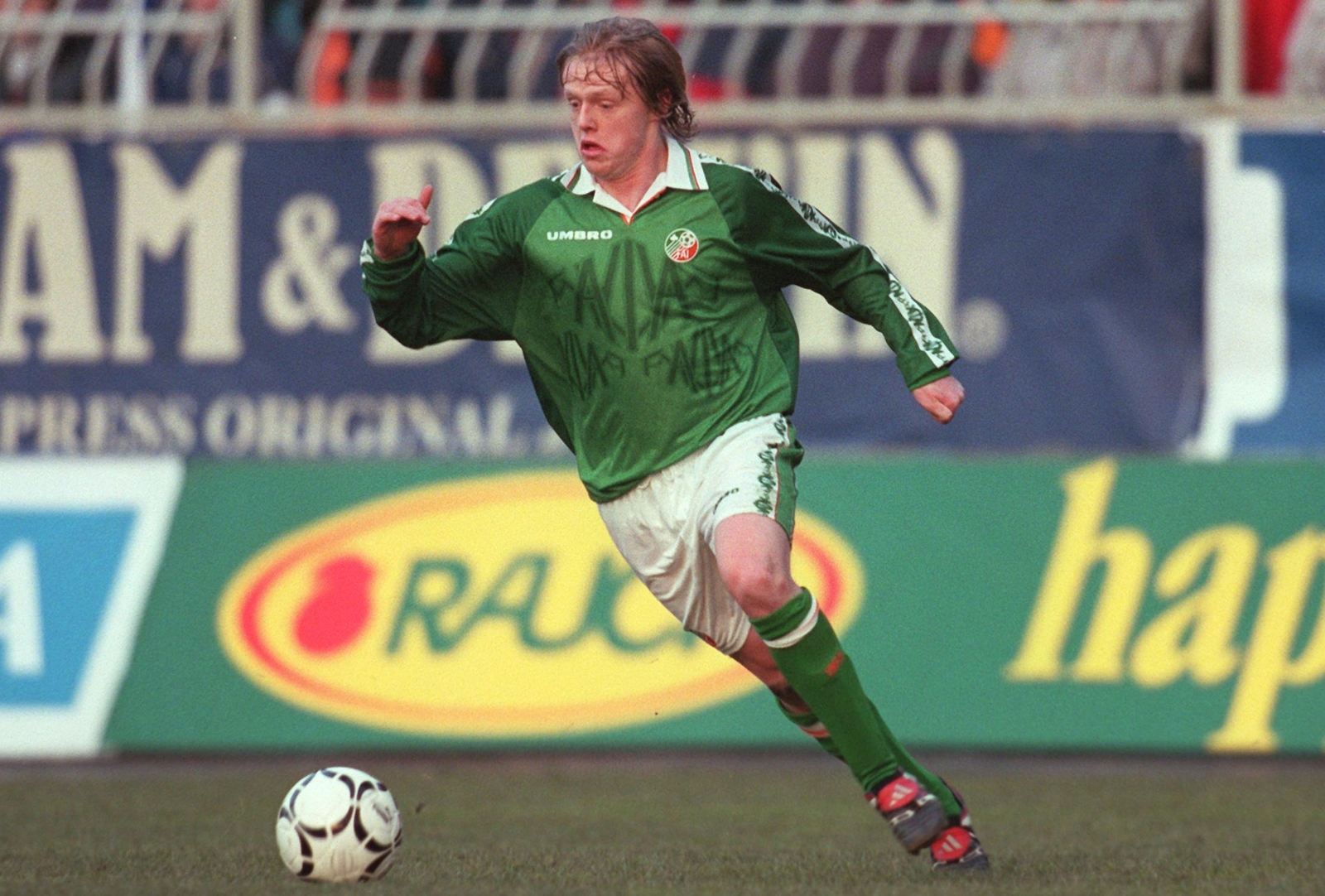 "This kid could be the next big thing of Irish football. Left footed and a speed merchant, but with such sublime skill that he should never be played on the wing – a genuine inside-forward who has been a revelation of the tournament."

- Irish Independent Player Profile
Damien Duff would enjoy the most successful career in professional football of the 1997 squad, and despite his tender years and light frame at the time, his talent was never in question.
Fellow Blackburn team-mates Dave Worrell and Thomas Morgan spoke to Kerr before the Limerick training camp and said what he lacked physically, he more than made up for with technical ability
"I remember Jeff Kenna, the Ireland international, was at Rovers at the time," says Worrell. "He was 26 or 27 at the time, at the peak of his career, and he used to dread marking Duffer in training. That's how good he was."
The manager needed little convincing.
One pre-match ritual involved the players holding hands in the centre circle, with Kerr bouncing the ball in the middle, ratcheting up the intensity.
"He often appeared like he was gone physically, that he was absolutely drained, but then he'd get back and get running again and drag himself to work back before going on a mazy run again. He was brilliant and the lads all loved him. There was humility to him."
Humility is referenced by nearly all of Duff's team-mates.
The ego of the budding teenager could easily have developed rapidly - Duff had made his Premier League debut just a month earlier - but for him it was just about doing what he loved; playing football
"It was a nice feeling (playing so well), but I was never one really to think of the consequences or anything. You just go and you want to play football. Maybe later on in your career you lose that fearlessness and you do think about your game, and what's at stake, but back then it was just like going out for a kick about."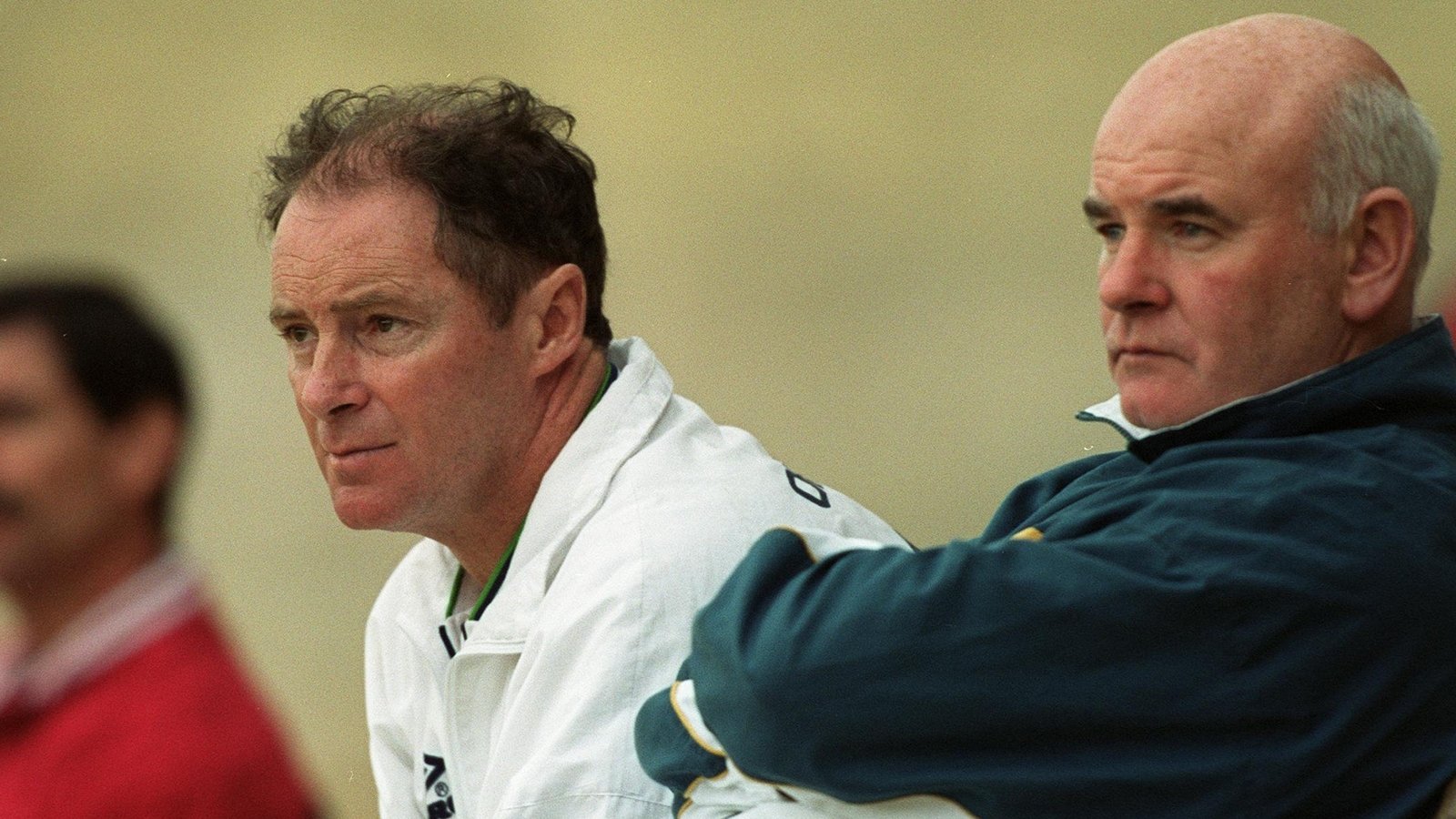 Brian and Noel
While the players rightly took the plaudits for performances on the pitch, it was all under the tutelage of an insightful, empowering and analytical management duo.
Trevor Molloy elicits the change he experienced in those few short months.
"I grew up as a man and a player over there. Where I would have been timid at some stages in matches, now I could stick my chest out. Brian, and especially Noel, instilled that in me.
The clever man-management instilled the confidence of each and every player, no mean feat for those struggling to get into the team.
"We all felt sky high the way he treated us," confirms O'Connor
Little things had a lasting effect. One pre-match ritual involved the players holding hands in the centre circle, with Kerr bouncing the ball in the middle, ratcheting up the intensity.
"Brian and Noel instilled their values, beliefs and philosophy that you produce not only good footballers, you produce good people," says Mickey Cummins.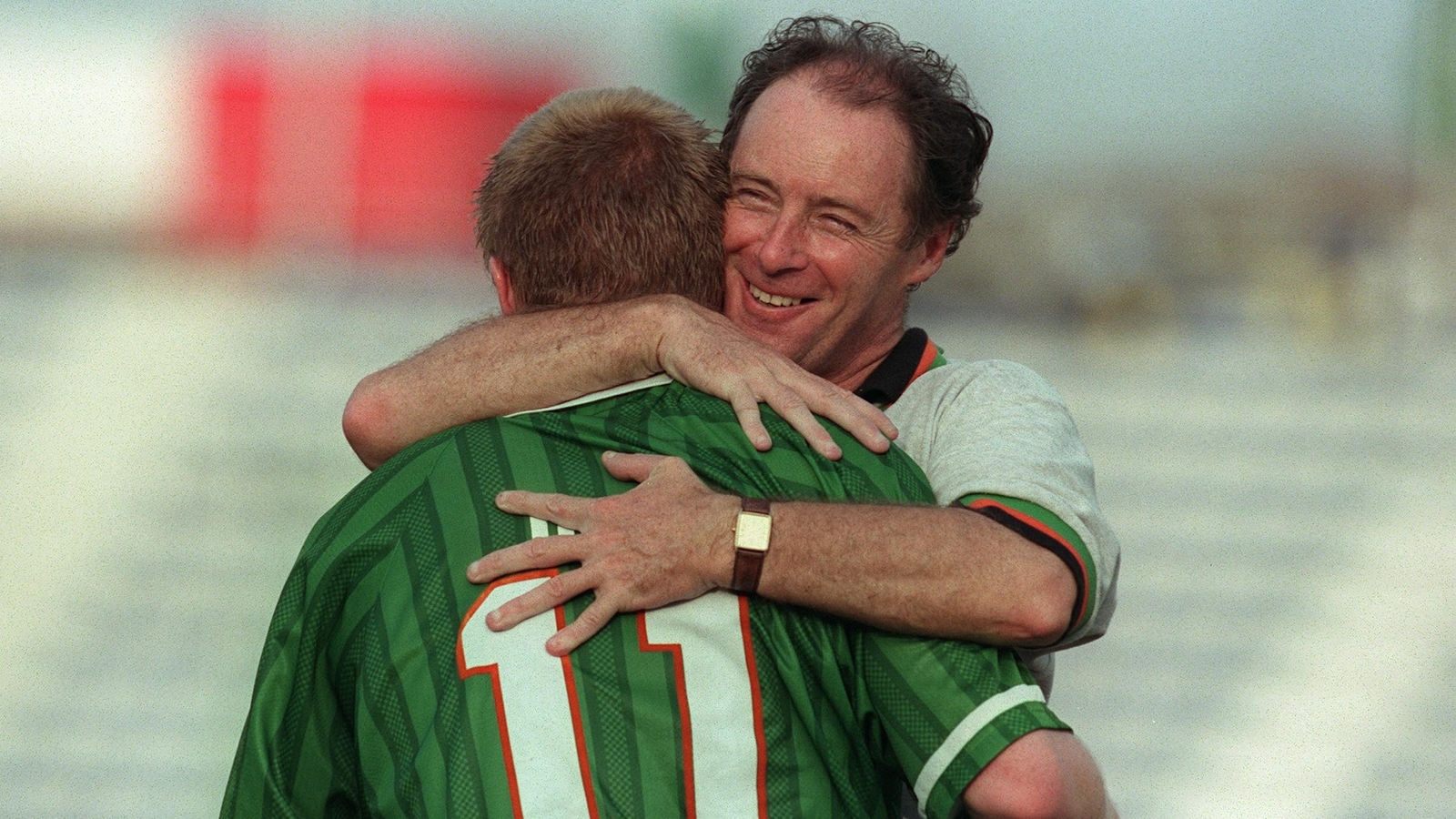 "In football terms, Brian would be my dad. We [1997 squad] all love him to bits, Noel as well," Duff warmly acknowledges.
Kerr is quick to pay tribute to his trusty assistant, a man of many talents.
"We had to do things to make sure the players' morale was good. That was Noel, it didn't matter what team he was at.
"He always brought the guitar with him, but I'd hate for the view to be out there that it was all singing dancing and sure wasn't it great, that Noel got the guitar out and it cured everything.
"Noel was a brilliant coach, psychologist and counsellor. He was everything to so many people."
"Reduced in strength by injury, suspension and illness, the Irish defied all odds by earning a place on the quarter-finals with a gritty and controlled performance against Morocco. And it was Damien Duff who, in the finish, turned out to be the real hero as he drove home the winner six minutes into extra-time and put the Irish through on the Golden Goal Rule."

- Irish Independent
It was unfamiliar territory for Ireland in the knockout stages. Mentally growing if physically fighting the effects of the heat, it also brought practical problems.
There was only enough kit to last the group stages. The extra shipment was an exciting development for the players.
Neale Fenn opened the scoring for Ireland and his own World Cup account – "It was getting to me a little bit. I needed a goal" and the left-footed volley gave Ireland a lead 10 minutes before the interval.
On the stroke of half-time however, Morocco fortuitously equalised.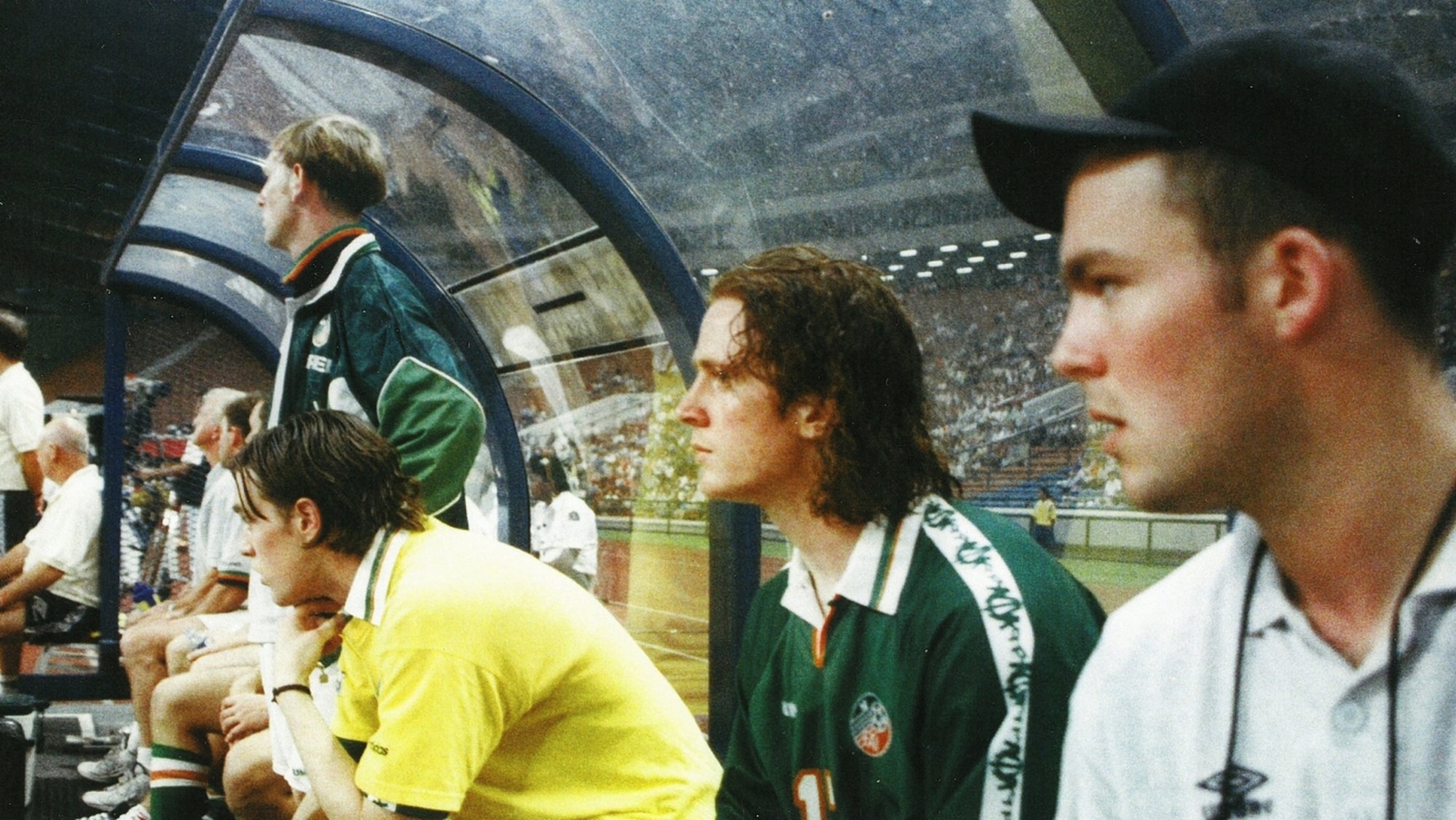 "Niall Inman is in the record books for the own goal, but I have to put my hand up and say it was me, I got the last touch," admits Dave Worrell.
The game will go down as Damien Duff's individual moment of brilliance to claim the first ever Golden Goal, but the Blackburn man was lucky to be even on the pitch, the latest victim of an upset stomach.
"I felt horrific in the game. It was probably my worst game of the tournament, even though I ended up scoring the first Golden Goal. For 48 hours I didn't train, I didn't get out of bed, I couldn't stand up."
The goal will go down in the annals of Irish football history, the run, composure and finish.
"One minute the match is going on and you're dangling, and now you have just won it. It was exhilarating for everybody," says Kerr, remembering the team and squad running after the match-winner as he gets buried in a sea of green bodies.
When I was about to take the penalty, I said to myself, 'This is for my son'. I put everything behind it. There were no pleasantries about it, or where was I going to place it, it was just f***ing get your foot behind it and smack it.
Niall Inman reflects on the once-in-a-lifetime moment.
"I'll never forget that. It was a great feeling. I've never experienced a feeling like that in football since. Pure adrenaline, happiness, relief."
Paul Whelan was handed his second start of the tournament with O'Connor ruled out through suspension and his intervention before Duff's magical finish was every bit as crucial in the outcome according to Kerr.
"Paul got out and made a block at his feet. The ball cannoned away and within a minute there was Thomas's ball he slipped to Damien, who went on a mazy run and stuck it in the far corner."
"It's Duff and Fenn is in the middle. Not a good ball, but it might yet come for Molloy...oh well played Trevor Molloy. Down he goes and that's a penalty! Lovely control and lovely skills. He got away from his man and the tackle was late. No question or doubt about that."

- George Hamilton
The build-up for Spain was no different to what had served Ireland so well up to that point. Once the work was done, the players were encouraged to socialise, deepening the team bond. The night before the game, the squad were glued to the TV screens in the hotel to witness Mike Tyson's infamous bite on Evander Holyfield in the highly anticipated boxing heavyweight clash.
The game itself showed how tactically astute the Boys in Green were in the competition. Comfortable to let the Spaniards have possession early on, they grew into the contest and created openings.
The game-changing moment arrived shortly after the break when Trevor Molloy was felled in the area.
"Trevor was a very confident young player, and played with a swagger. He was very clever in what he did to win the penalty," was Kerr's recollection of the spot-kick.
Molloy admits he was tired, and when he caught a glimpse of the committed defender, he took another touch rather than shoot. He laughs at the suggestion that he wasn't going to let anyone else take the penalty.
"The others were too afraid to take it."
The goal also had special significance for the Athlone Town player.
"When I was about to take the penalty, I said to myself, 'This is for my son'. I put everything behind it. There were no pleasantries about it, or where was I going to place it, it was just f***ing get your foot behind it and smack it."
Still short of his 21st birthday, Aaron Molloy is currently in the second year of a soccer scholarship with Penn State University and making a name for himself with his goalscoring exploits.
Last year he made the Freshman Team of the Year as well as other personal accolades including International Player of the Year.
His wonder goal for non-league Reading in the Premier Development League, effectively the fourth tier of US soccer, has added to his growing reputation.
"The full-time whistle sounds and Argentina go into the final. Thomas Morgan sits disconsolate on the ground, but these 14 men who have played today can hold their heads up high. It's been a marvellous performance. It's relief for Argentina as the favourites are through and bitter disappointment for Ireland."

- George Hamilton
The task facing Ireland was a formidable one. Argentina had won the 1997 South American Youth Championship earlier in the year and could call upon the likes of Walter Samuel, Juan Roman Riquelme, Esteban Cambiasso and Pablo Aimar.
Goals from Aimar and Riquelme saw off England in the round-16 clash, while Brazil were brushed aside in the quarter-final. Ten of the Jose Pekerman's starting team would go on to become full internationals, compared to just two from Ireland.
"The players that they had at the time, they wouldn't have meant an awful lot to us even though they were going to become big stars."
It was the earliest kick-off Ireland faced in Malaysia and the stifling heat did little to help what was already a daunting task. Noel O'Reilly instructed his team to warm-up in the only patch of grass covered in shade.
The sizeable crowd were backing the underdogs, but it was the Argentinians who settled better, keeping possession and probing the Irish rearguard.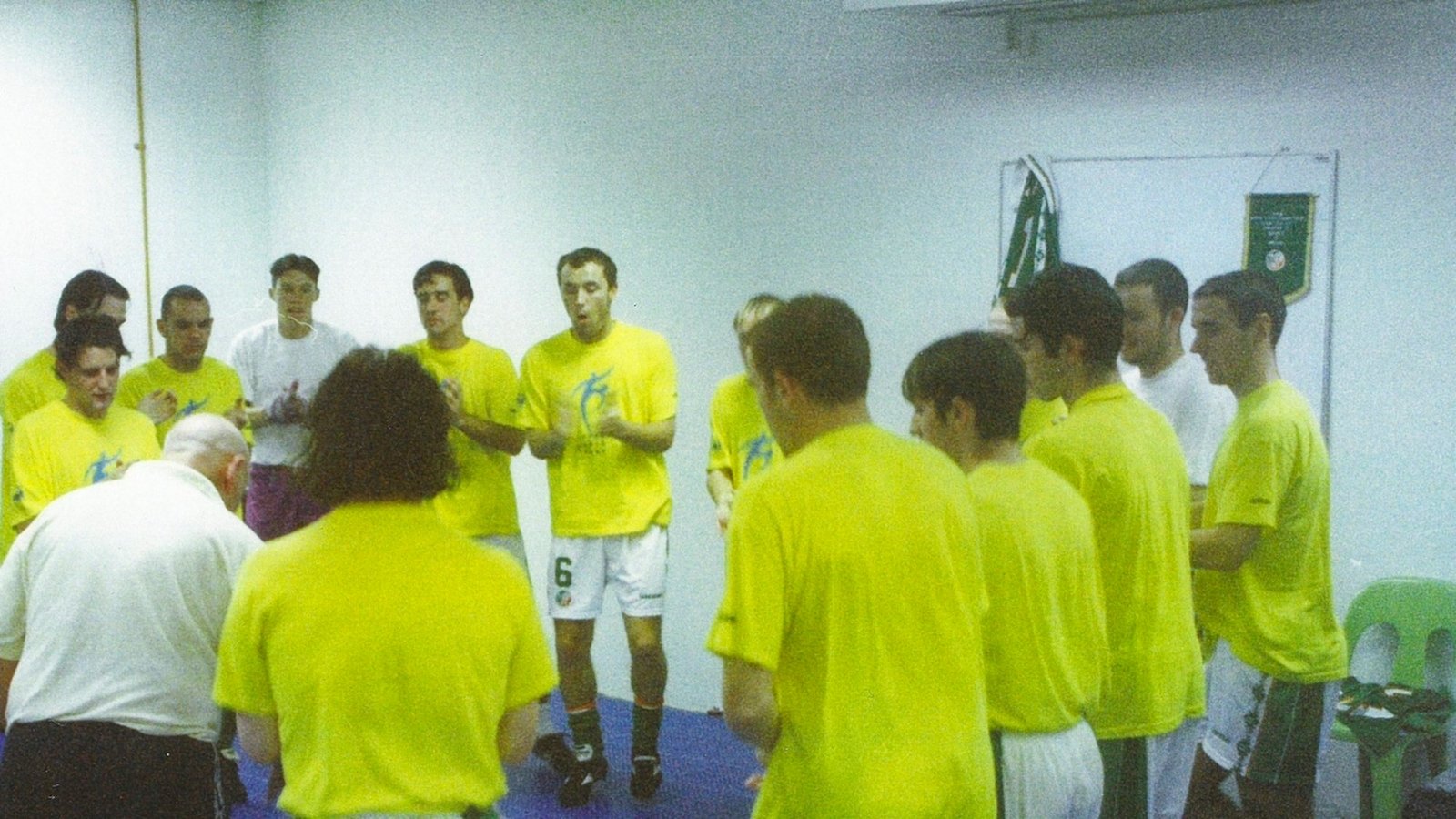 "Aimar had a couple of chances," recalls O'Connor, though Alan Kirby laments the missed opportunity to open the scoring in the first half.
"I got the wrong side of the defender for the through ball, but my first touch was poor," he says.
"The ball got in under my feet and I couldn't get it out in time to look up and see where the goalkeeper was. I hit the ball feebly at the keeper. In hindsight I would have had a better first touch because I had time."
It was Argentina who broke the deadlock. Colin Hawkins may well have been fouled in the lead-up to Brenardo Romeo's strike, though the big central defender went close to equalising at the other end.
I don't think I've ever played in a game where I felt that we had to win. There was no losing in that game. We didn't want fourth in the world.
"It still haunts me. Looking back it wasn't a clear cut chance. It was from a corner, I got my head on it and it just sailed over the upright. It could have gone in the top corner."
Thomas Morgan still believes that Argentina were wilting physically towards the end, stumbling into the final rather than powering through.
"I keep telling people to this day, they were on their feet at the end and we had chances. If we had got it back to 1-1, I think we would have beat them and gone on to win the World Cup."
Still, there were no excuses offered then and there are none forthcoming now. "We played well, we just weren't quite good enough," is Kerr's summation.
"The whistle has sounded and it's all over. Ireland have crowned a magnificent tournament by claiming third place in the world after a wonderful performance against Ghana. Brian Kerr congratulates his players, each and every one a hero….Believe it, or believe it not, it's a fact, Ireland are third in the world at U20 level. ..They have done Irish soccer, Irish sport and their country proud. Saturday the fifth of July will go down in history. "

- Irish Independent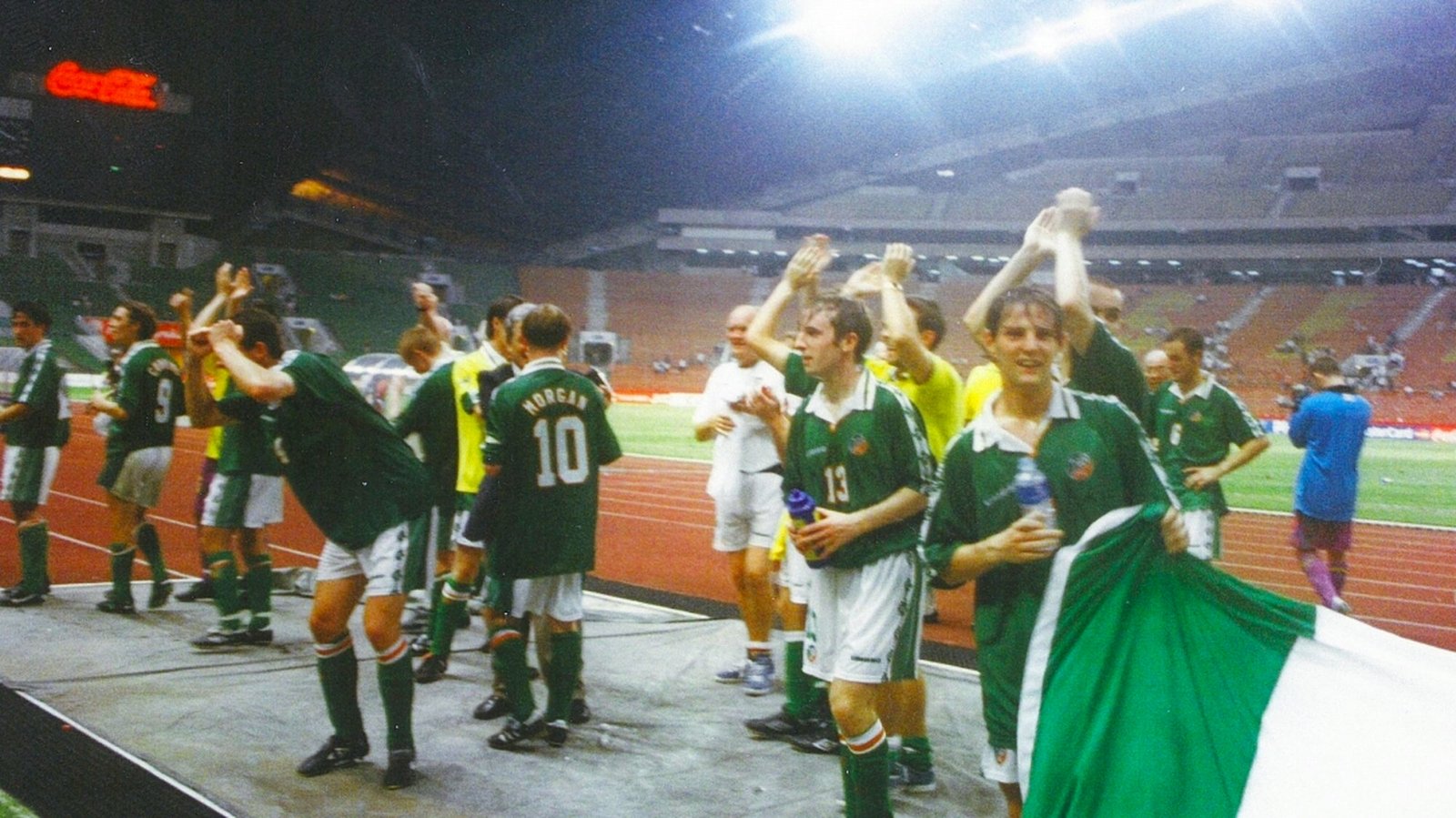 With little time to feel sorry for themselves, Kerr had to regroup his troops down for a shot at third place. It is an often maligned game in World Cup competition, but for Ireland, the motivation was not in short supply.
"I don't think I've ever played in a game where I felt that we had to win. There was no losing in that game. We didn't want fourth in the world. It's nothing really, it's two defeats in your last two games," O'Connor says on the mindset prior to their tournament swansong.
Once again they would face the Ghanaians. The two squads had stayed at the same hotel and there was a bond between the players and staff.
The one difference this time around was Ghana were fully aware of what to expect from their opponents. In the tunnel before the group game, the Irish players were met by a team in jovial mood, singing and dancing as they made their way to the pitch.
This time around it was strictly business, something which struck Aidan Lynch immediately.
"It was a bit surreal as they were so confident in the first game. By the last day there wasn't much spark in them."
It was a frantic start to the game says Kerr - "It was little rat-a-tat-tat passes in the middle and away you go Damien, give us a bit of magic" - and he duly did, whipping in a cross for Dessie Baker to open the scoring in the second minute.
"I remember Duffer going down the left hand side and I'm thinking, 'I've got to go here'," Baker says.
"Thomas played the ball out wide, Duffer played it in and I had sprinted across. I was coming at it quick so only had to stick my head on it."
"Dessie was like Grease Lightning," Kerr says, "coming from the right, into the middle with a bullet like header at the near post. The second goal was brilliant too."
It was apt that Duff would have the final act in an incredible journey with a touch and finish to grace any game. Fitting too that the principles and style of play that had served Ireland so well were rewarded in the play-off.
"That day it went for us," admits Kerr. "We were still brilliant, superb, we played fabulous football and the work-rate was great. The atmosphere in the team, the spirit...it was just sensational stuff."
"That was our World Cup Final," says the match-winner. "It showed how far we had come from the first game of the tournament where we lost to Ghana and showed them maybe a bit too much respect.
"By the end of the tournament, five or six weeks together, we were a different animal."
So how do the players reflect on Malaysia now, 20 years after putting Irish football firmly on the map?
There's little hesitation from O'Connor: "It would have been the best summer of my life. Nobody expected us to do anything. It was an amazing achievement what we done."
"It was my best footballing memory ever, definitely, says Colin Hawkins. I would have gone on to win a few Leagues in the League of Ireland, but the biggest memory for in my football career was definitely Malaysia."
Duff would go on to star in a senior World Cup, earning 100 senior caps along the way. The winger quickly established himself as a Premier League star on his way to winning two league titles, but Malaysia is still a cherished memory.
"It brings a smile to my face along with the rest of the squad. And obviously Brian and Noel up above, God rest his soul. It was just a special time."
Not only a talented and committed group on the pitch, the 18 men selected would show that away from the pitch they could also be high achievers.
"Everybody in that group went on to do something, whether it was in football or elsewhere," Dessie Baker proudly says. "They have all achieved something."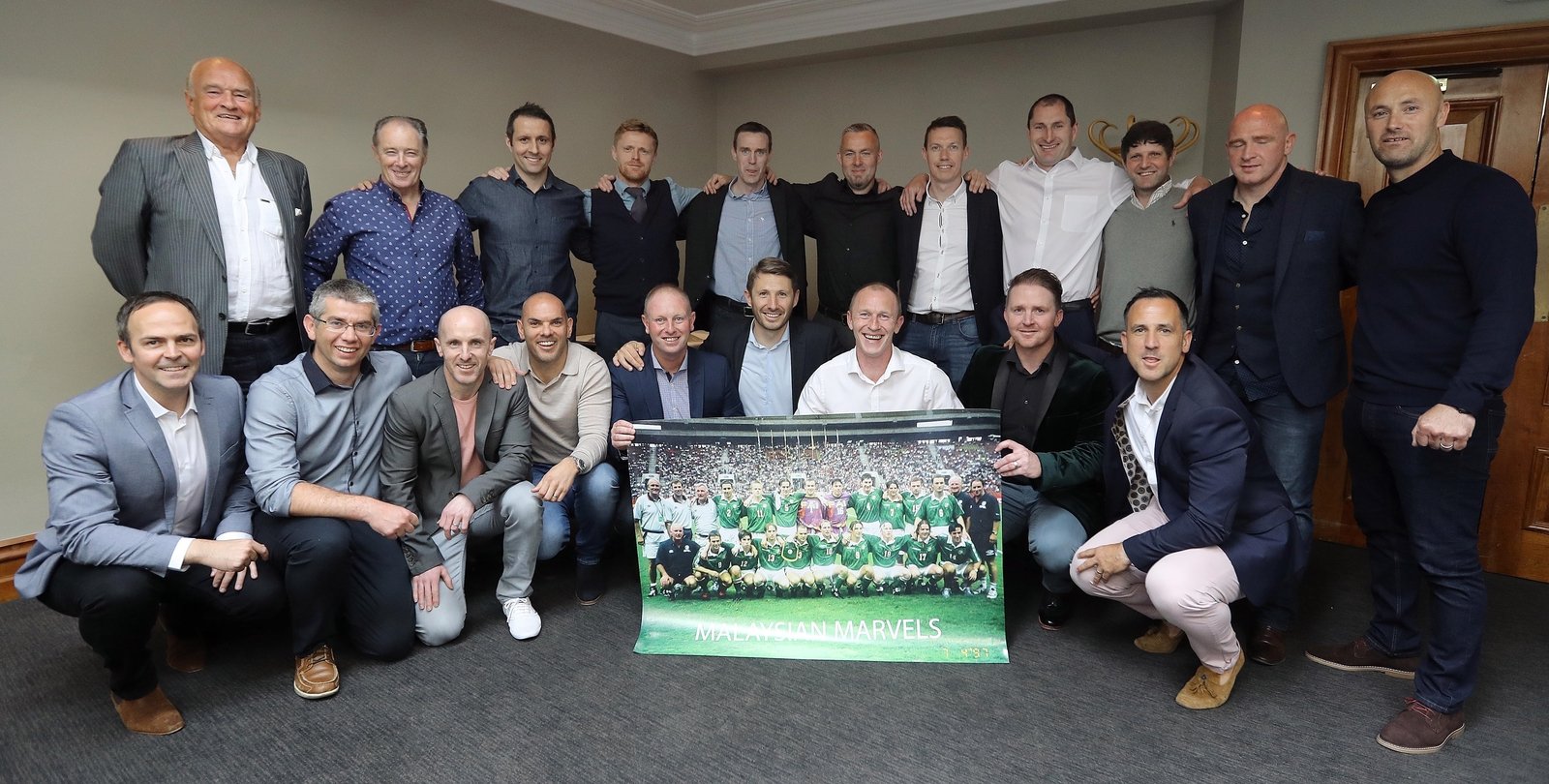 Top row; Eddie Cox, Brian Kerr, David Worrell, Damien Duff, Aidan Lynch, Derek O'Connor, Paul Whelan, Colin Hawkins, Niall Inman, Glenn Crowe, Stephen Murphy.
Bottom row; John Burns, David Whittle, Alan Kirby, Robbie Ryan, Thomas Morgan, Mick Cummins, Trevor Molloy, Dessie Baker, Neale Fenn.