Ireland allowing Denmark the 'room to play' was all the Danes needed to book their place and next year's World Cup according to Christian Eriksen.
The Tottenham star played a key role, netting a hat-trick, as his side hammered Ireland 5-1 at the Aviva Stadium to secure their spot in Russia next summer.
Ireland had got off to the dream start with Shane Duffy opening the scoring on six minute, but after the hosts spurned chances to extend that lead, the visitors levelled and quickly took control.
The tempo and flow of the game was in marked contrast to the first leg in Copenhagen which was a tight and tense affair as Ireland put the focus on defence.
Speaking to RTÉ Sport after the game, Eriksen seemed surprised that the match was so open.
"It's a crazy feeling," he said. "We've been fighting together so long since the qualification start, we played 12 games to go the World Cup and it happened.
"It's a weird feeling to have been playing for so long and trying to get the results as today it happened. It was not the best beginning but after we turned it around and it's a crazy feeling really.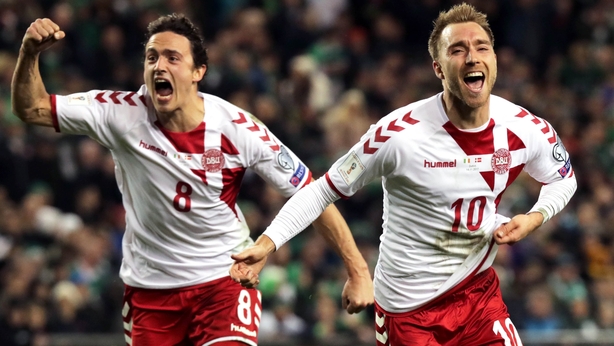 "I think we improved our game a lot and of course Ireland let us play a bit more, which we did. That was why we created so many chances and were dangerous when we had the ball."
The Spurs midfielder did admit that his side were the beneficiaries of a big slice of luck when they levelled off a shot which hit the post and bounced off Cyrus Christie before crossing the line.
"The feeling was we could get back but we knew it would be very difficult coming here with the fans they have.
"Of course we got a lucky goal when Christiansen scored and after that it was just one-way. After scoring one goal it was a big knock for Ireland and it gave us the confidence to keep going."