Will the Aviva Stadium ever become a fortress?
Rathnew's headline grabbing win over St. Vincent's on Sunday resurrected the old 'Fortress Aughrim' tag, a moniker which, sad to say, has only ever been deployed ironically in recent years.
The term was popularised in the late noughties - its unironic heyday - when, bouyed by the presence of Mick O'Dwyer on the sideline, Wicklow regularly downed mid-ranked sides in the qualifiers.
Central to the notion of Aughrim as a 'fortress' was the fact that it appeared to visitors that there had barely been a scrap of work done on it during the boom years.
Wicklow seemed to be one of the few counties that didn't spend the dying days of the Celtic Tiger building a shiny new stand with plastic seats painted in the county colours.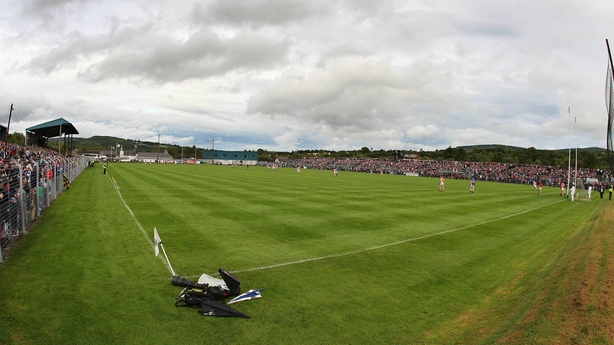 The impression thus given was that this was a grim and soul-sapping place for an away team to play football. Hence, Fortress Aughrim.
Well, it's a brave new world in Aughrim these days - or 'Joule Park' as we are encouraged to call it by Wicklow GAA and their partners, 'Joule' home heating suppliers - and the ground is now home to a shiny new stand replete with plastic blue and yellow seats, spelling the word 'Wicklow'. The work was completed at the end of 2015, though Wicklow's only championship match there so far was the qualifier against Laois this summer.
The Republic of Ireland football team used to have its own 'Fortress Aughrim'. Even in the 1990s, Lansdowne Road was an archaic and windswept stadium which opposing teams hated visiting.
In Roy Keane's 2002 autobiography, he claimed that Jack Charlton preferred the pitch to be as bobbly as possible, on the entirely rational grounds that this would surely end up hindering the opposition more than any side he sent out.
Charlton confirmed as much in an interview with GreenScene in 2010.
"The first day I came in as manager I went out on the pitch at Lansdowne Road and the grass was about this long," Charlton said.
"I was talking to the groundsman and he said they were going to cut the grass before we played on it. And I said 'Don't cut it.'
"I liked to play the ball behind people and if you cut the grass, the ball will be quick, it'll bounce and go straight through to the goalkeeper or go out for a goal kick.
"I said, leave the grass like that so that the ball will stop. And it worked."
Under Charlton and his long-ball and long-grass policy, Ireland didn't lose a competitive home match for eight years.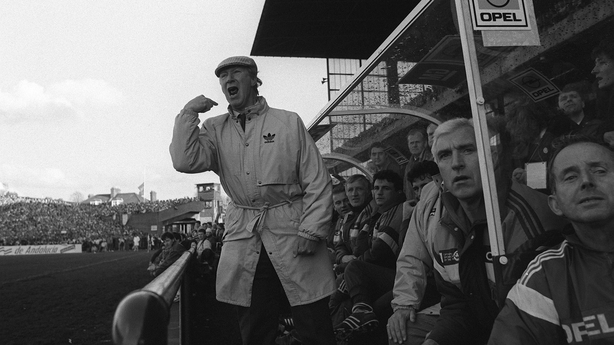 Indeed, between 1986 and 2002, Ireland only lost two competitive home games (against Spain in 1993 and Austria in 1995).
Visiting coaches grumbling impotently about the state of the playing surface, opposing goalkeepers whining and gesturing about the rough-house challenges from Irish attackers on set-pieces.... these were the complaints that accompanied so many Ireland matches back in the day.
After Ireland drew 1-1 with England in the first game of Euro 92 qualifying, Gary Lineker compared the pitch to a 'ploughed field'.
It even discommoded opposing supporters, especially those who couldn't make the journey. One online discussion looking back on the Ireland-England game from September 1990 was brightened up by an English fan still incredulous at missing the game because it was scheduled on the afternoon of a school day, a consequence of the fact that Lansdowne Road still had no floodlights. (In fairness, Irish schoolkids and many working people were of the same mind as him on that one).
However, Lansdowne Road, as we know, was razed to the ground over a decade ago and was replaced by the regrettably more civilised Aviva Stadium.
A month ago, when Ireland were drawn to play Denmark in the second leg in Dublin, there was a considerable degree of satisfaction and further fist-pumping.
Bullish pundits were predicting that Ireland would hold the Danes in Copenhagen and then 'take them' in Dublin.
Despite the evidence of this qualification campaign, people persist in believing that home advantage still constitutes an actual advantage for Ireland.
In the current campaign, Ireland racked up 11 points away from home compared with eight in their home matches.
They achieved better results against Wales, Serbia and Austria away from home than at home. They beat Moldova by the same margin away as at home and scored an extra goal while doing so.
Only against Georgia did Ireland achieve a better result at the Aviva Stadium but that 1-0 win - courtesy of a remarkably scrappy Seamus Coleman goal - was not a confidence inducing affair.
Denmark's puckish gaffer Age Hareide has clearly boned up on the stats. He bluntly pointed out in Monday's press conference that Ireland "play better away from home than at home and scored more goals away from home".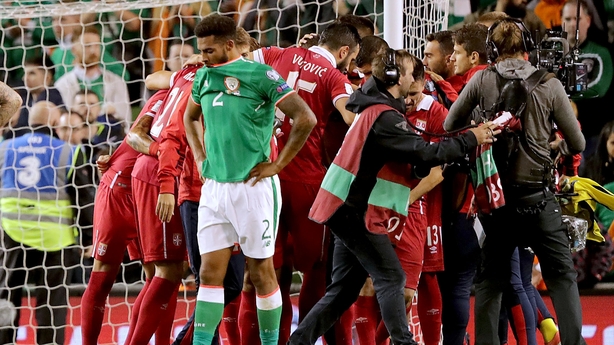 The most likely reason for this is that Ireland's playing style, as it has existed since Giovanni Trapattoni assumed the manager's job, is better adapted to the traditionally grim business of playing international football away from home.
When the onus is on Ireland to dominate the ball and flaunt their wares, too often they seem to shrink from the challenge, partly, pundits allege, because they've become so trained in the negative mindset.
However, some have pondered whether the sleek and well-appointed facility in south Dublin makes life sufficiently awkward for the visiting footballer.
There were certainly worrying sounds emanating from the Danish camp on Saturday evening.
Nicklas Bendtner told reporters that he was looking forward to playing in Dublin and he had been told the pitch at the Aviva was "excellent".
This is a very sorry thing to read, especially to those who remember the old Lansdowne. (At the very least, it begs the question about what Ireland could possibly be wanting with an excellent pitch.)
The Aviva Stadium, a standard state-of-the-art stadium like any other on the continent, simply doesn't intimidate foreign footballers in the way the rusty, slate-grey Lansdowne Road did two decades ago.
The best hope for Ireland is a performance akin to that which did for Bosnia in a similar scenario two years ago.
Ironically, in the context of fortress talk, Bosnia have persisted in bringing visiting teams to their puny 15,000 capacity stadium in Zenica on the grounds that they believe away teams are cursed at the venue.
Ireland were evidently oblivious to this curse and engineered and escaped from the fog with a typically ugly 1-1 draw.
In a return leg, they beat Bosnia 2-0 in a match surprising for its lack of gut-wrenching tension. It was easily the second best night the Aviva Stadium has seen with the soccer team. Hopefully, it will provide a blueprint for what might occur this evening.
Watch Republic of Ireland v Denmark live on RTÉ 2 and the RTÉ Player from 7pm, commentary and analysis on RTÉ Radio 1 and live blog on RTÉ Sport Online from 7pm