Denmark's Thomas Delaney likened trying to break down Ireland's defence to "opening a can of baked beans with your bare hands" after they were held to a 0-0 draw in their World Cup first leg play-off.
Ireland frustrated the Danes in Copenhagen and the sides will now met again at the Aviva Stadium on Tuesday with the tie finely balanced.
A score draw will be good enough for the Danes at the Aviva Stadium, but Delaney admits they will have to be patient on Tuesday if they're to breach the Irish defence, even with the advantage of knowing that a score draw will be enough for them. 
"We can live with the result today," he told Danish sports magazine Tipsbladet. 
"We can draw 1-1 against Ireland, and then we are on. So that's OK, but it was a hard fight - as expected and feared. We tried and tried, but it was a bit like opening a can of baked beans with your bare hands - it takes time.
"I would like to see that we had put one in the first half. We have chances, but it's not an easy team to meet and I expect and hope they try a little more in Dublin, and then we can get a little more space."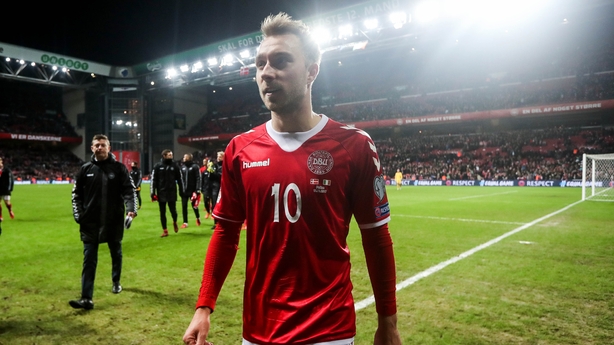 Meanwhile Christian Eriksen is confident that they can take advantage of the away goals rule in the return on Tuesday night.
The Tottenham playmaker was kept relatively quiet by the Irish defence but he's confident that his team can score in Dublin and take the game to Ireland.
"Of course we wanted to win," he told RTÉ Sport. "We had the chances to score but like the manager said at the end 0-0 is not a bad result for us.
"Now the goals count double for us but we need to change something if we want to score and we'll be looking to change a bit.
"It will be a very exciting game and the atmosphere will be in the Irish favour but we have to turn that around and a goal will mean a lot."
Ireland frustrated Denmark throughout but Eriksen admitted that it was exactly what they expected from the visitors.
"I think it was what we expected, the game was exactly what we expected, a game where when they had the chance they took their time with set-pieces, they took the time to kick the ball away.
"Our possession today wasn't sharp enough or good enough to open them up but I think that we had the chances to win, we just didn't take them.
"It's not easy to force the ball through and take a gamble, we'll be there now in Dublin so hopefully we'll have a bit more possession and sharper passing.
"They play at home so of course they have the most advantage but like I said goals counting double will mean a lot, but we have to score so we have to change a few bits from the game today to make that happen."
Christian Eriksen believes that Denmark can make the away goals rule count against Ireland on Tuesday. #DENIRL #COYBIG #RTESoccer pic.twitter.com/dUdCgCuJ9x

— RTÉ Soccer (@RTEsoccer) November 11, 2017