Peter Schmeichel is concerned that the playing surface and laid-back support at Parken Stadium could be disadvantages for Denmark in their World Cup play-off first leg against the Republic of Ireland on Saturday.
"Two weeks ago I was very confident, I thought we would be favourites to go through," the former Manchester United and Denmark goalkeeper told RTÉ Sport.
"But as the game is closing in, you start to think about all the things that a player would think about.
"There are so many things. These are fantastic games to play but they're also very difficult games to play.
"You've got to stay in the game and not play yourself completely out of it after the first one.
"I've also got personal interest in that my son (goalkeeper Kasper) is playing. I kind of feel I'm part of it. And the fact that I can't do anything about it is not helping."
Last week, Denmark manager Age Hareide referenced the fact that his team are more inclined towards possession football than Martin O'Neill's more direct approach.
But Schmeichel is not sure the pitch in Copenhagen does much for a more expansive style of play, a problem he dates back to its reopening in 1992 - when Ireland were one of the first visitors.
"In (1992) we played you guys and it was 0-0," he recalls. "It was a newly built stadium, the one we're playing in on Saturday.
"The pitch was awful. It was a couple of months old but I don't think there was any grass on it. After the game against Ireland they dug the whole thing up and relaid the pitch and it's been marginally better since.
"Unfortunately it's a concert venue in there too. We had the Rolling Stones last month and after that they had to relay the pitch. I watched the local derby on Sunday, FC Copenhagen Brondby, and the pitch was terrible, it's always been a problem.
"It's a great disadvantage for Denmark and always has been."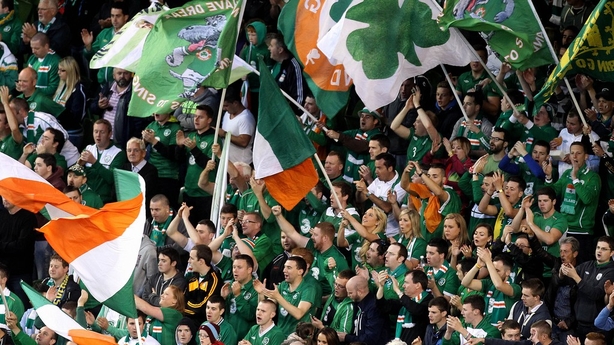 Schmeichel also jokes that Irish fans expecting atmosphere will have to "bring it" as the national team have struggled to attract support in recent times – though Saturday is a sell-out.
"Our team has not been very well supported for many years, and that is because they haven't delivered, so the novelty has sort of worn off," said the Euro 1992 winner.
"Other things have taken its place - handball has really sort of moved in on that space and grasped peoples' imagination, we've become world champions and won European championships, so as a nation now we've had something to celebrate.
Peter Schmeichel's heart says Denmark but...... pic.twitter.com/jJstagpWB6

— RTÉ Soccer (@RTEsoccer) November 9, 2017
"The stadium holds no more than 37,000, we've played games in there for 18,000 fans.
"That has obviously changed for this game, it has been sold out right from the first day. I watched the local derby and I know if Danish football fans want to create an atmosphere they can, that was awesome, really fantastic.
"It was a full house but it didn't look like a full house because they like to stand, and they bunch in together so it looks like the corners are empty.
"(But) they're gonna be very strict on Saturday, they are not going to let any Irish fans in with Danish tickets, and they're not gonna let people stand up."
Peter Schmeichel was promoting Carslberg's offer of a free pass to the Carlsberg Experience and free pint for every Irish fan in Copenhagen before the game