Cork City manager John Caulfield admitted his team fell over the line to the Premier Division title, but reminded people of the incredible start to the season that set them up to take the crown.
City drew their last three games, the past two ended nil-all, including Tuesday night's scoreless draw against Derry City to clinch the title at Turners Cross, in a stuttering finish.
Caulfield admitted as much, but he said that Cork couldn't keep up the incredible pace they set at the start of the season when they went 22 games unbeaten – including 21 wins.
"I didn't think it would take two nil-all draws to get us over the line, it has been difficult, we set an incredible pace at the start of the season and then to lose an Irish international and we struggled to score," he said.
The Irish international is, of course, Sean Maguire, whose goals helped propel City into an unassailable lead in the league campaign.
Once the striker left for Preston North End during the summer, the Rebels struggled to keep to winning ways and defending champions Dundalk closed in on them.
"It was about managing that, getting over the line and to be fair to the lads, they have been great, and the fans, who have been 12 years waiting," said Caulfield.
"Our first two thirds of the season was phenomenal, we stuttered a little bit and it was all about managing it so to win it with a couple of games to go, I'm delighted.
"To be fair, Dundalk have been great champions with great management and great players. They set incredible standards, but we felt after winning the cup last year that we'd go to another level.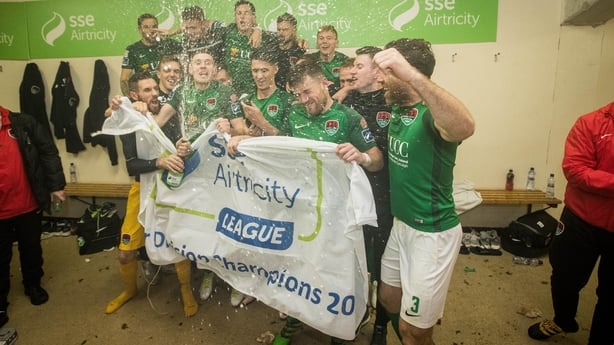 He contined: "Our incredible record, 22 matches unbeaten, was phenomenal, so we had to raise our standards and we did.
"We lost players during the league, but the lads just got on with it, everyone threw everything at us and ultimately, we took six or more points off every team and that's a great stat."
City beat Dundalk, denying them a double, in the FAI Cup final last year. They can do the double themselves when they take on the Lilywhites in the FAI Cup final for third year in succession on 5 November at the Aviva Stadium.
This is the first time in Irish soccer history that the same two teams have met in a three in-a-row of cup finals and so far the record stands at one win apiece.