Jimmy Magee released a book four years ago entitled, 'Different Class'.
In it, the legendary broadcaster reflected on the sportspeople he'd witnessed during his decades-long career who inhibited a higher plane, rose above mere excellence to become greats of their field.
There was Muhammad Ali - "the best" - Eddy Merckx, the superhuman Belgian cyclist, Diego Maradona - the Argentinian maverick whose genius against England inspired Magee's famous commentary at the 1986 World Cup - and our own heroes, Brian O'Driscoll, Sonia O'Sullivan and Katie Taylor.
And there was Pele.
Magee met the iconic Brazilian several times down the years, but in their first encounter, at the 1974 World Cup, he posed the simplest of questions: why do they call you Pele?
Speaking to The John Murray Show with Miriam O'Callaghan in October 2013, Magee detailed the story.
"I met him first in Brazil, where a friend of mine had a television programme and he organised for Pele to come in to me when I was visiting Sao Paolo," he said.
"'And all the women said, 'peile! Aww peile! And ever since that they called you Pele. Now isn't that plausible?' I said to him. And he said, 'yeah!'."
"He loved talking about football; he was like a child. I asked him what his name meant. 'Pele, what is it, this nickame?' Because his name was Edson Arantes do Nascimento.
"'What does Pele mean? Is it a flower, is it something you did as a baby?'
"He said, 'no, it means nothing. I don't know what it means but I used to fight with boys at school if they called me it'.
"I said, 'I have an idea why they called you Pele'.
"And I gave him this kind of cock and bull story.
"I said: 'An Irish priest, a missionary priest was in Brazil, in a part where you were born and raised, and you were playing around with a rag ball or a paper ball. Your skill was fantastic.'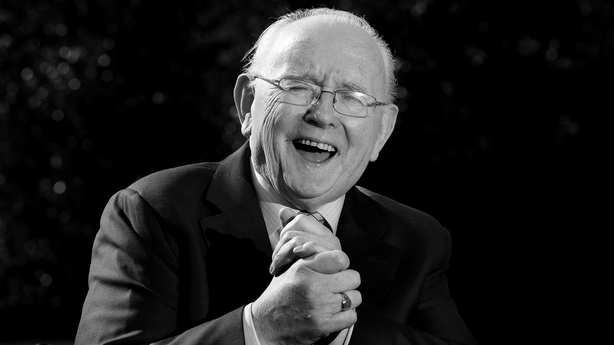 "'He was an Irish-speaking missionary. All the ould ones were around you, looking at you doing these things and looking at the priest perhaps more than you.'
"'You were juggling a ball that wouldn't hop because it was made of paper. The priest said, look at the buachaill ag imirt peile.
"'And all the women said, 'peile! Aww peile! And ever since that they called you Pele. Now isn't that plausible?' I said to him. And he said, 'yeah!'.'
"He put it in his next book! The reason he got his nickname is because an Irish priest gave it to him."
Magee also recounted another meeting with the great man, this time on Irish soil.
"The Brazil team was playing in Dublin, and they came out to Terenure College one day to do a bit of training. he was with them. I came out to say hello to him and he was missing. I knew he was there, I knew he had come, but where was he?
"I found him. He was in the church praying. I waited until he was finished and I asked him if he was religious. He said. 'no not really, but if there's a church around why shouldn't I visit it?
"If there was a football pitch around I'd visit that so why shouldn't I visit the church?'"