Liverpool manager Jurgen Klopp was not surprised Sadio Mane's three-match ban was upheld but felt the club had a duty to appeal the suspension.
An independent regulatory hearing dismissed the Reds' claims that the Senegal international should receive a reduced ban for his foot-high clash with Ederson which left the Manchester City goalkeeper needing stitches to his face.
Klopp alluded to a number of similar incidents which had gone unpunished - Bournemouth's Matt Ritchie and West Ham's Winston Reid escaped with raised-foot challenges in the last couple of days - and stressed they felt it was important to at least test the process.
"I am not sure if I am disappointed, I didn't expect anything different," said Klopp.
"I thought our appeal was absolutely right because it was never we said we would appeal the red card, it was the length of the suspension.
"He has already half-a-game suspension at City so I think it would have been the right decision for them to say 'one game less' so it would be two and a half rather than three and a half games.
"I actually never thought it would happen but only because I am used to things like this - it is not an English thing.
"There were a lot of situations in the last few weeks which were similar and all the other players were lucky; only Sadio and Ederson were not lucky.
"It looks really awful and it was lucky nothing more serious happened in this situation but that is football.
"It was our duty to appeal. We did it and, as I said after the game, it was a waste of time obviously. We only want to bring it in relation to the other issues."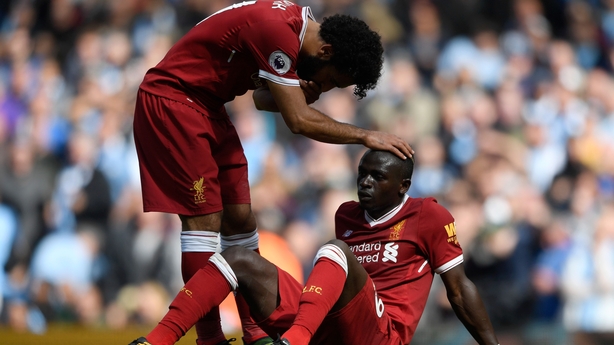 Klopp apportioned no blame to referee Jon Moss for dismissing Mane, whom he expects to carry on harrying and challenging goalkeepers.
"I don't blame the ref for the decision: I am not sure he wanted to give the red card immediately but when he saw the boy bleeding I would have made the same decision," he added.
Mane will be eligible for the club's return to the Champions League at home to Sevilla on Wednesday, in which the Reds boss confirmed Loris Karius will start in goal.
Want-away playmaker Philippe Coutinho will be in the squad with winger Mohamed Salah also expected to feature after missing training on Tuesday with a sore throat.
Klopp insists he has not had to lift the squad's spirits following the 5-0 defeat at Manchester City.
"I didn't work hard because as human beings we have a lot of rights but not the right to be down for something we were responsible for," said the German.
"I didn't blame the boys for the second half. I had a big part in this.
"With 10 men it changed. There was not a problem with the performance up until a specific point - Man City is the worst place to be one man down.
"Tomorrow we have another competition and we worked so long and hard for it and we plan to put all what we have in this game.
"Nothing what happened last Saturday will stop us."