Rob Elliot is hoping Newcastle can take a leaf out of the Republic of Ireland's book as he targets Premier League and World Cup joy.
The 31-year-old goalkeeper is four games into his comeback from a knee ligament injury suffered on international duty which cost him a year of his career and in particular, a trip to the Euro 2016 finals.
Elliot could only look on helplessly as Newcastle slipped out of the Premier League at the end of the 2015-16 season, and managed just three appearances at the end of the last campaign as they secured their return at the first attempt.
But he got the nod for the Magpies' opening top-flight fixture against Tottenham last Sunday a day before he was named in a 39-man provisional squad for Ireland's World Cup qualifiers against Georgia and Serbia next month - and is desperate to make up for lost time.
Asked how big a carrot World Cup qualification is, Elliot said: "It's massive for everyone.
"I just want to get back, game after game, get strong and see where I am."
"But if you think about it, I've only played four games, four competitive games in the last two years with 18 months or whatever it is since my last injury, so I'm not taking anything for granted.
"I just want to get back, game after game, get strong and see where I am. It's great to be out on the pitch, but obviously I don't want to take that for granted.
"I want to make sure I get my performances back to where they were 18 months ago and get my body and my knee strong and just kick on."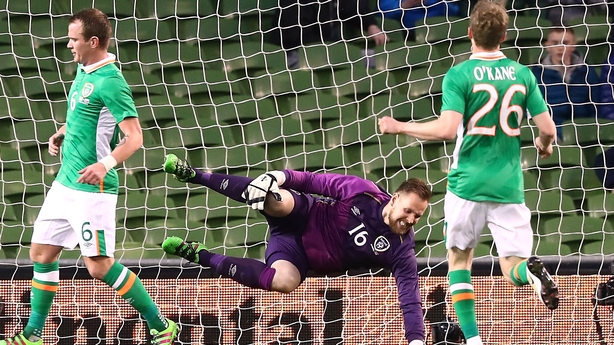 A 2-0 home defeat by Spurs as Jonjo Shelvey was sent off underlined how tough this season could be for Newcastle, but Elliot is confident the kind of team spirit which helped the Republic make it to the last 16 last summer and which has seen them repeatedly punch above their weight over the years is in evidence too at St James' Park.
The former Charlton keeper, who will hope to retain his place for Sunday's trip to Huddersfield, said: "It's a great group of lads and the big difference with this group is they all care about the club, they want to push on with the club.
"They are not looking anywhere else, they have got their focus on Newcastle and doing well here and with the manager and the fans, it's hopefully a great combination and we can have a good season.
"This team is a young, hungry team, so hopefully we can show that on the pitch and we can put in some good performances, get some good wins and make some good memories."