Derry City manager Kenny Shiels praised his players and his own managerial decisions as the Candystripes boosted their chances of qualifying for European football with a 2-0 win over Finn Harps on Monday night in Ballybofey.
In a closely-fought game, Darren Cole and Aaron McEneff struck late to give the Candystripes the points against their arch-rivals.
The Derry boss took satisfaction from the manner of the win as they restricted a Finn Harps team that has been growing in confidence in the Premier Division.
Shiels said: "I think it was great. You don't want to rub salt in but the last time we won here it was more of an open game and we were further ahead of them. In this game it was nip and tuck. I thought we shaded it and were the better team. I'm trying to look at it and be fair to them.
"They looked dangerous at set pieces because they have long throw-ins and good deliveries. Caolan McAleer is a threat and you look at the threats they have. I thought we nullified that quite well from open play.
"We didn't play with our normal quality that I would expect but derby games impinge on that. I'm just delighted the boys did it in the way they did. Scoring a late goal is always sore for the team that concedes it and it makes us more jubilant."
Avenging the 2-0 defeat to Harps in Buncrana was not on Shiels' minds as he pointed to another positive night for Derry's mantra of developing players, and his own.
Eoin Toal (18) came in for his debut and impressed while Cole's goal was his first for the club in front of almost 3,000 spectators.
"It's not about revenge," Shiels said.
"It's about getting points to consolidate our position in Europe. We have put Finn Harps out of their European attempt. I don't think they'll qualify for it now. I think we have enhanced our opportunities to do that but obviously Shamrock Rovers are the team that are in pole position. There is Bray Wanderers and you can't count out Limerick, so the boys have done us proud.
"There was a lot of brave decisions that I had to make and I praise myself for that tonight because you get criticism. If they had scored late and won 1-0, I would be the one receiving the criticism on why did I put a kid in there for his debut in a local derby which is tribal.
"But I've played 16-year-olds at Parkhead, 16-year-olds at Windsor Park in big, big games and we did well in those games as well. That is an example of giving youth a chance.
"You can see there is a pathway for our players when seven have played in Europe and the League of Ireland that played in last year's Foyle Cup. It's something we're going to continue to do.
"Eoin Toal hasn't played a lot of football. All of a sudden he plays two in three days. He captained Northern Ireland Under-19s on Saturday and he played for Derry City tonight so these are examples of how well he did.
"He hadn't played since the end of last season in the Irish League with Armagh City."
Ronan Curtis was left out of the Derry side despite being one of their most important players with an apparent incident of indiscipline the cause.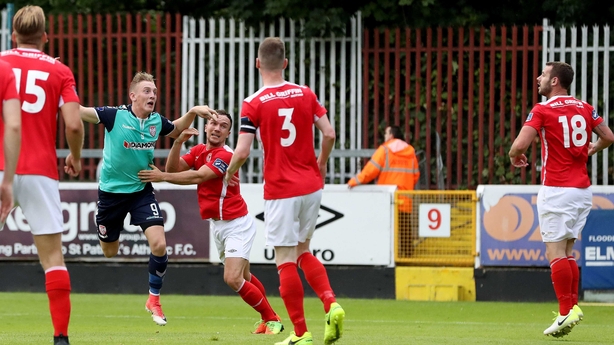 Shiels said he took the decision for the benefit of the player and the club.
"That's internal. We have got a pathway for young players who are coming through. We have to teach them and educate them. Ronan is one of them which we have high hopes for.
"Part of his education is to understand the conditions of the club and how we want to develop him, and during that development there are going to be times when he deviates from what we're trying to do.
"He is a good boy but I have to do what is best for the player and best for my club and I have to educate all of the young players in a way in which they give themselves the best opportunity to fulfil their maximum potential. Ronan is no different from Ben Doherty, Josh Daniels and Eoin Toal.
"They all have to show professionalism and commitment to Derry City Football Club. That was another brave decision we made tonight and we felt it was the right one to set good examples for the pathway for the players."