Austria defender Sebastien Prodl admitted that he thought Shane Duffy's disallowed goal should have stood in his side's 1-1 World Cup qualifier draw with Ireland.
Ireland came from a goal down to claim a point at the Aviva Stadium but thought they had won the game when Duffy forced home a loose ball from close range before it was disallowed.
Spanish referee David Fernández adjudged that Duffy fouled the defender on the line before bundling the ball home but Prodl believes that his side were lucky to get away with it.
Speaking to RTÉ Sport, the Watford defender claimed that a Premier League referee would have let the goal stand and that he would have gone after the ball in the same way.
"I would attack in the same way," he said. "I think a British referee wouldn't have whistled but lucky for us he was a Spanish referee and he gave a foul."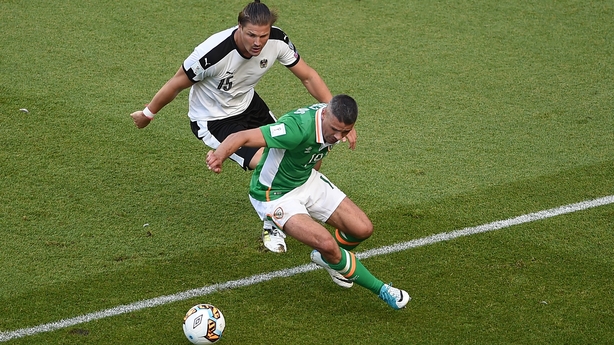 Despite their escape, Prodl was left feeling that his side should have held out against the Irish pressure in the final stages, having dominated the first half and taken a deserved lead.
"I think just in the end of the game we were lucky because they put a lot of pressure on, but we should have played cleverer in the end. We should have won this game.
"We were very clever in the first half, I think Ireland had no big chances only shots from the second line. We made it very difficult for them and they got annoyed."
The introduction of Daryl Murphy to play up alongside goalscorer Jon Walters was a turning point for Ireland who went more direct with two targetmen to aim for.
Although Prodl knew that Ireland would go long at some stage, he admitted that his side still struggled to get to grips with the long ball tactics.
"They brought in a second striker and were dangerous with these long balls," he said. "It's not always that you are able to defend these kind of balls. It's a 50-yard ball into our box and sometime we win the header, sometimes we lose the header.
"In the end it was a fair point but we should have been more clinical."
The result leaves Austria trailing Ireland by four points with four games to be played and while Austria realistically needed a win today, Prodl insists they will keep fighting for their place at the World Cup.
"I think there are four games to go, if we win all four I think there is still a chance and the pressure is on Ireland and Serbia now.
"We are still fighting for our chance to get back and I think that they way we played today, we are still in the fight for Russia."