Northern Ireland are back in Baku four years on from one of their most humiliating results when Azerbaijan defeated them 2-0 towards the end of their 2014 World Cup qualifiers.
Eight of the starting eleven are in this squad - and two more are only absent due to injury - but the mood could not be more different in manager Michael O'Neill's squad following last summer's participation at Euro 2016.
Midfielder Oliver Norwood believes the nation owes a debt of gratitude to O'Neill for the way he has maintained confidence in the same players who have returned to Azerbaijan transformed.
"Five years ago, if someone had said how far we'd come after the defeat in Azerbaijan, I think you would have been locked up," Norwood said.
"It was a difficult time. We were a squad in transition, not so much in a big overhaul of players, but Michael's vision of the way he wanted us to play. That takes time.
"You see managers going to clubs these days and losing their jobs after three, four or six months. As players you can see where they are trying to go with it but it does take time. I'm a big believer in that.
"Players need to get used to a new manager and to change their mindset. Footballers can be quite stubborn in the way they like to do things so that takes time too.
"Thank goodness the Irish FA stuck with Michael after the first campaign and thankfully Michael decided to stick with us.
"After Luxembourg and Azerbaijan there must have been times when he wondered if he could get the best out of us but he believed in his ability, and he believed in us and he passed it on to us and here we are today."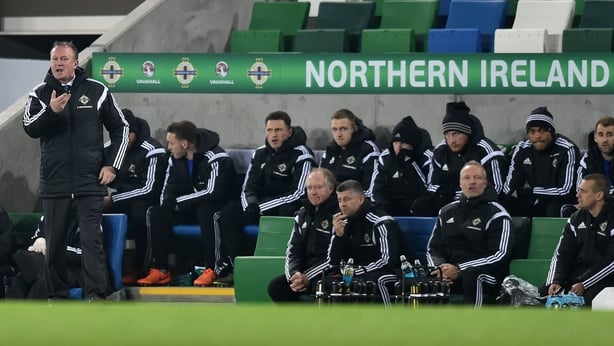 Brazilian-born Richard Almeida may be viewed as the potential saviour of Azerbaijan's qualification campaign, but Northern Ireland boss O'Neill is not having any sleepless nights over his debut.
The 28-year-old Qarabag playmaker will turn out for the Azeris for the first time on Saturday evening having recently qualified to represent them under FIFA's five-year residency rule.
His manager Robert Prosinecki said he "hoped" Almeida's addition to a team beaten 4-0 by Northern Ireland only seven months ago would have their visitors fearful, yet O'Neill has not preoccupied himself with the newcomer as he plots their downfall again.
O'Neill's argument was that he can combat his threat with three Premier League midfielders, while he also pointed out that the Land of Fire is hardly known for its elite South Americans.
"Regarding Richard Almeida, we have watched him play for his club, we know this will be his first game for Azerbaijan and we respect his quality as a player," O'Neill said.
"But on Saturday night he will play against three midfield players who play in the English Premier League, so they play against Brazilians, Argentinians, Spanish, Italians. I think the best Brazilians don't always play in Azerbaijan."