Arsene Wenger praised the "mentality" of his players after Arsenal battled to a 2-1 victory at struggling Middlesbrough on Monday night but the Gunners boss again refused to clarify his own future at the club.
Alexis Sanchez had given the visitors the lead with a superb first-half free-kick before Alvaro Negredo levelled for Boro five minutes after the break.
Arsenal had looked on course to extend their recent slump before Mesut Ozil lashed home Aaron Ramsey's knockdown on 71 minutes to earn a vital three points.
The Gunners had won just once in their previous five Premier League games but this victory moved them back above Everton and within seven points of fourth-placed Manchester City, with a game in hand.
Wenger has yet to announce whether he will sign a new deal at the Emirates Stadium or end his lengthy spell in charge when his contract expires at the end of the season.
But the Frenchman was generally pleased with what he saw at the Riverside Stadium despite admitting his team were lacking belief.
Speaking to Sky Sports, Wenger said: "You could see we were not playing with full confidence during some moments in the game but overall we wanted to win.
"Overall the commitment and the focus was there. When you're in a lack of confidence situation you know it comes back slowly and only the results help."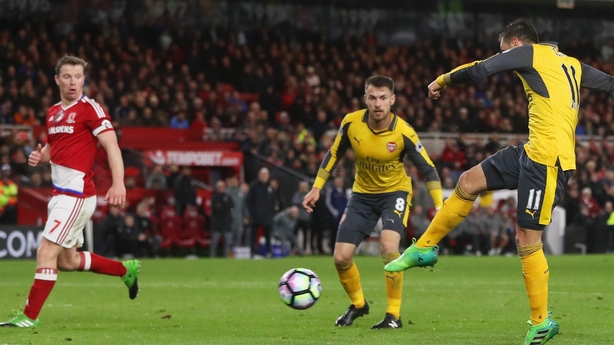 Wenger admitted he feared the worst when Middlesbrough grabbed their equaliser.
He added: "It was a testing point for us mentally, of course that was a moment where I felt that now we would see where we go.
"It was positive. The players had a good mentality and they wanted to win the game and they responded. Sometimes the situation can turn the other way around."
Wenger warned his players they can afford no further slip-ups if they are to secure yet another top-four Premier League finish.
Wenger said: "For us, the clarity is there - we have to win every game to have a chance to get in the top four, starting tonight.
"I think it will make the team a bit more serene. You could see that on some occasions, we were a bit over-cautious tonight. Hopefully that will give us a bit more confidence.
"Mathematically it is still possible, even if it is difficult, but we have to give it a go."
Asked if there was any news on his future, Wenger replied: "No."
He added: "I feel we are in a position where we want to perform. You can always find explanations but we are professional people and our job is to perform.
"Despite sometimes difficult situations, or some situations that lack clarity, we still can perform."
Boro are six points adrift of safety and without a win in 15 Premier League games, but caretaker boss Steve Agnew is refusing to give up hope.
They face Bournemouth on Saturday before a crucial clash at home to fellow strugglers Sunderland next Wednesday.
Agnew said: "This group doesn't know how to give in, they will never, ever stop.
"I couldn't be any more proud of the players. They gave every single ounce of energy that they had throughout the 94 minutes.
"We needed to play forward a little bit earlier, and I thought we did that, and when we scored the goal I thought we would start to put them under pressure.
"We conceded again which put us on the back foot but we still had chances when the ball went into the box at the back end of the second half."