Shane Long believes there was no intent on the part of Neil Taylor in his leg-breaking challenge on Séamus Coleman, insisting the Welsh defender was in an emotional state after the incident.
A goalless draw with Chris Coleman's side saw Ireland join Serbia at the top of Group D for World Cup qualification, second on goal difference, but the main talking point was the harrowing challenge that saw Coleman depart the field of play in the 70th minute with a broken leg.
Taylor was dismissed for the wild lunge, with Long comforting the Ireland captain before he was stretchered off and taken to hospital.
"It's not nice I was trying to comfort him on the pitch. He's loved by everyone and he's obviously a great player," he told RTÉ Sport.
"It was a bad challenge and a bad injury and I just tried to settle him and relax him."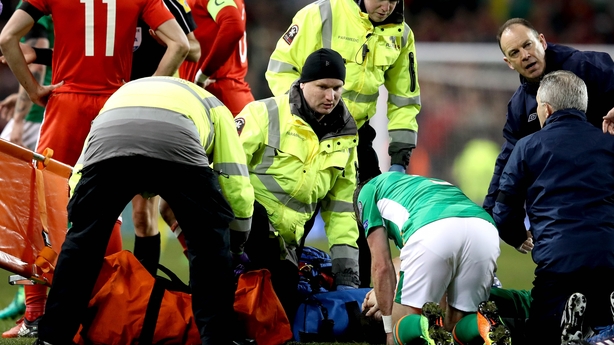 "Both sides took a couple of minutes to get over it. It is part of the game unfortunately. I know how much of a professional Semus is and I'm sure he'll come back fitter and stronger."
Long, who won his 71st international cap in the World Cup qualifier, is of the opinion that Taylor didn't intentionally mean to hurt the Everton man.
Taylor himself spent six months out of the game after a broken ankle in 2012, and Long believes this may have played a part the defenders approach to the attempted tackle.
"I think he was in tears afterwards....I don't think he meant to do it. It was innocent enough"
"I think he had it done to him before so I suppose he went in worried himself in to the challenge," Long said.
"He caught him high. I think he was in tears afterwards.
"He knows the pain Séamus is in because he's been there before. It was a horrible challenge, there's no defending it but I don't think he meant to do it.
"It was innocent enough."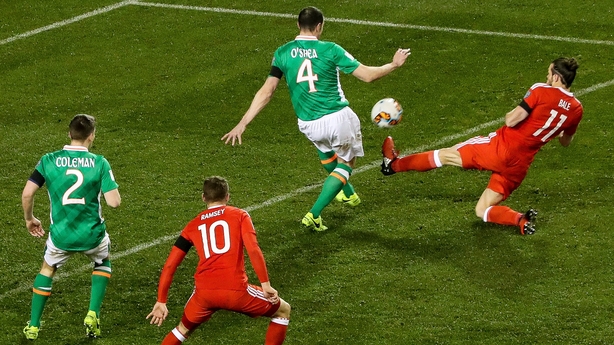 It was a game low of goal scoring opportunities but not short of questionable challenges.
Ashley Williams was not happy with a late challenge from Long, while Joe Allen was incensed with Stoke team-mate Glenn Whelan who raised his elbow as the pair clashed at the end of the first-half.
Gareth Bale was fortunate not to receive a straight red just a minute before the Coleman incident after catching John O'Shea high as the Ireland defender cleared the ball.
Similar to the red card incident, the Southampton striker argued that there was "no malice" in the Real Madrid star's efforts to win the ball, and likewise with his high challenge on James McClean.
"Yeah he caught him high. I think that was honest as well," he said.
"He was trying to get the ball obviously and scored a goal but he did catch him high and even afterwards with the kick in the chest on James McClean.
"I thought the referee did alright"
"Little things like that if they go your way could change a game but I don't think there was any malice in it.
"I thought the ref did alright tonight. He let the game go and tried to keep it fair for both sides."
With a spate of injuries to contend with, Long admitted that a point wasn't a bad result and keeps their momentum in Group D, though mindful of what happened in the European Championship qualifying campaign, doesn't feel complacency will be an issue.
"I remember in the last campaign Scotland beat us at theirs and celebrated like that was the result that was going to get them to the Euros and we managed to turn it around so we know it's still all to play for," he said.
"We've got five more games to really kick on.
"We've put ourselves in a great position and it would be a shame not to take advantage, but it's going to be hard work."