Pep Guardiola refused to rule out the prospect of Manchester City catching Chelsea after they moved up to second and within eight points of the Premier League leaders with a 2-0 win at Bournemouth.
The Spaniard's team impressed throughout at the Vitality Stadium with their intensity, ball retention and creativity as Raheem Sterling's first-half finish and an own goal from Tyrone Mings secured victory.
That they trail Chelsea by eight points with 13 league fixtures yet to play, and despite their stuttering form earlier in the season, suggests they could yet re-enter the title race if they continue to improve.
City also visit Chelsea on 5 April in a fixture that could yet define either team's season, and Guardiola spoke with greater optimism after in January appearing to concede the title when they trailed the leaders by 10 points.
"It's so difficult (to catch Chelsea)," said Guardiola, whose team next week resume their Champions League campaign. "They have to lose three games, and we have to win all our games. You know how difficult that is in the Premier League.
"So we have to go game by game, narrow the gap. We're so happy.
"We are second now; the gap between second and sixth is nothing, but we're so happy to be second and in this position, and to make the difference a little narrower from Chelsea.
"I watched the Burnley game: an amazing performance from Burnley, but still Chelsea played really good. We go game by game."
Guardiola expects to learn on Tuesday the extent of the foot injury suffered by the £27m Gabriel Jesus, whose replacement Sergio Aguero forced the own goal from fellow substitute Mings with his close-range finish.
"I'm happy for him," said the Spaniard of the Argentine striker whose future has been the subject of intense speculation. "For how he played, how he tried, and I thought he scored. But happy for our result.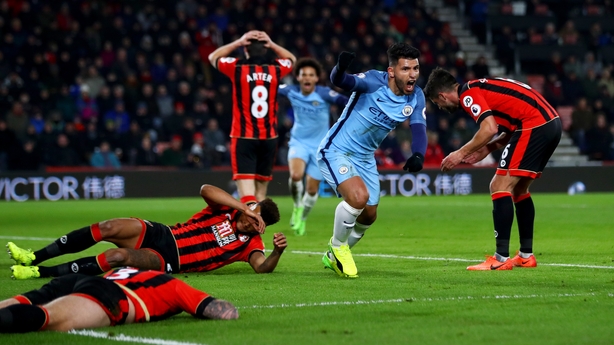 "He's an important player. He didn't play the last few games because the three guys (Jesus, Sterling and Leroy Sane) were amazing. That's why they'd played. Now it's the cup, then the Champions League, and the Premier League is still there. That's why we need a contribution from Sergio; he's so important for us.
"It's the first time this year we did that, controlling the game. We did it well at the beginning of the season but, after that, we lost something. I know why. Our game has been more stable since the Arsenal and Tottenham games. We are improving."
Bournemouth lost both Simon Francis and Jack Wilshere to first-half injuries as they continued their winless start to 2017.
They also had a first-half goal from Joshua King disallowed for a foul on John Stones when they were 1-0 down, but their manager Eddie Howe agreed referee Neil Swarbrick's decision was correct.
"I thought that goal should have stood at the time, but there's a clear pull there," said the 39-year-old.
"Jack is just feeling his ankle. I don't think there's a major injury there. He just felt he couldn't move as freely as he wanted to and had a pain in his ankle, so we took him off.
"Simon is feeling his hamstring again, similar pain to the first time. Any injuries we get to established first-team players are going to be difficult to manage."