Olivier Giroud insists he is happy at Arsenal despite his lack of game time this season - although he also revealed he has not yet signed a new contract.
The France striker has been used sparingly by Arsene Wenger so far in the current campaign, but he celebrated his first Premier League start of the season by scoring the only goal in the Gunners' 1-0 win over West Brom.
Until Monday, Giroud had found himself limited to substitute appearances or starts in other competitions, with the winner against the Baggies only his sixth goal of the season.
After being handed an extended break after the European Championship, his route back into the side was blocked by Alexis Sanchez - who has shone since Wenger moved him into a more central role.
But Giroud, who was labelled a "fighter" by Wenger after the game, said he wants to remain at the Emirates Stadium - even if he has found this season difficult thus far.
"I came back a bit late from the Euros and it was nice for my body because I could rest but not good for me because the team was doing well and another striker was doing well up front," he said.
"This season has been difficult because also I was injured for a month and a half so it hasn't been easy.
"I don't want to talk too much about me but it was a big day for me, but a turning point for the team because if we didn't win we would have been in trouble.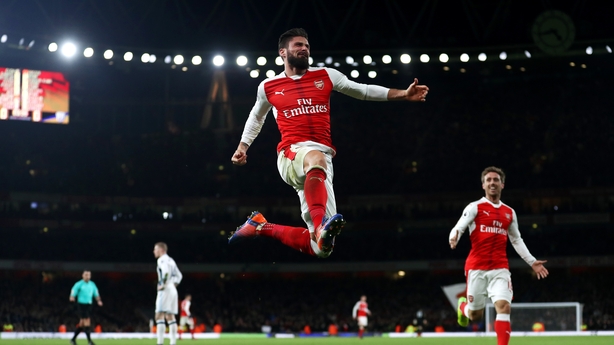 "We tried but they defended really well and their keeper did well and it was a big relief at the end of the day, especially for me to have the opportunity to win this game from a great Mesut (Ozil) assist.
"Even more because it is my first start in the Premier League, it is a tough time for me but I'm very happy for the team because we really needed the win today."
Giroud was philosophical when pushed further on the issue - and also said that, contrary to some reports, he has not penned a new deal at Arsenal.
"It is all about keeping the focus high," he said when asked about being left out of the side.
"Always keep working hard at training. I was speaking with the boss, we had a couple of discussions together and he explained to me why I hadn't played too much until here.
"But football is an everlasting new beginning, as I used to say, and you always have to keep focused and wait for your time.
"Today I played, I tried to give everything for the team and hopefully things will change for me.
"But as long as the team is getting better I am happy and I am part of the club since five years and I want to carry on. But we have to see, I need more time of games but we will see in the future.
"The best thing is to keep within distance of Chelsea.
"People have been saying I have signed a new contract. It is not true but maybe soon."
The former Montpellier man was drafted in against West Brom after injuries ruled out both Theo Walcott and Alex Oxlade-Chamberlain, with Sanchez moving out wide to allow Giroud to operate through the middle.
It remains to be seen if he will retain his place for the New Year's Day visit of Sam Allardyce's Crystal Palace, with Walcott expected to be fit following a minor calf problem.