Brendan Rodgers has insisted Celtic were improved not harmed by their 7-0 thrashing by Barcelona as he prepares for a rematch at Parkhead on Wednesday night (Live on RTÉ2 from 7.30pm).
The Hoops started their Champions League Group C campaign in September by being put to the sword by Barca's superstars - Lionel Messi scored a hat-trick and Luis Suarez a double with Neymar and Andres Iniesta also on target after Parkhead striker Moussa Dembele had a penalty saved when Celtic were one down.
The Scottish champions have two collected points from four fixtures and need a win in their final two matches to have a chance of European football after Christmas.
On the domestic front, however, Celtic remain clear at the top of the Ladbrokes Premiership and are looking forward to the Betfred Cup final against Aberdeen on Sunday.
The Hoops boss believes his squad were galvanised through their Catalan experience.
He said: "Out there, we made a very bad start to the game, going 1-0 behind, we had the opportunity to equalise, we had threats on counter attacks.
"Obviously we didn't get (score) the penalty and very quickly they get the second goal.
"And once Barcelona - like they have shown many times against better teams than ourselves in all honesty - get that rhythm and that flow in the game, it is very hard to contain it.
"It was very disappointing but it hasn't harmed us, if anything, it has only improved us a group and as a squad"
"So lots of learning came from that, lots of development both in terms of our team mentality and our game, came from that performance.
"At the time of course, I said it was very disappointing but it hasn't harmed us, if anything, it has only improved us a group and as a squad."
Rodgers believes his side showed Barca "too much respect" at the Nou Camp and is hoping the Hoops perform with the tenacity and skill displayed in the home 3-3 draw with Manchester City in September.
The Northern Irishman said: "There were many aspects of the (Barca) game that we learned from, showing that courage to get on the ball, having that bravery to play, and having respect for the opponent but not necessarily respecting within the game.
"The players then showed that they've learned from that; we're playing them again, at home, so it's a real good measure and our mentality will change.
"The players have shown from that Barcelona game going into the Manchester City game how they've changed.
"It's a tough game for us, of course, an absolutely top-class team with arguably the best front three - you could say - (that) has played for Barcelona, but I would hope it would be a different performance from us."
Rodgers knows that Celtic, under Neil Lennon, were equally unlikely to beat Barcelona when the sides met in the Champions League at Parkhead in 2012.
However, the Hoops triumphed 2-1 with substitute teenager Tony Watt scoring the second and that memorable night, combined with the Manchester City performance, gives Rodgers hope.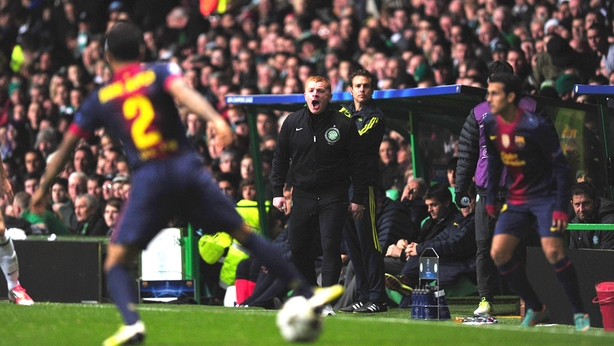 "I remember at the time I was really happy for Neil," said the Parkhead boss, who will give striker Leigh Griffiths 24 hours to recover from a tight hamstring.
"The game was virtually played in the two boxes, one was defensive and the other one was getting the set-piece, and obviously the counter-attack goal. What it shows is that it can be done.
"This is an incredible atmosphere at the stadium, which we've seen over many years, so we have to use that to our advantage.
"The players certainly can take inspiration from not only that game and the game we had here against Manchester City. We showed that we could be equal to them on an evening.
"There are many variables that go into it, you need a bit of luck along the way, you need to play at the top of your game, you need your goalkeeper to play well because you know he'll have to make saves and you hope you can take the opportunities that come your way.
"We've no fear of the result. We want to perform well and if we do both in our pressing, our recovery of the ball and being clinical in the final third, then we believe we have a chance."
There was a light-hearted aspect to the press conference at Celtic Park when a visiting journalist asked Rodgers if the legend of the Loch Ness monster was more believable than the legend of Messi.
The former Swansea City and Liverpool boss laughed as he said: "That's the worst question I've probably been asked. I don't really know so much about the Loch Ness monster, but I know Lionel Messi is a brilliant player."