Richie Sadlier says that last night's strikingly low attendances in the SSE Airtricity League cannot be attributed to the Premier League clash between Liverpool and Manchester United.
Dundalk took a major step towards a third title on the trot with a 3-0 win away to Longford Town, while in Inchicore, St  Pat's severely dented Cork City's challenge with a 3-1 victory.
However, just 495 fans were in attendance at City Calling Stadium to watch the champions-elect, while the official attendance at Richmond Park was 369.
RTÉ soccer analyst Sadlier says that while the figures are low, there are mitigating factors and the sparse crowds do not detract from Dundalk's impressive campaign.
"They are startlingly low numbers, but I don't think there is anything we can say in relation to this that takes from Dundalk's success or achievements this season," he told RTÉ Sport.
"They are two separate things but it does warrant attention.
"You can explain away why the sets of supporters from all four teams involved would stay away last night," he said while highlighting the struggles of Pat's and relegated Longford.
"It was the fourth home game in 22 days for Pat's, that's pressure on the same group of people to show up again, and the fourth away trip for Cork in 15 days.
"Longford haven't won a home game all season. The average attendance is down below a thousand for games in this league.
"That's more a relevant figure to work off than last night."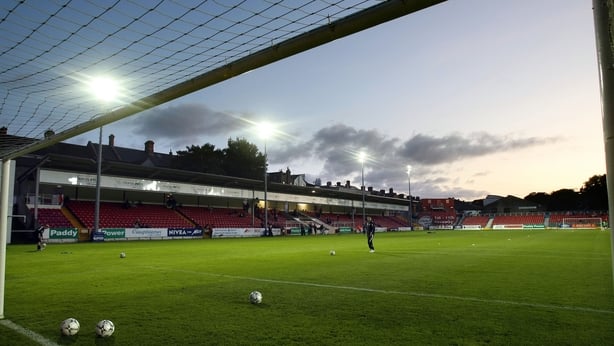 Despite Dundalk lifting the profile of the league with their exploits on the European stage, domestic attendances remain a concern.
The highly-anticipated televised clash of Liverpool and Manchester United in the Premier League has been touted as a possible reason why punters stayed away, but Sadlier believes it is too simplistic to use that as an excuse.
"I'm sure people chose to spend their night last night watching what was on telly, but that isn't a strong enough reason to excuse the fact that so few of them showed up at the games," he said.
"You can always point to alternatives as to why people didn't show up, but at some point you have got to take responsibility and say, 'We're putting on a competition in the league here that far too few people are showing an interest in', and unless that changes long-term, we're in trouble here."