Dundalk manager Stephen Kenny insists his side can dream of Champions League qualification after a "terrific" away-goals victory over Icelandic champions FH Hafnarfjordur on Wednesday night.
The SSE Airtricity League Premier Division title-holders set up a rematch with BATE Borisov in the third qualifying round of the competition, which is the penultimate stage before the group phase.
The Lilyhwites will travel to Belarus for the first leg next Tuesday, 26 July, and will welcome BATE to Tallaght for the return on Tuesday 2 August (8.0pm) as Oriel Park does not meet UEFA standards for a third-round match. 
Borisov knocked Dundalk out in the second round of Champions League qualifying last year and though a repeat result would still leave the Louth men contesting a Europa League play-off, Kenny is thinking big.
"It's the most difficult of draws," he told RTÉ Sport. "They beat us last year 2-1 over the two legs and then they went to the group stages and took four points off Roma.
"But we know the (Borisov) arena well. Probably our best performance ever was in that stadium last year.
"I said to the players beforehand that it was a shot to nothing next week because we were in the Europa fourth round anyway but I've taken that back.
"We have to look at trying to get into the Champions League and we must think like that in the way we prepare between now and then"
"We have to look at trying to get into the Champions League and we must think like that in the way we prepare between now and then.
"We'll have to play the way we did in the middle period for 90 minutes next week and hopefully we can do that.
"In our last four European games, we've scored seven goals away from home, so we have the capacity to score goals and play in a creative way.
"There is room for improvement and we want to get better." 
Kenny paid tribute to his side's efforts in fighting back from a goal down in Iceland. Dundalk missed a penalty before scoring twice in 10 minutes through David McMillan and despite conceding an equaliser, hung on to progress on away goals after a 3-3 aggregate draw.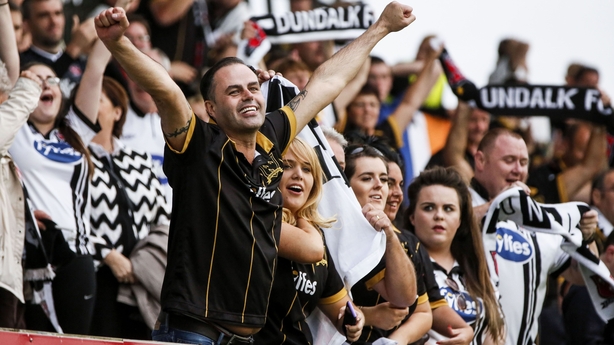 "Before the game I asked every player to put their body on the line for each other and they did that. It's a terrific win for us," said Kenny.
"They dominate possession and they're very easy on the eye, not what you would have thought is your typical Icelandic team at all. They're not seven times champions of their league in the last 10 years for nothing.
"It was in four quarters. They had the first quarter of the game then, halfway through the first half, we really got going and players like Daryl Horgan and Patrick McEleney went on tremendous runs.
"I thought we were unlucky not to come in level at half-time and we said 'it's only a matter of time before we score here, we can really get at these'.
"A penalty miss and two goals followed. We looked utterly dominant and then they had three substitutes come on and give them energy and we were hanging on when they got that goal.
"David McMillan is really having a purple patch. He hadn't scored a hat-trick in his life, he got two in four days, scored in the first leg and scored another two today.
"He's always been a terrific player with us, this is his third season with me here, but now he's in the form of his life."
Unbelievable scenes! Congratulations @DundalkFC pic.twitter.com/OkXGG45gV6

— Tony O'Donoghue (@Corktod) July 20, 2016

Kenny also saluted the Lilywhite supporters who had made the trek to cheer on their heroes. 
"They deserve to sing their hearts out," he said. "They've followed us home and away for the last couple of years.
"It's an expensive one going to Iceland. For the supporters to come in such numbers is magnifcent for us.
"They were a great help to us. We scored both goals in their end and got the penalty in that end, and that's no coincidence."