Leeds have appointed former Swansea manager Garry Monk as the club's new head coach.
Monk, 37, sacked by Swansea at the end of last year, has signed a one-year rolling contract and replaces former head coach Steve Evans, whose departure was confirmed on Tuesday.
Former Swansea skipper and defender Monk becomes Leeds' seventh head coach in just over two years under Italian owner Massimo Cellino.
"It feels great to be here," Monk told the club's official website.
"I'm extremely honoured to join Leeds United Football Club - we all know the history of the club and the standing it has in English football."
Monk added: "I feel really honoured to be here and I'm really looking forward to the challenge ahead.
"The passion of the fans, the history and the ambition of the owner all ties in with what I wanted to do.
"I want to be challenged and really get my teeth into a big project. That was the underlying factor throughout the whole process and that's the reason why I'm here.
"This is definitely the right challenge for me and I'm really happy to be here."
Monk was a free agent, having been sacked by the Swans in December.
"This is definitely the right challenge for me and I'm really happy to be here."
He was quick to make an early impression as a bright young manager after being appointed by the Welsh club in May 2014 following three months in temporary charge in the wake of the sacking of Michael Laudrup.
Monk guided Swansea to their highest Premier League finish of eighth in his first full season, but after an encouraging start to the 2015/16 campaign - he was August's manager of the month - the club dismissed him after a run of just one win in his last 11 games.
Cellino decided Evans would not be offered a new contract despite meeting his remit of keeping the club in the Championship.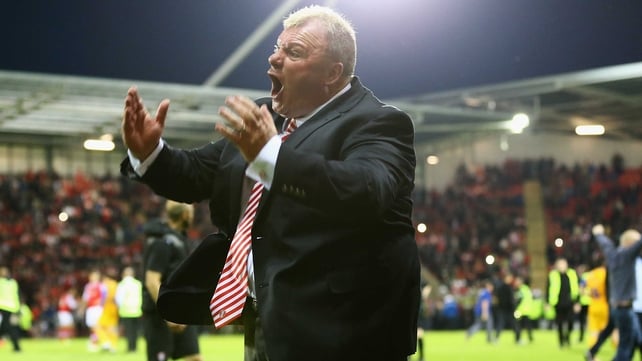 Evans (above) was the sixth head coach to lose his job under Cellino, who had previously sacked Brian McDermott, David Hockaday, Darko Milanic, Neil Redfearn and Uwe Rosler.
Cellino said: "I'm very pleased to welcome Garry Monk to Leeds United.
"Garry is part of a new generation of coaches in England and has a lot of potential to develop, which is something we were targeting for the new season.
"I believe he's very suited to continuing the growth of our young and improving team. He will bring new strengths and a lot of energy to the squad.
"He was a fighter as a player and now he's the same as a manager - as we saw when he did very well at Swansea City. I feel he can really bring the best out of the team.
"It is a big challenge but Garry is very determined and he trusts himself with this job - he really wanted to come here. That is something which has impressed me a lot.
"We have chosen to take on the challenge together and we are focused on achieving our goals in the new season."
Cellino will hope results on the field improve, to ensure attention on Leeds focuses on the team's performance.
The Italian was recently charged by the Football Association over an alleged breach of its agent regulations.
His ownership has come under increasing criticism from fans, with the 'Time To Go Massimo' protest group particularly vociferous. Cellino announced a fortnight ago - not for the first time - he wanted to sell the club.