By Micil Glennon at the Aviva Stadium
Ireland can cause major problems for their Euro 2016 opponents, according to Holland goalscorer Luuk de Jong.
Martin O'Neill's side face Sweden, Belgium and Italy in France next month and speaking after the 1-1 tie at Lansdowne Road, the PSV striker, whose late header earned a draw for the Dutch, told RTÉ Sport: "I like the way Ireland played today, they can make a lot of problems for the other teams.
"Definitely they can. They have a team with a lot of power, with a good mentality always being compact as a team and don't give away a lot.
"With the free-kicks and corners they are really dangerous so that's also a weapon in football so I think they can cause problems against the other teams in the Euros."
Southampton striker Shane Long had given the Boys in Green a first-half lead when he was first to react to a goal-line scramble when John O'Shea's header was saved.
De Jong picked out the ex-Cork City man, now with 16 goals in 62 international caps, as Ireland's star player.
"Of course Long is a great player up front," said de Jong, who replaced Georginio Wijnaldum just minutes before scoring.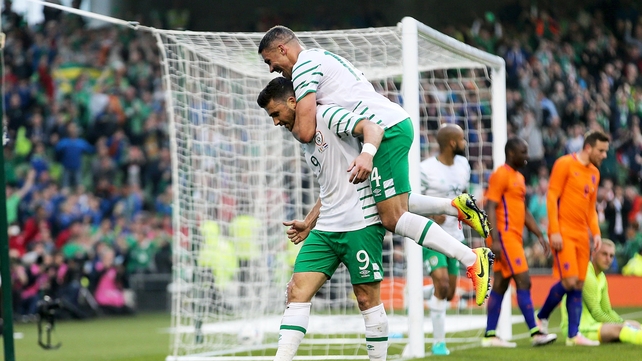 "He's going to be really important for the team. What I saw today I think they played really well as a whole team.
"They want to work for each other and close the gaps in the midfield and the defence. That's really important. It's hard to get through.
"You can see we had a lot of problems to get through so I think it's going to be tough."
Ireland missed a host of chances to kill the game before De Jong's header.
Ireland goalkeeper Darren Randolph had just one save to make up to that point but got caught in no-man's land for the goal, while neither central defender John O'Shea or Shane Duffy got close to the 25-year-old.
Asked if he was surprised at the amount of space he got so close to the Ireland goal, he said: "I always try to look at the spaces in front of the goal, that's why I am striker.
"This time the ball from [Jetro] Willems was good. It was a little bit behind me but I could find space to head it on target and it was a good goal."
Ireland play Belarus in Cork on Tuesday in their final warm-up match before their opening European fixture against Sweden on 13 June.