Republic of Ireland manager Martin O'Neill admitted he was satisfied with his team's performance in the 1-1 draw with the Netherlands and highlighted the importance that set-pieces could play in the European Championships.
Substitute Luuk De Jong cancelled out Shane Long's first-half strike but with time running out before the 23-man squad for the Euro 2016, a number of players did their chances no harm at the Aviva Stadium.
Harry Arter was named the official man-of-the-match while Shane Duffy – aside from the equaliser – and David McGoldrick acquitted themselves well in the final match in Dublin before the squad departs for France next week.
Long's 16th international goal came courtesy of John O'Shea's powerful header from a corner that the Dutch failed to clear and Ireland threatened throughout with Robbie Brady's brilliance from corners and free-kicks.
O'Neill maintains that this is further proof of what he has been preaching to is squad throughout qualification.
"I said it to the players way back at the beginning of the qualification, that it sounds crazy in this day and age when you have such wonderful footballers playing on the planet - Ronaldo, Messi, players like that – that big matches, Champions League finals, World Cup finals are still being decided on set pieces, if not penalty kicks," he told RTÉ Sport.
"So they are important, being able to defend them and try and make of them when you have them. Hopefully the game doesn't be based around that but they are still part of the game and you have to deal with that.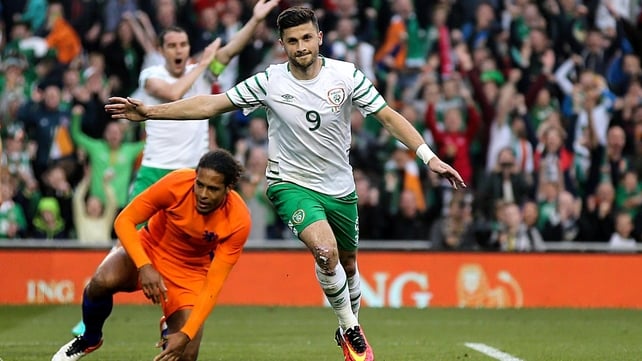 "If Robbie doesn't play I think we have players who can deliver the ball, but he just happens to be pretty good at it.
"That's not his only role in the team, he's also a very fine footballer and I'm hoping he's gotten over the disappointment of being relegated with Norwich. He is important to us and he is growing in stature."
The former Celtic boss admitted he was disappointed to concede the late equaliser but said the main aim was to give players a run out and says there are big decisions to be made after the final international friendly with Belarus in Cork next Tuesday.
"The idea tonight was, and you will have seen that, there was a mixture of players that, injury apart, are pretty well certain to go and others that will have felt that every minute on the pitch was very important to them.
"There are going to be a few dilemmas and that's part of my job.
"There are some players who didn't start tonight that I will want to start in the game against Belarus. I would reiterate that if I was getting that opportunity, and I think the players would be happy with it, that maybe a performance against Belarus might cement their place in the 23, I'd think they're prepared to take it."