Shamrock Rovers striker Mikey Drennan has revealed that he will take time out from football to deal with depression.
The 22-year-old, who spent four years at Aston Villa and represented the Republic of Ireland at a number of youth grades, said that he feels he needs to opt out and "get a job" in order to get his life back on track.
Drennan joined the club in January 2015 but admitted he has been battling depression for three years and is hopeful he can come back a stronger person and said he would consider a playing return at some stage.
In an emotional and heartfelt social media post, the Kilkenny native said life is "too short" not to enjoy.
"I want to put this on Facebook to let people know what's going on and will be in the papers soon," he wrote.
"I just want to be happy because life is way too short, I need to be around people I love and get a job"
"I'm taking time out of football because I'm not happy and I've been suffering with depression for the last 3 years and I thought I would have dealt with it better then but it's come to a point now where I need to leave and take a break.
"I just want to be happy because life is way too short, I need to be around people I love and get a job.
"I needed something to change and this is a very tough decision and one that I've put my whole life into and hoped to be successful in but it's not one I've made over 2 weeks.
"This has been on my mind a lot over the past few years but I said I would stick it out..it can't get any worse but it did and I haven't spoke to people about it as much as I should and I wanted to deal with it myself but it was the wrong decision.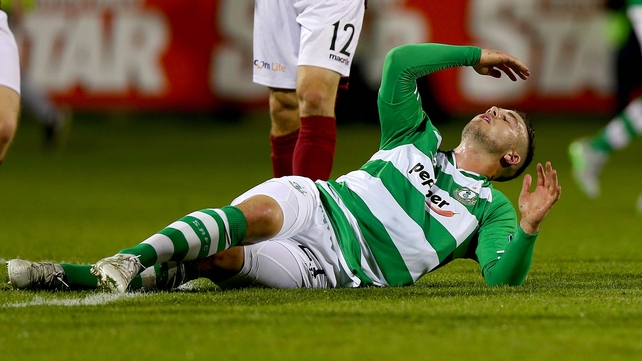 "People will always look at me different saying, "I'm a failure" and all that crap but it's the reason why I came home in the first place to play soccer here to see would it make me better which obviously it didn't.
"I just wanna come back and get the help I need to get back on track and would like to go back playing in League of Ireland at some stage if the chance came up.
"I want to thank everyone who has given their best to support me and make this difficult decision."
The club also confirmed the news on their website.
"Shamrock Rovers can confirm that striker Mikey Drennan has been given time off by the club as a result of a personal matter," a short statement read.
"Mikey has the full support of all his colleagues and friends at the club; we wish him the very best and hope to see him back soon."